Posted By Norman Gasbarro on May 19, 2015
The 8th Pennsylvania Cavalry Monument at Gettysburg is located south of the town of Gettysburg on Pleasonton Avenue north of the Pennsylvania Memorial.
A picture of the monument as shown above can be seen on Stephen Recker's Virtual Gettysburg Web Site which has more information about the monument and the 8th Pennsylvania Cavalry.
A full description of the monument, its GPS Coordinates, additional photographs, and some of the history of the 8th Pennsylvania Cavalry, can be found on the Stone Sentinels Web Site.
——————————-
The 11 September 1889 Philadelphia Inquirer reported that the 8th Pennsylvania Cavalry was "not engaged" at Gettysburg but was "on the ground."
The 8th Many Hazards.

The 8th Cavalry was mustered at Nicetown and organized with Ernest G. Chorman, Colonel; Albert J. Enos, Major.  The 8th was not engaged at Gettysburg, though on the ground. It was the 8th, under Major Keenan, which charged the rebels at Chanecllorsville and held them at by "at all hazards," as the orders were, until the Union batteries could be placed in position.  The 8th was congratulated for many equally hazardous feat and was mustered out of service at Richmond, August 1865.
——————————-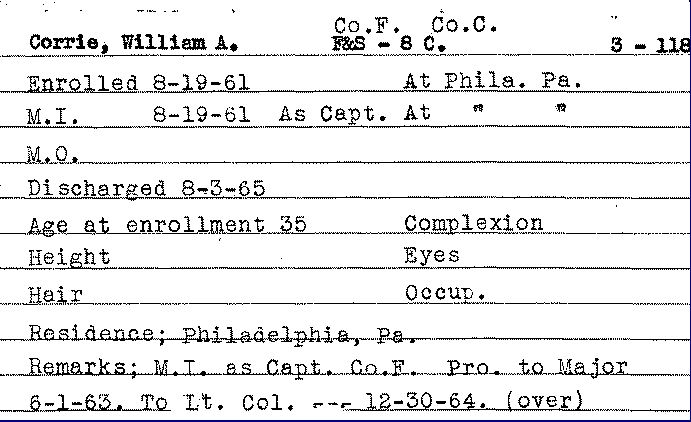 One of the commanders of the 8th Pennsylvania Cavalry at Gettysburg was Captain William A. Corrie.
Corrie was born about 1824 and at the time of the Civil War was living in Philadelphia, where he was mustered into service as Captain of Company F of the 8th Pennsylvania Cavalry.  On 11 March 1864, he was promoted to the rank of Major and transferred to headquarters.  On 30 December 1864, he was again promoted to Lieutenant Colonel of the regiment.  Although he was commissioned Colonel on 1 July 1865, he was not mustered in at that rank and was discharged with his regiment on 3 August 1864.
William A. Corrie applied for a pension on 29 August 1872.  He died on 8 December 1896 and is buried at Woodlands Cemetery, Philadelphia,  His widow, Mary A Corrie, applied for benefits on 6 February 1897, which she did not receive.
Pictures of Currie's grave at Woodlands Cemetery can be seen at his Findagrave Memorial.
——————————-
Around the base of the Pennsylvania Memorial at Gettysburg are a series of plaques which, by regiment and company, note the names of every soldier who was present at the Battle of Gettysburg.  The plaque for the 8th Pennsylvania Cavalry is pictured below.  By clicking on the plaque it should enlarge so the names can be more clearly read.  If a name does not appear, it could be that the soldier did serve in the 8th Pennsylvania Cavalry, but was not part of the regiment during its days at Gettysburg.  There could also be errors on the plaque.