Posted By Norman Gasbarro on May 27, 2015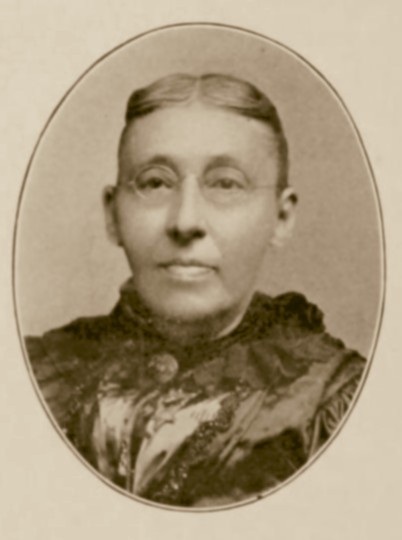 Emily E. [Lansbury] Woodley was born in Philadelphia on 26 May 1835, the daughter of Jeremiah Lansbury and Eliza [Reed] Lansbury.   She died in Philadelphia on 15 May 1908 and is buried in the Fernwood Cemetery, Fernwood, Delaware County, Pennsylvania.
Her obituary appeared in the Harrisburg Patriot on 16 May 1908: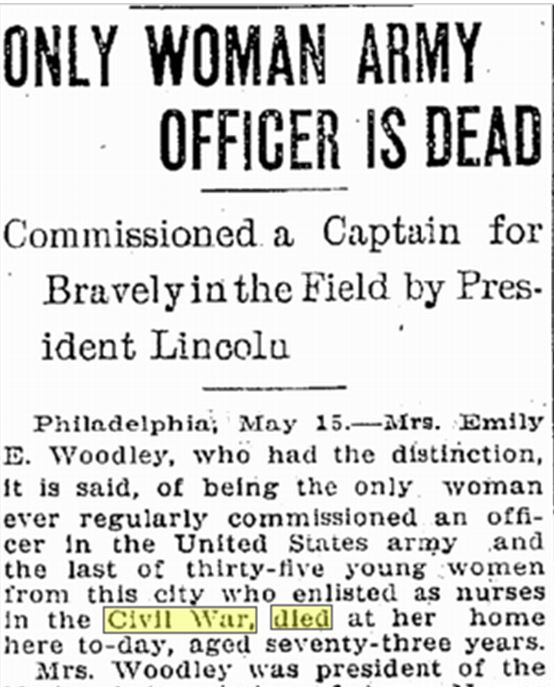 ONLY WOMAN ARMY OFFICER IS DEAD

Commissioned a Captain for Bravery in the Field by President Lincoln

Philadelphia, 15 May 1908 — Mrs. Emily E. Woodley, who had the distinction, it is said, of being the only woman every regularly commissioned an officer in the United States Army and the last of thirty-five young women from this city who enlisted as nurses in the Civil War, died at her home here today, aged seventy-three years.

Mrs. Woodley was president of the National Association of Army Nurses of the Civil War, which she organized, and the only woman member of the Grand Army of the Republic.  She was a widow, Mrs. Wilson, twenty-six years of age, when she enlisted in 1861, having regularly taken the oath of allegiance as she passed in line with men at the enlistment headquarters in this city.

She served with the army through the entire four years of her enlistment, being granted but one furlough of thirty days when her daughter was seriously ill.  For her bravery and heroic service President Lincoln personally conferred upon her a commission of Captain in the army.  She was also decorated with a gold medal by Secretary of War Stanton.  She was known by Grand Army men all over the country.

Mrs. Woodley will be accorded a military burial and at her request an American flag will be draped from the door post of the house of her son, William D. Woodley, of West Philadelphia, from where the funeral will take place.
—————————-
For additional information about Mrs. Woodley, see her Findagrave Memorial.
News clippings are from the on-line services of the Free Library of Philadelphia.