Posted By Norman Gasbarro on May 12, 2015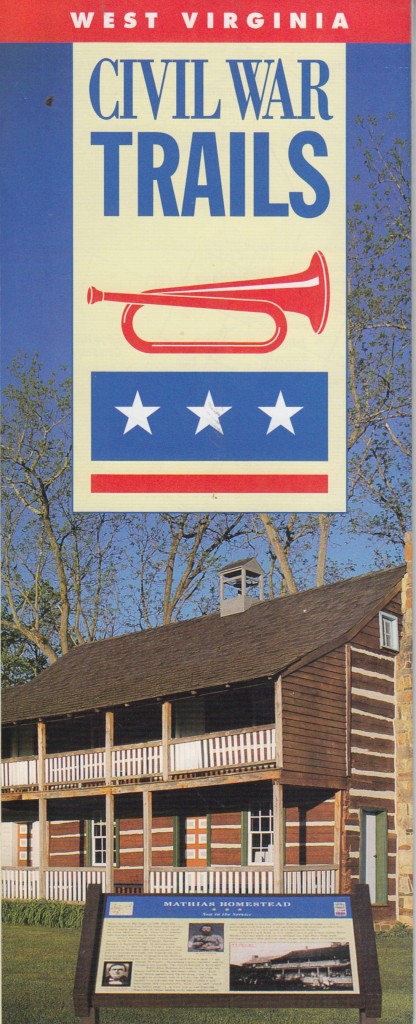 West Virginia Civil War Trails is one of a series of publications produced for the 150th Anniversary of the Civil War and was funded in part by the Transportation Enhancement Funds provided by the Federal Highways Administration.  This edition, for West Virgina, is similar in format to the other publications for Virginia, Maryland, North Carolina and Tennessee.
Previously, on this blog, the Tennessee brochure was featured in the post entitled Free Tennessee Civil War Publications and the North Carolina brochure was featured in the post entitled New Bern, North Carolina – 1861.
For a free download of the West Virginia brochure, click here (map) and click here (narrative).  The brochure is also available at tourist information centers in and around West Virginia.
Included in the stories are Harpers Ferry (with map); Jones-Imboden Raid; Jenkins's Raid (with map); Mountain Maneuvering; The First Campaign; Road to Statehood; Guerrilla Warfare; and a listing of actual Civil War sites with contact information (address, phone number and web site).
The 10th Pennsylvania Infantry, which included many men from the Lykens Valley area including John C. Gratz and his friend Henry Keiser, were in West Virginia (then called the western part of Virginia) in the opening days of the war, but saw no fighting.  It has been speculated that because they were not involved in any action, that they almost immediately re-enlisted in the 96th Pennsylvania Infantry.  Before the 96th saw any real action, Gratz died of disease, and Henry Keiser stayed with the regiment through three years, re-enlistment for another term, and consolidation of the regiment with the 95th Pennsylvania Infantry.  Henry Keiser kept a diary throughout the war.  Portions of that diary have been presented on this blog and on Jake Wynn's blog, Wynning History.
Civil War Traveler, the web site on which the brochure can be found in "pdf" form, also contains links to the other Civil War Trails brochures in the series as well a blog posts, maps, events, and books available about West Virginia in the Civil War.