Posted By Norman Gasbarro on April 15, 2015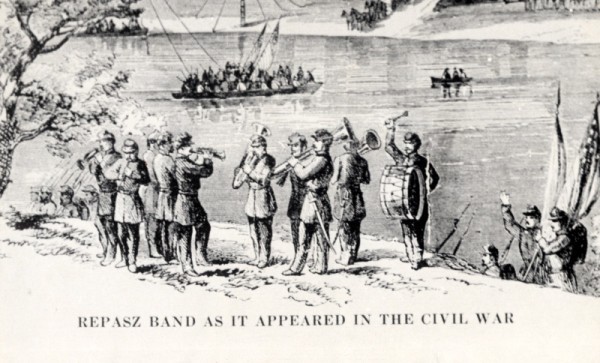 The following e-mail was received last week from Barry Stocker, a resident of Klingerstown, Schuylkill County, and a historian of the Repasz Band of Williamsport, Lycoming County, Pennsylvania:
We have returned home after playing a historical and emotional concert at Appomattox Courthouse.

Ed Bearss was there and was presented a Küntsler painting.

James Robertson was the Keynote Speaker.

We played Ashokan Farewell as one of the numbers and after the concert, Robertson came to the podium and told the Band that it was the best that he has ever heard it played.

This made Al, Jeff and I and, and hopefully the rest of the band, feel really good.
For further information about the Repasz Band and the performance at Appomattox, see:
Williamsport's Repasz Ban to Play at Appomattox as it Did at War's End in 1865.  An article by John Beauge, of PennLive, the on-line resource of the Patriot-News (Harrisburg).
Ashokan Farewell , from a 2008 performance of the Repasz Band:

Barry Stocker is a historian of Civil War-era military music and musicians who lives in Klingerstown, Schuylkill County, and is a member and a historian of the Repasz Band.  He has previously collaborated with me on research on Civil War veterans from the Lykens Valley area and has developed his own database of military musicians from all of Pennsylvania.  He was the chief contributor to the blog post, The Repasz Band, which was published here on 7 June 2011.