Posted By Norman Gasbarro on April 28, 2015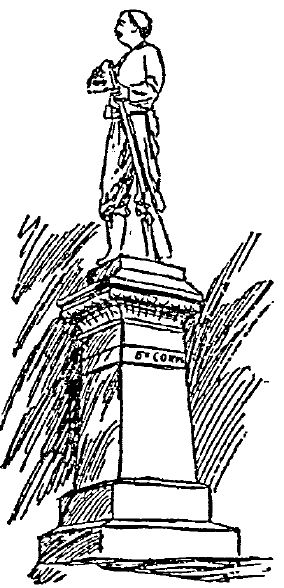 The 155th Pennsylvania Infantry Monument at Gettysburg is located south of the town of Gettysburg close to the summit of Little Round Top.  It was dedicated in 1886 by the survivors of the regiment and originally did not have a statue on top. When funds were provided by the state in 1889, rather than erect another monument, the survivors agreed to use those funds to top the existing monument with a statue.
The drawing of the monument pictured above is from a Philadelphia Inquirer article of 11 September 1889.
A picture of the monument can be seen on Stephen Recker's Virtual Gettysburg Web Site which has more information about the monument and the 155th Pennsylvania Infantry.
A full description of the monument, its GPS Coordinates, additional photographs, and some of the history of the 155th Pennsylvania Infantry, can be found on the Stone Sentinels Web Site.
———————————
The transcription of the Philadelphia Inquirer article of 11 September 1889 is incomplete due to the left margin being cut off in the on-line copy available from the Free Library of Philadelphia.
Gaining Little Round Top's Crest.

The 155th was held in the rear of the cemetery on the 2nd to maintain the supremely important position on Little Round Top.  Where General Weed was killed, and Haslet, while — over him, met the same fate, was where the 155th rushed forward and defeated the — assault, gaining the very crest of the — and leaving rebels remaining only in — rocky fastnesses of Devil's Den.  Colonel Richard J. Allen commanded the 155th.
———————————-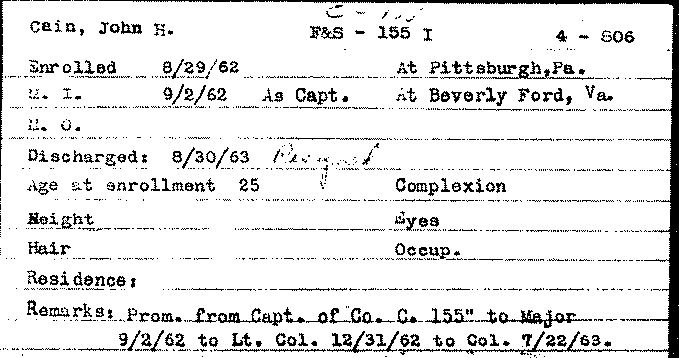 The commander of the 155th Pennsylvania Infantry at Gettysburg was Lieutenant Colonel John H. Cain.
Cain first served in the war as a Private in Company K of the 12th Pennsylvania Infantry from 25 April 1861 to 5 August 1861.  His second enlistment was at Pittsburgh as Captain of Company C of the 155th Pennsylvania Infantry, a position he only held a short time before his promotion to headquarters as Major on 2 September 1862.  Then on 31 December 1862 he was promoted to Lieutenant Colonel of the regiment.  His final promotion came of 22 July 1863, when he became Colonel, but he resigned just more than a month later.
Colonel Cain died on 29 April 1903 and is buried in Franklin Cemetery, Franklin, Venango, Pennsylvania.  Some information about is available at his Findagrave Memorial.
———————————-
Around the base of the Pennsylvania Memorial at Gettysburg are a series of plaques which, by regiment and company, note the names of every soldier who was present at the Battle of Gettysburg.  The plaque for the 155th Pennsylvania Infantry is pictured below.  By clicking on the plaque it should enlarge so the names can be more clearly read.  If a name does not appear, it could be that the soldier did serve in the 155th Pennsylvania Infantry, but was not part of the regiment during its days at Gettysburg.  There could also be errors on the plaque.