Posted By Norman Gasbarro on April 7, 2015
For his actions at Gettysburg, Captain William E. Miller was awarded the Medal of Honor and he is recognized at the Pennsylvania Medal of Honor Memorial in Harrisburg: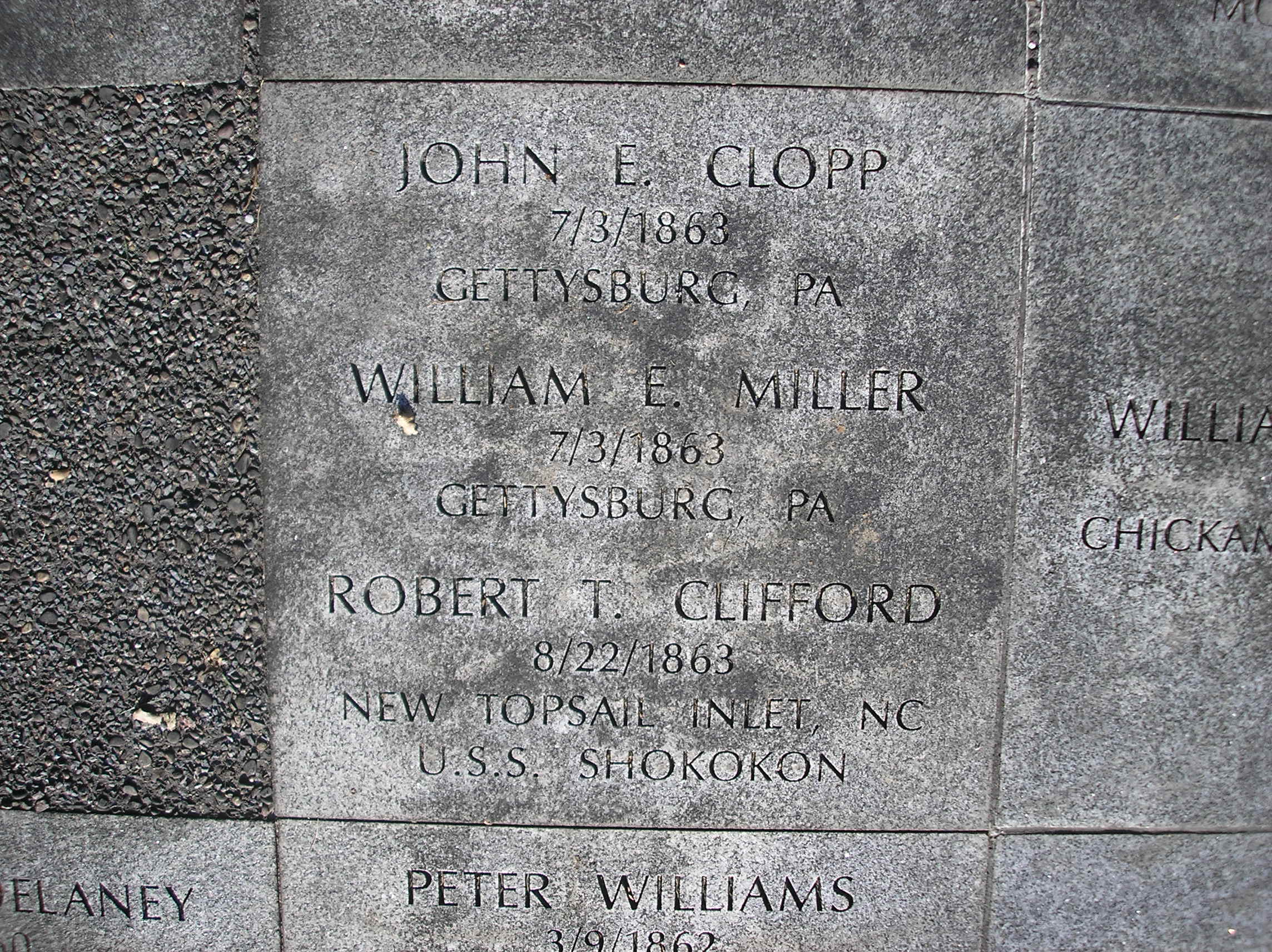 During the Civil War, William E. Miller served only one enlistment and that was with the 3rd Pennsylvania Cavalry.  He was mustered into service at Washington, D. C. on 17 August 1861, at age 25.  His residence at the time was Cumberland County, Pennsylvania, and he gave his occupation as farmer.  At muster, he was a 2nd Lieutenant in Company E, but at some date not recorded in the records, he was promoted to 1st Lieutenant of the same company.  On 1 September 1862, he was promoted to Captain of Company H, the position he held at the Battle of Gettysburg.  His service record is shown on his Pension Index Card (shown below from Fold3, which also notes his date and place of death, as 10 December 1919, Carlisle, Pennsylvania.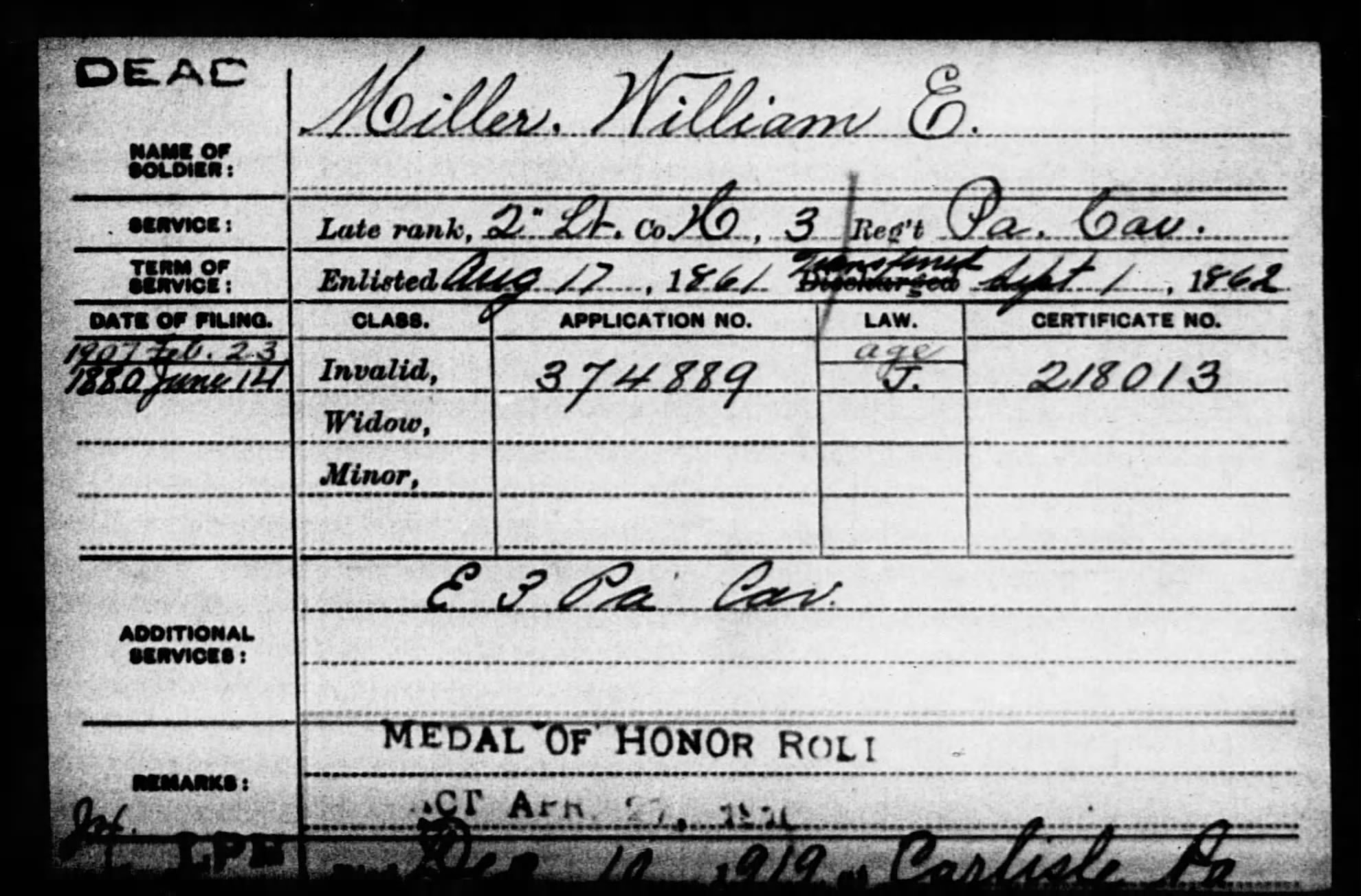 William E. Miller first applied for a pension on 14 June 1880.  The Pension Index Card also has the designation "Medal of Honor Roll."
Two obituaries tell more of the story.  The first is from the Harrisburg Telegraph of 10 December 1919: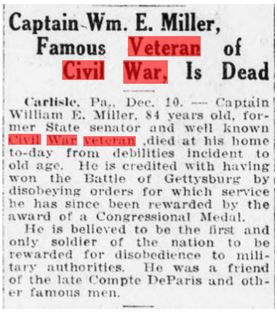 CAPTAIN WM. E. MILLER, FAMOUS VETERAN OF CIVIL WAR IS DEAD

Carlisle, Pennsylvania, 10 December 1919 — Captain William E. Miller, 84 years old, former State Senator and well known Civil War veteran, died at his home today from debilities incident to old age.  He is credited with having won the Battle of Gettysburg by disobeying orders for which service he has since been rewarded by the award of a Congressional Medal.

He is believed to be the first and only soldier of the nation to be rewarded for disobedience to military authorities.  He was a friend of the late Compte DeParis and other famous men.
But the Harrisburg Patriot of the next day was much more effusive in its praise of Miller: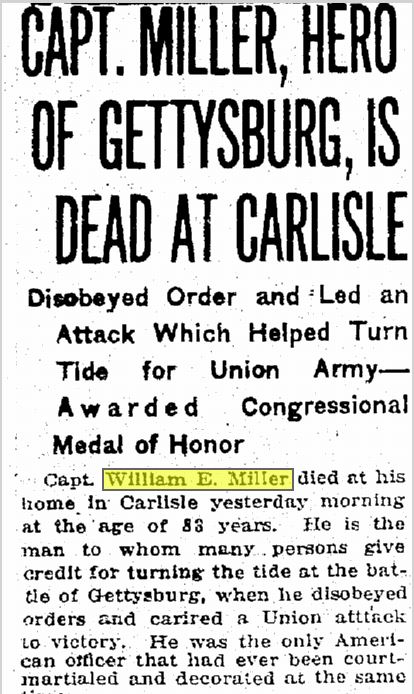 CAPT. MILLER, HERO OF GETTYSBURG, IS DEAD AT CARLISLE

Disobeyed Order and Led an Attack Which Helped Turn Tide for Union Army – Awarded Congressional Medal of Honor

Capt. William E. Miller died at his home in Carlisle yesterday morning at the age of 83 years.  He is the man to whom many persons give credit for turning the tide at the Battle of Gettysburg, when he disobeyed orders and carried a Union attack to victory.  He was the only America officer that had ever been court martialed and decorated at the same time.

He was born at West Hill, Cumberland County, and his early life was spent on a farm near Carlisle.  At the beginning of the Civil War he enlisted in Company H, 3rd Pennsylvania Cavalry.  He was commissioned as a First Lieutenant and later as a Captain.

Captain Miller and his men were ordered not to attack at the Battle of Gettysburg.  The Union boys did not like the command and when Pickett charged, Fitzhugh Lee's cavalry attempted to flank the Union lines.  Captain Miller and his men, disobeying the order, dashed away from the main body of the men and attacked the flanking cavalry.  Although his cavalry was nearly annihilated, he has been given credit for having broken the flanking movement and thus saved the day for the Union Army.  The Confederates themselves credited their loss to Captain Miller's bold move.

Decorated by Congress

After the battle the Union hero was court martialed and decorated with the Congressional Medal of Honor.  At the close of the war he returned to Carlisle and engaged in the hardware business.  He continued in this business until 1898, when he became identified with a fire insurance company, in which he was actively engaged until several years, when forced to retire through ill health.

For a long time Captain Miller was prominent in Democratic politics at Carlisle, being County Chairman several times, as well as a member of the State Committee.  He was a former State Senator and was at one time Burgess of Carlisle.  For twelve years he was a member of the Carlisle Board of Health and served as its president for five years.  He was the first Commander of Colwell Post, 201, G.A.R., and served as Quartermaster of this organization for a quarter of a century.

For the last year he had been confined to his room, due to impaired health.  one daughter, Mrs. George K. McCormick, of Kentucky, survives.  The funeral services will be in charge of the Carlisle Post of the G.A.R., assisted by Camp 50, Sons of Veterans.
The death of William E. Miller was foreshadowed by a small article that appeared in the Harrisburg Patriot on 17 December 1916: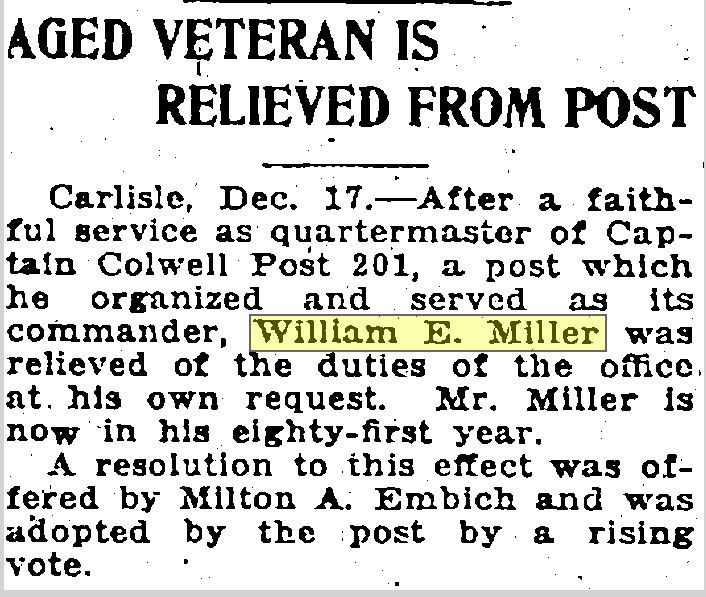 AGED VETERAN IS RELIEVED FROM POST

Carlisle, 17 December 1916 — After faithful service as Quartermaster of Captain Colwell Post 201, a post which he organized and served as its commander, William E. Miller was relieved of the duties of the office at his own request.  Mr. Miller is now in his eighty-first year.

A resolution to this effect was offered by Milton A. Embich and was adopted by the post by a rising vote.
Captain Miller is buried at Gettysburg National Cemetery, Gettysburg, Adams County, Pennsylvania.  More information about him can be found at his Findagrave Memorial.
——————————-
The news clipping from the Harrisburg Telegraph is from the free newspaper resource, Chronicling America, available on-line at the Library of Congress.  The clipping from the Harrisburg Patriot is from the on-line resources of the Free Library of Philadelphia.