Posted By Norman Gasbarro on March 26, 2015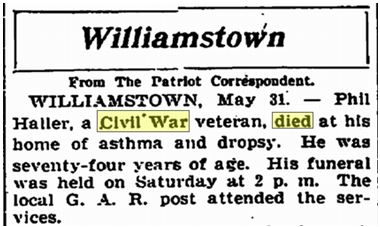 The Harrisburg Patriot of 1 June 1904 reported the death of Phil Haller, at Williamstown.
WILLIAMSTOWN

From the Patriot Correspondent

WILLIAMSTOWN, 31 May 1904 — Phil Haller, a Civil War veteran, died at his home of asthma and dropsy. He was seventy-four years of age. His funeral was held on Saturday at 2 p.m.  The local G.A.R. post attended the services.
A few days prior another announcement appeared in the same newspaper with similar as well as different information:
The funeral of Joseph Holler, aged 74 years, a Civil War veteran, will be held from his home in Williamstown at 2 o'clock Saturday afternoon.
Note that in the body of the news brief, he is incorrectly referred to as Joseph Holler.
There is a Findagrave Memorial for a Philip S. Haller, who is buried at Seybert's Cemetery in Williamstown, Dauphin County.  That Philip Haller, had a death date of 25 May 1904 and would seemingly be the one referenced in the two news clippings shown above.  The birth date of that Phil Haller is given as 2 October 1832, which by calculation would have made him less than 72 years old, close, but not quite a match with the 74 years given in the obituaries.  There is no photograph of Philip S. Haller's grave marker on the Findagrave site, but the memorial notes that he was "G.A.R."
A number of other items have been located in the Harrisburg Patriot over the period of 1877-1900, all for a Philip Holler. They include being selected as a member of a Dauphin County jury, and on each occasion noting the residence as Williams Township; and a legal contest over lands owned by Philip Holler and damages sought by him from the Williams Valley Railroad.  Finally, in 1900, the Philadelphia Inquirer reported that Philip Holler of Williamstown was awarded a Civil War pension in the amount of $8.  These items establish the fact that Philip Holler lived in the Williamstown area for most of the time following the Civil War and that there was a Philip Holler who served in the Civil War as evidenced by the pension awarding in 1900.
In the Census of 1870, Philip Holler was a laborer outside of the mine and was living with his wife Mary Ann and six children in Williams Township.
In the Census of 1880, Philip Holler, who was born in Maryland, is living with his wife Mary and working as a farmer in Williams Township.  There are four Holler children living in the household.
In 1890, Philip Holler was living in Williams Township and reported that he had served in the 173rd Pennsylvania Infantry, Company B, as a Private.  No other service was reported and he did not indicate any Civil War-related disabilities.
In 1900 in Williams Township, Philip Holler is a widower, working as an outside foreman for a mine.  His married daughter Emma is living in his household.  This census also indicates that he was born in Maryland, as were both of his parents.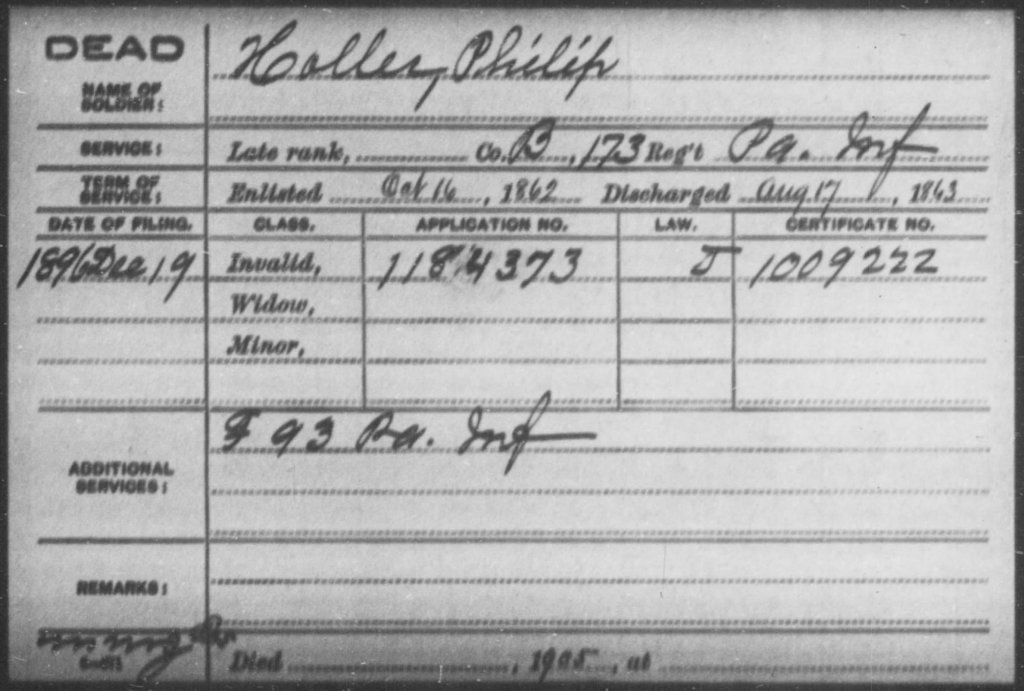 The Pension Index Card for Philip Holler (shown above from Fold3), shows that he applied for a pension on 19 December 1896, but also indicated that he served in the 93rd Pennsylvania Infantry, Company F.  For that latter service, he was not found in the Pennsylvania Archives card file nor was he found in any of the companies of the 93rd Pennsylvania Infantry in any of the available lists.  Also odd about the above card is the death date of 1905.  It is known from several sources that Philip died in 1904.
The 173rd Pennsylvania Infantry was a drafted regiment, where Philip Holler served from muster in on 1 November 1862 through his honorable discharge on 17 August 1863.
——————————
News clippings are from the on-line resources of the Free Library of Philadelphia.