Posted By Norman Gasbarro on March 3, 2015
On 23 February 1888, there appeared a letter to the editor of the National Tribune requesting information on two men who went off to war from New York City in 1862 and were never heard from again.  Included in the letter is a reference to Gratz, Dauphin County, Pennsylvania, and a farmer named H. B. Schreiner.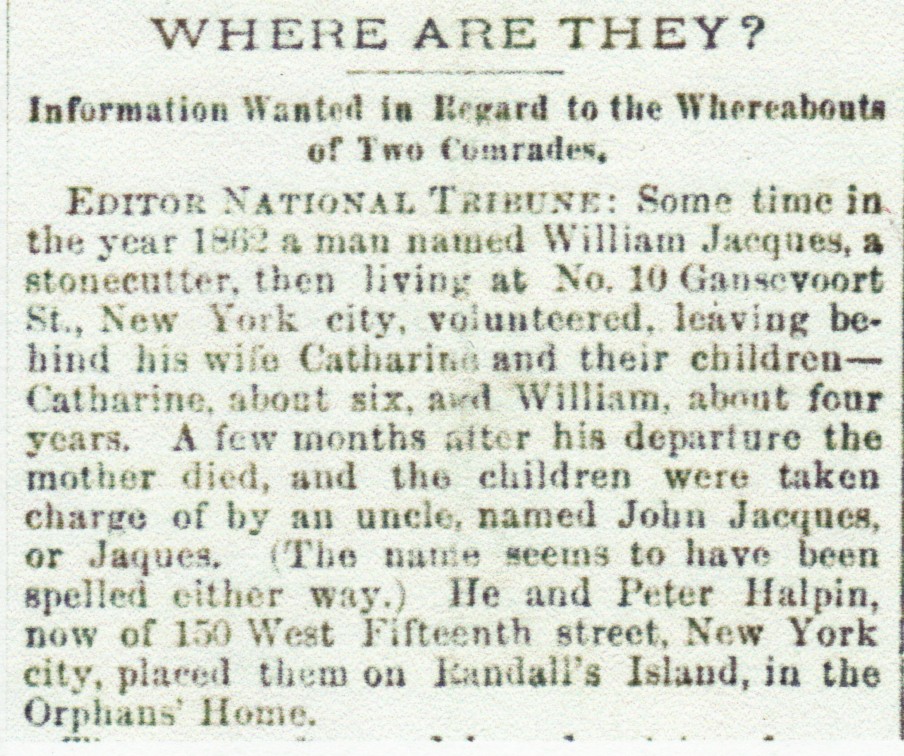 WHERE ARE THEY?

Information Wanted in Regard to the Whereabouts of Two Comrades

EDITOR NATIONAL TRIBUNE:  Some time in the year 1862 a man named William Jacques, a stonecutter, then living at No. 10 Gansevoort Street, New York City, volunteered, leaving behind his wife Catherine and their children — Catherine, about six, and William, about four years.  A few months after his departure the mother died, and the children were taken charge of by an uncle, named John Jacques, or Jaques.  (The name seems to have been spelled either way.)  He and Peter Halpin, now of 150 West Fifteenth Street, New York City, placed them on Randall's island, in the Orphans' Home.

They were afterward bound out to a farmer in Gratz, Dauphin County, Pennsylvania, named H. B. Schreiner [article refers to him as H. B. Schreimer].  Since the day their father and an older brother, who enlisted earlier in the war, left, they have never heard a word of what became of either.  I have carefully studied up rosters of all the New York regiments down to the 150th and only find the following who may in any way seem possible to be our William Jacques, viz, on page 831, Volume 3, is "Private William Jaques, Company G, 104th New York [104th New York Infantry]; 44 years old; enlisted 23 Jan 1862, by J. H. Stute, for three years, from Genesco."  This, while it conforms in age, does not agree in place of enlistment; although he may have enlisted as the regiment passed through New York City, and been credited to Genesco.  "William Jacques, 28 years old, private, Company C, 59th New York [59th New York Infantry]; enlisted from New York City, 29 August 1861, and was mustered in by Lieutenant Colonel William Linn Tidball."  The Colonel, however, has no recollection of the man.  One thing, however, is in the way.  If his age – 28 years – is stated correctly, he is not our William, as he was certainly 10 years older.

All inquiries of the Adjutant-General of New York, of the U.S.A., and of the Pension Office, have failed so far to furnish a glimmer of light on the fate of either William Jacques or his son Thomas Jacques.  Now, comrades, all of you who ever knew of any such parties, let me hear from you as soon as possible, so we can clear up this one of the many sad mysteries of the rebellion. —

James M. McGee, Roxborough, Philadelphia, Pennsylvania.
The two children of William Jacques, namely son William Jacques and daughter Katie Jacques, were located in the 1870 census of Lykens Township, Dauphin County:
From the above census, it can be determined that H. B. Schreiner was a 49 year-old farmer in Lykens Township who was born in Pennsylvania.  His wife appears to be Augusta M. Schreiner, age 44, possible maiden name Martin, with her mother Rebecca Martin, age 70, also living in the household. Both Augusta and Rebecca were born in Virginia.  The two Jacques children, both born in New York, are also in the household:  Katie Jacques, age 16, is a domestic servant; and William Jacques, age 12, is a farm laborer.
Help is sought from any readers of this blog who can solve this mystery.  Please comment to this post or send information by e-mail.
——————————–
The news clipping is from the on-line newspaper resources of the Library of Congress, Chronicling America.  The cut from the 1870 census is from Ancestry.com.