Posted By Norman Gasbarro on March 18, 2015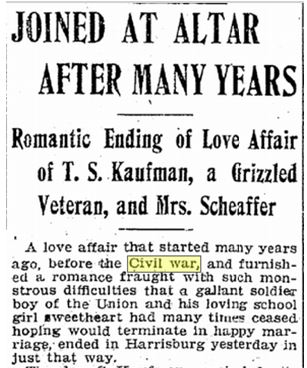 On 1 March 1905, the Harrisburg Patriot reported the marriage of a "grizzled" Civil War veteran and the sweetheart of his youth:
JOINED AT ALTAR AFTER MANY YEARS

Romantic Ending of Love affair of T. S. Kaufman, a Grizzled Veteran, and Mrs. Scheaffer

A love affair that started many years ago, before the Civil War, and furnished a romance fraught with such monstrous difficulties that a gallant soldier boy of the Union and his loving school girl sweetheart had many time ceased hoping would terminate in happy marriage, ended in Harrisburg yesterday in just that way.

Theodore S. Kaufman, a grizzled veteran and a widower, claimed as his bride, his first love, Mrs. Anna D. Scheaffer, who herself had married before, when she thought she would never again see her soldier beau, at the parsonage of the Fourth Reformed Church, 1508 Market Street, at 2 o'clock yesterday afternoon.

In the year 1861, the time of the opening of the Civil War, when Kaufman and his young sweetheart, who was Miss Anna Kaufman and a third cousin, were still attending school at their home in Boiling Springs, Cumberland County, he went to war, telling her that he would return with honor and epaulets and claim her as his wife.

Upon returning he found her married to another man,  Soon after he left home and married and became a resident of Steelton, at which place he kept a general store.  From there he went to Philadelphia, where he has resided for years.  Some years since his wife died.

Mrs. Scheaffer's husband died some years ago, and several summers ago when Kaufman was visiting his old home in Boiling Springs, he met his former sweetheart and both learning the circumstances of each other's life, the broken strings of a one-time love were again tied together.

Kaufman is sixty-one years of age and his bride is a few years younger.  They are both well known throughout Cumberland County, she being a daughter of the late Daniel Kaufman, who was an agent of the Underground Railroad.

The newly-married couple left last evening for the East on a week's wedding trip and will be at home to their friends at the old Kaufman homestead in Boiling Springs.
Fact checking this story is relatively easy with the on-line resources that are now readily available.
First, there is no record that Theodore S. Kauffman went to war in 1861 as is stated in the wedding story. The military and pension records confirm that he had only one company and regiment of service – the 209th Pennsylvania Infantry, Company A, where he served as a Private from 6 September 1864 through 31 May 1865, and that he was 20 years old at the time he went to war.  Other sources confirm that his birth year was 1844, which matches the military record.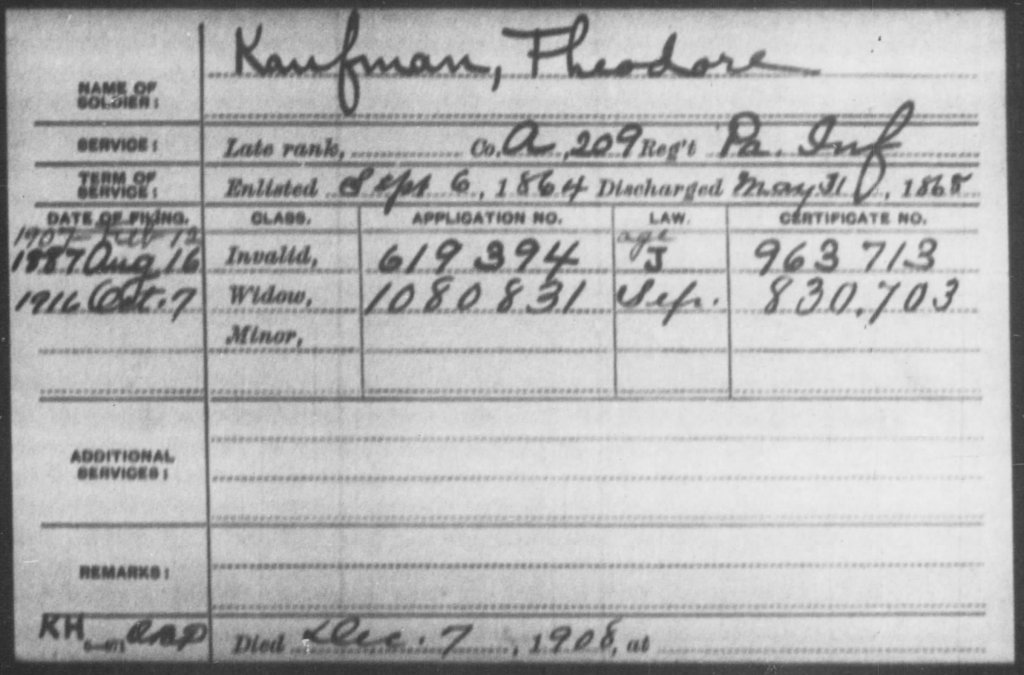 The Pension Index Card, shown above from Fold3, gives the same dates of service as found in other military sources.  Also on that card is his date of death of 7 December 1908 and the fact that he first applied for a pension on 16 August 1887.
At the time of the 1890 Census of Steelton, Dauphin County, Theodore Kauffman reported his service in the 209th Pennsylvania Infantry, with the years 1864-1865 as the time of service.
Theodore Kauffman's first wife's name was "Sally A." but a maiden name has not yet been located, nor has her date of death.  The last census entry for Sally was in 1880, when she was living in Steelton with Theodore; two sons were in the family. Theodore appears in the 1900 census for Philadelphia as a widower.  Thus, Sally died some time between 1880 and 1900.  The news article suggests that Sally, the first wife, was from Steelton, not from Boiling Springs, and that the marriage to Theodore occurred after his discharge from the army which was on 31 May 1865.
According to the article describing the second marriage of Theodore, Anna D. Kaufman, was first married to a man named Scheaffer, and that the marriage occurred while Theodore was at war.  Because the dates of Theodore's service have now been narrowed to a nine month period from 6 September through 31 May 1865, the marriage of Anna to Mr. Schaeffer had to occur during that time period in order for the news story to be true.
Genealogical records show that Anna's first husband was James Fortney Schaeffer, born 12 December 1840 and died 1894.  He is buried in Mount Zion Cemetery, Churchtown, Cumberland County, and, according to the grave stone, Anna is also buried there with him – as Anna D. Kaufman (1844-1918).  His Findagrave Memorial, which is maintained by researcher Dennis Brandt, states the following:
The error-prone Pennsylvania Veterans' Burial Card file claims that he was a Civil War veteran who served as captain of Company A, 105th Pennsylvania Infantry. That is false. None of the captains of that unit was named James Schaeffer or anything close to it. 
Brandt was correct in asserting that James Fortney Schaeffer did not serve in the 105th Pennsylvania Infantry.  The actual veteran who served in that regiment was James K. Shaffer.  He was from the Pittsburgh area and served from 23 October 1861 to the date of his transfer to the Veteran Reserve Corps, 16 February 1864.  He went to Ohio after the war where he died in 1894.  His widow, whose name was Deborah, collected his pension after he died.  No Civil War service has been located for James Fortney Schaeffer and therefore, he was not collecting a pension at the time of his death.
Anna D. Kaufman was the daughter of Daniel Kaufman of Underground Railroad fame in Cumberland County.  After James Fortney Schaeffer died in 1894, she went to live with her parents in Boiling Springs (per 1900 census).  In 1905, she re-connected with and married an old schoolmate-sweetheart, Theodore S. Kauffman, who the news article states was her third cousin.  Theodore was a Civil War veteran of the 209th Pennsylvania Infantry, Company A, Private, who served from 6 September 1864 to 31 May 1865.  When he returned to Boiling Springs after his war service, his sweetheart, Anna D. Kaufman, who was supposed to wait for him to return from the war, had married James Fortney Schaeffer.  So, Theodore moved to Steelton and married a woman named Sally and had at least two children with her.  After Sally died, Theodore moved to Philadelphia and is found in the 1900 census of Philadelphia as a widower.  It was on a return trip to Boiling Springs that Theodore re-discovered Anna and they got married in 1905.
A historical marker in Boiling Springs, describes the activities of Daniel Kaufman as an agent of the Underground Railroad.  More information about him can be found at the ExplorePAHistory web site.  The interesting story of how in the late 1840s he was brought to trial for violating the Fugitive Slave Laws is partially described there.  Kaufman eventually lost the case and had to pay a large fine. This all occurred while his daughter Anna was a young child.  See also Cumberland Civil War and House Divided – Dickinson.
Anna's mother was Catherine Fortenbaugh (1824-1907).  Catherine was a member of the Fortenbaugh family who were pioneer settlers in the Susquehanna River valley.  Catherine's father was Andrew Fortenbaugh and her mother was Christiana [Kauffman] Fortenbaugh.  One of Anna's cousins was Abraham Fortenbaugh, who became a prominent banker and was one of the charter members of the Halifax National Bank in the early 20th century.
Theodore S. Kauffman was collecting a Civil War pension when he married Anna.  Unfortunately, Theodore died on 7 December 1908, but fortunately for Anna, she was married to him so she was able to collect a widow's pension – but she didn't apply until 1916 and then she died at the end of 1918.
Theodore S. Kauffman is buried at Paxtang Cemetery, Dauphin County, Pennsylvania.
—————————–
The news article is from the on-line resources of the Free Library of Philadelphia.