Posted By Norman Gasbarro on March 13, 2015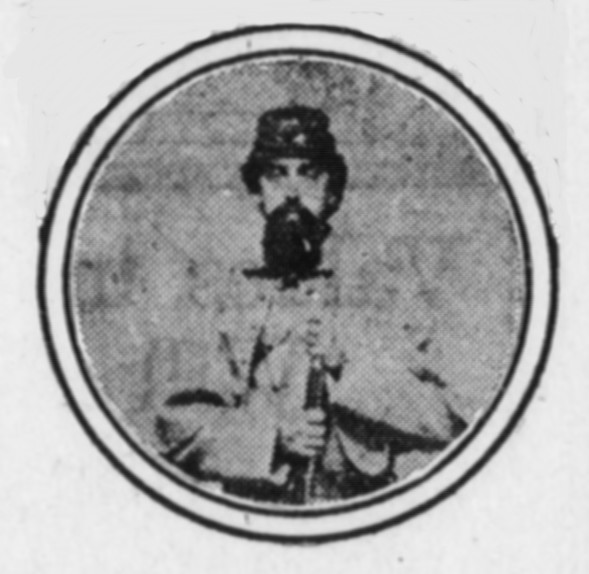 Jacob Robert Miller was born in Halifax Township, Dauphin County, Pennsylvania, on 15 July 1833 to Peter K. Miller and Margaret [Muench] Miller.  During the Civil War he served in the 201st Pennsylvania Infantry, Company E, as a Private, from 19 August 1864 through his discharge by Special Order on 7 November 1864.  He died in Harrisburg and is buried in the Harrisburg Cemetery.  His Civil War regiment is noted on his grave marker at that cemetery:
On the occasion of his 86th birthday in 1899, a feature article about him, with the above photograph, appeared in the Harrisburg Telegraph:
WAR VETERAN OF 86 IS READY FOR QUIET BIRTHDAY

Jacob R. Miller, Veteran P. R. R. Employee, Now in Evening of Long Life

A resident of this city for more than a half century, Jacob R. Miller, Civil War veteran and veteran Pennsylvania Railroad employee, is today making plans to quietly observe the 86th anniversary of his birthday tomorrow at his home, 1316 North Sixth Street.

Born on 15 July 1833, in Halifax Township, just four miles from the Susquehanna River and at the very foothills of Berry's Mountain, a spur of the Blue Ridge, he came to live in Harrisburg on 1 April 1846.  The "little and ancient borough of Harrisburg," as Mr. Miller characterized it, then contained a population of 6,420.

Tells Interesting Stories

Mr. Miller tells interesting stories of the city's development during his residence in the city during the greater part of the succeeding time and has watched with interest its growth into a city of almost 100,000 population.  "Where will it stop," he says, "no one knows."

The first residence of his parents in this city was at the old Krasskey Tavern in Walnut Street, near Canal Street, and afterward at the corner of Walnut and Canal Streets.  Later his father purchased the Triangle property at the the corner of Market and Meadow Lane and opened up the Pennsylvania Railroad House.

Mr. Miller was married in 1853 to Miss Annie E. Shelley, of Hill Island, this county, who died in 1901 after rearing a large family.  He is practically the only survivor of his own and wife's family.

Shortly after Lincoln's call for volunteers in 1861, Mr. Miller entered the Union service and served with the North until the conclusion of hostilities in 1865.

Three Workmen Survive

Before he entered the Army service, Mr. Miller had been employed in the Harrisburg shops of the old Harrisburg, Mount Joy, and Lancaster Railway, which was abandoned on 1 April 1861.  But three workmen of these shops are now known to survive:  Isaiah Reese, machinist, 90 years old; Mr. Miller, brass finisher, 86 years old; and John Reese, engineer, 82 years old.  Later, Mr. Miller served with the Pennsylvania Railroad and is a member of the Pennsylvania Railroad Veteran's Association, Middle Division.

He is reported to be the sole survivor of the "old livery fraternity" of old Harrisburg, having conducted a stable for forty years at one stand.  He is now engaged in operating a large stable for the accommodation of the horses of farmers.

Tells True Stories

He can be found at his stable, he says, "every fine day, busily engaged in telling true stories to his old comrades or engaged in playing an honest game of dominoes with some "poor greenhorn."

He is in "pretty good health," he says, "eats just four square meals per day, then drinks a large glass of poor milk of the first watering."  Then he dreams, he says, "of his great grandfather, who was hung over in old Ireland 200 years ago for stealing sheep."
No Pension Index Card has been located for Jacob R. Miller who claimed Civil War service "shortly after Lincoln's call for volunteers in 1861" and who "served… until the conclusion of hostilities in 1865."  Bates indicates that Miller only served only a short period of time in the 201st Pennsylvania Infantry at the end of 1864 (less than 3 months) and was discharged by Special Order.  The regiment and company noted on his grave marker was used as a guide to search all the Civil War records, but because of the large number of veterans named "Miller," it was impossible to determine if he had other service.  But, if he did serve in other regiments, why is only the 201st noted on the stone, and why did he not apply for a pension?
Jacob R. Miller is another example of the growing number of Civil War veterans who are lately being added to this project because of the discovery that they had some connection the Lykens Valley area.  He was probably not counted because he and his family moved to Harrisburg more than 15 years prior to the Civil War.
He was not included in the extensive list compiled at the Halifax Bicentennial.
——————————
The news story is from the free, on-line newspapers made available by the Library of Congress and can be found at Chronicling America.