Posted By Norman Gasbarro on March 11, 2015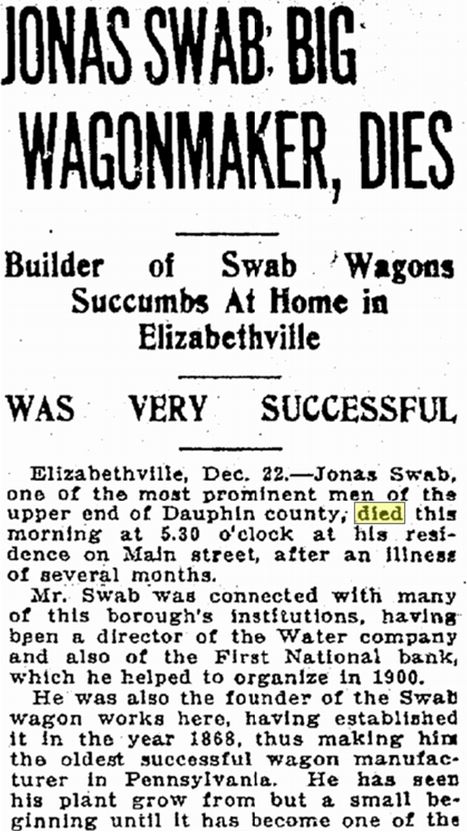 JONAS SWAB: BIG WAGONMAKER, DIES

Builder of Swab Wagons Succumbs at Home in Elizabethville

WAS VERY SUCCESSFUL

Elizabethville, Pennsylvania, 22 December 1913 — Jonas Swab, one of the most prominent men of the Upper End of Dauphin County, died this morning at 5:30 o'clock at his residence on Main Street, after an illness of several months.

Mr. Swab was connected with many of this borough's institutions, having been a Director of the Water Company and also of the First National Bank, which he helped to organize in 1900.

He was also the founder of the Swab Wagon Works here, having established it in the year 1868, thus making him the oldest successful wagon manufacturer in Pennsylvania.  He has seen his plant grow from but a small beginning until it has become one of the largest in Eastern United States.

He was a member of the Lutheran Church here and only this summer presented its congregation with a beautiful chapel annex.

Mr. Swab was a veteran of the Civil War, having served in the Two Hundred and Tenth Regiment (210th Pennsylvania Infantry), Pennsylvania Volunteers.

He had attained the age of 70 years and is survived by a widow and one daughter, Mrs. Fred Margerum of this place.

Interment will take place on Wednesday afternoon in Maple Grove Cemetery, the services being in charge of the Rev. E. J. Heilman, pastor of the Lutheran Church here.
The Pennsylvania Death Certificate of Jonas Swab was obtained through the resources available on Ancestry.com and is pictured below.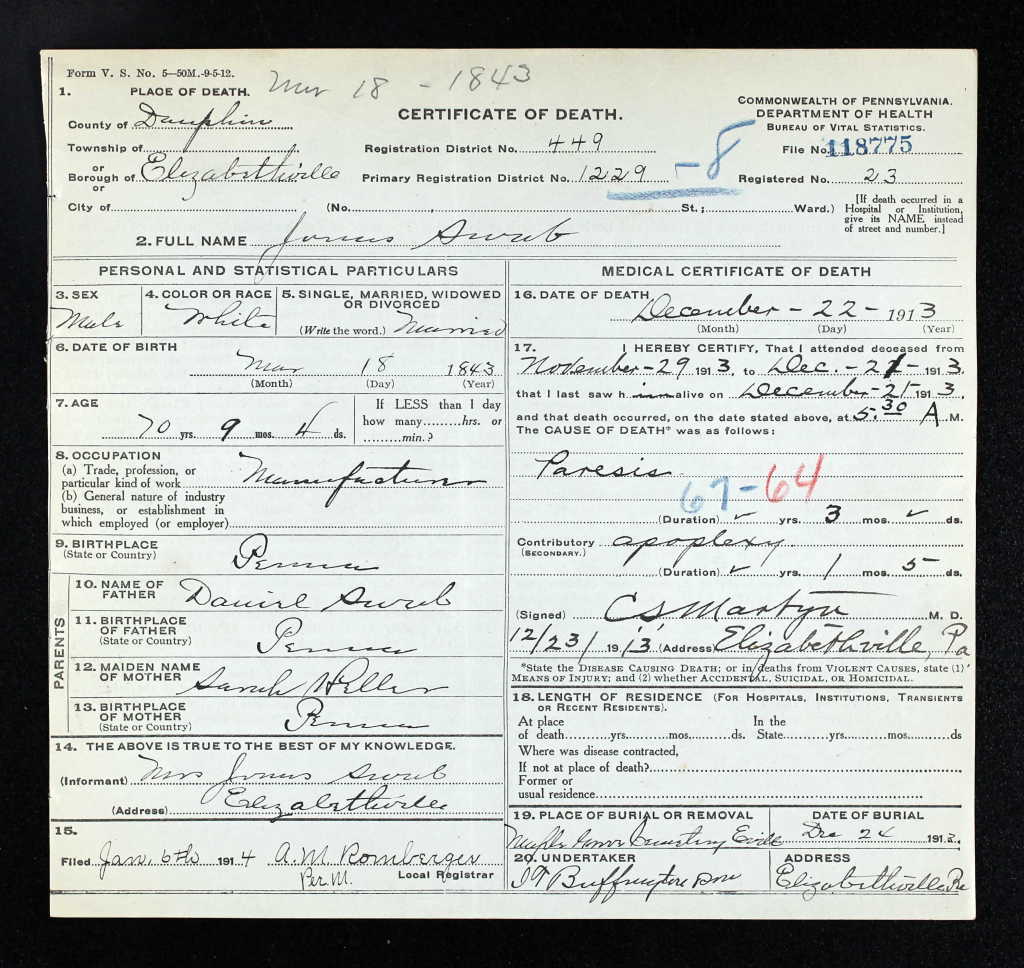 Two prior posts on Jonas Swab were presented on this blog:  Pvt. Jonas Swab – Wagon Manufacturer and Jonas Swab – Civil War Letters to His Father.
——————————-
JAMES M. KOPPENHEFFER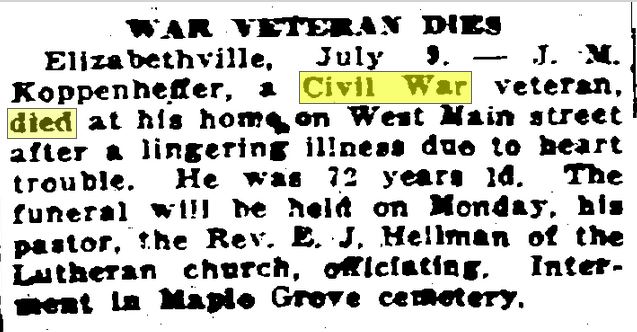 WAR VETERAN DIES

Elizabethville, Pennsylvania, 9 July 1915 — J. M. Koppenheffer, a Civil War veteran,died at his home on West Main Street after a lingering illness due to heart trouble.  He was 72 years old.  The funeral will be held on Monday, is pastor, the Rev. E. J. Heilman of the Lutheran Church officiating.  Interment in Maple Grove Cemetery. [Harrisburg Patriot, 10 July 1915]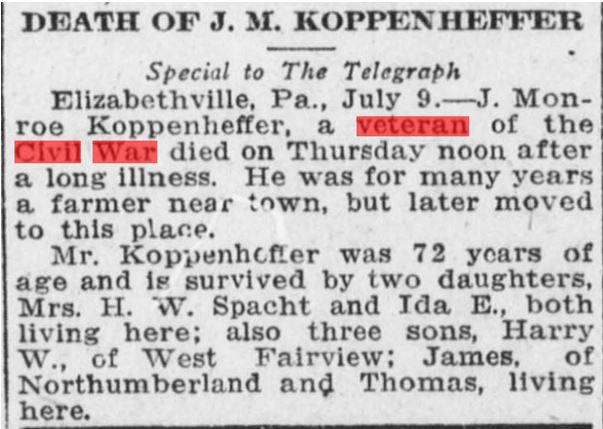 DEATH OF J. M. KOPPENHEFFER

Special to The Telegraph

Elizabethville, Pennsylvania – 9 July 1915 — J. Monroe Koppenheffer, a veteran of the Civil War died on Thursday noon after a long illness.  He was for many years a farmer near town, but later moved to this place.

Mr. Koppenheffer was 72 years of age and is survived by two daughters, Mrs. H. W. Spacht and Ida E. Koppenheffer, both living here; also three sons, Harry W. Koppenheffer, of West Fairview; James Koppenheffer, of Northumberland and Thomas Koppenheffer, living here. [Harrisburg Telegraph, 9 July 1915].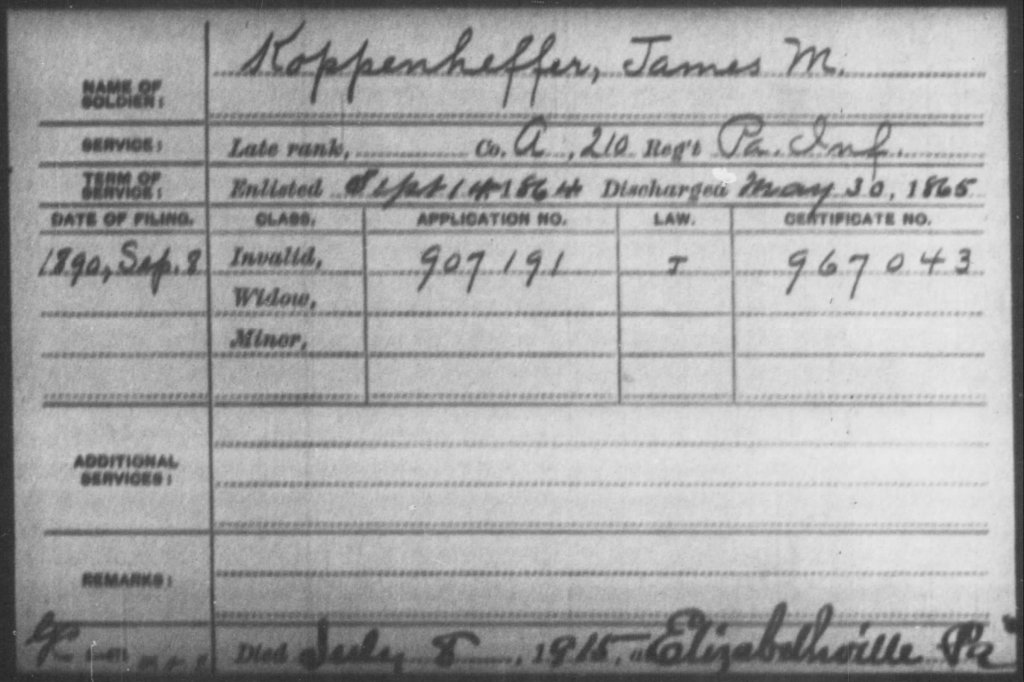 According to the Pension Index Card available from Fold3, James M. Koppenheffer served in the 210th Pennsylvania Infantry, Company A, from 14 September 1864 through his honorable discharge on 30 May 1865.  He applied for a pension on 8 September 1890, which he received and collected until his death which occurred at Elizabethville, on 8 July 1915.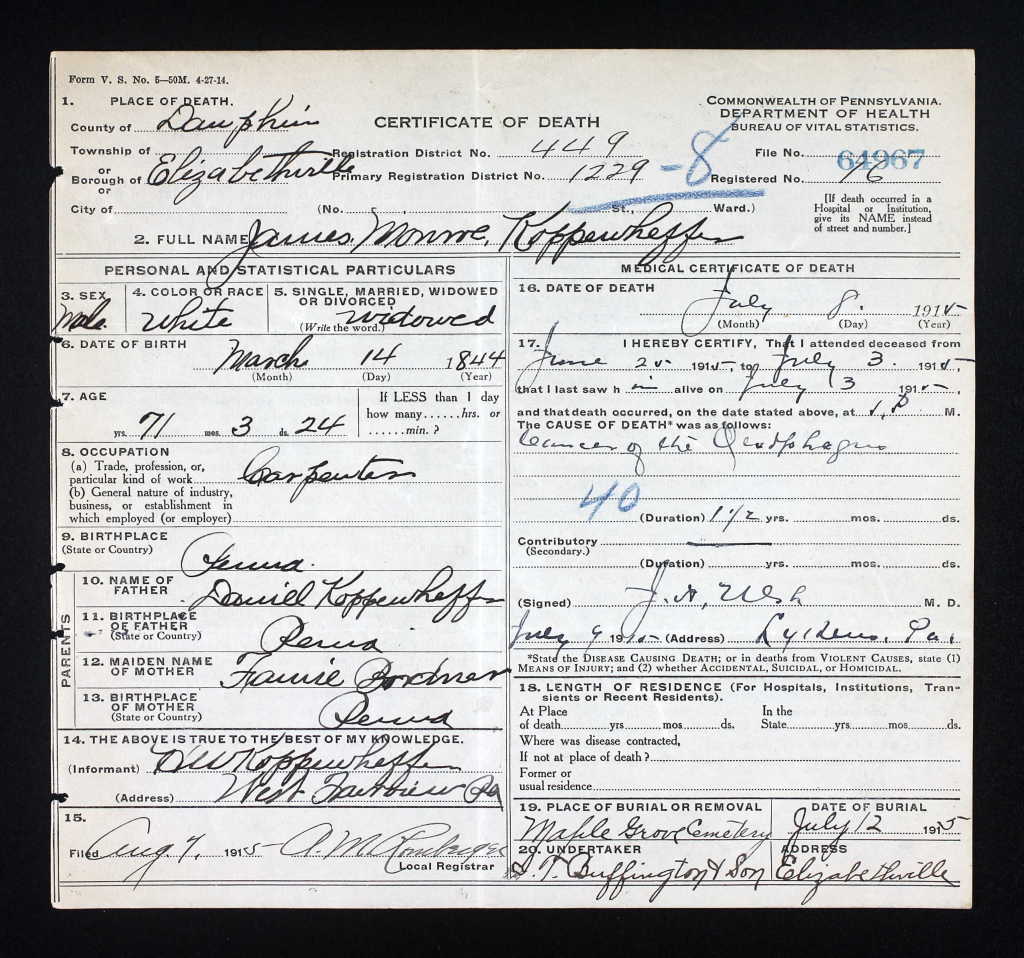 James Monroe Koppenheffer died on 8 July 1915 of cancer of the esophagus according to his death certificate (above) which was obtained from Ancestry.com.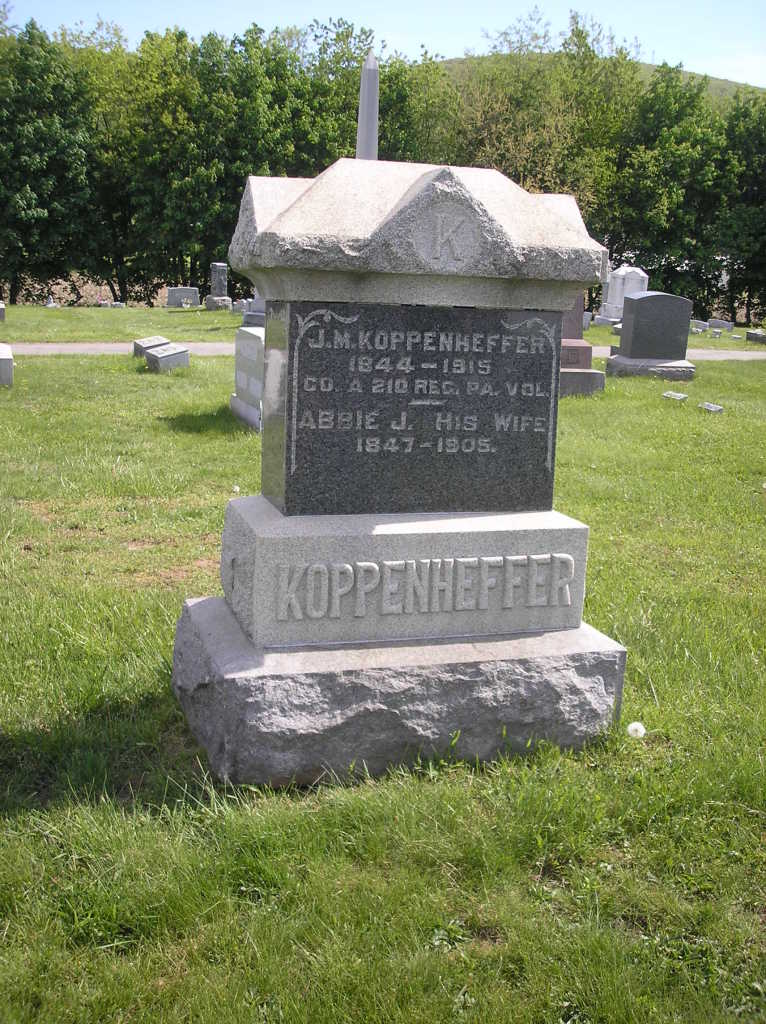 As stated in the obituary and on the death certificate, he is buried at Maple Grove Cemetery.  His wife, Abbie Jane Koppenheffer, who died in 1905, is buried there with him.
——————————-
News clippings are from the on-line resources of the Free Library of Philadelphia and Chronicling America, the on-line newspaper source at the Library of Congress.