Posted By Norman Gasbarro on February 4, 2015
Rev. George Shorter, who is buried at East Middletown Colored Cemetery (also known as the Old Negro Burying Ground), Dauphin County, Pennsylvania, served in the 127th U.S. Colored Infantry, Company F, during the Civil War.  He died on 2 October 1916 and his obituary appeared in the Harrisburg Patriot on 5 October 1916: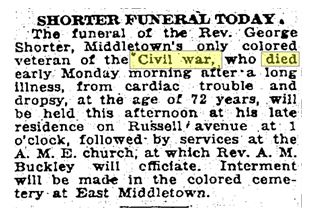 SHORTER FUNERAL TODAY

The funeral of the Rev. George Shorter, Middletown's only colored veteran of the Civil War, who died early Monday morning after a long illness, from cardiac trouble and dropsy, at the age of 72 years, will be held this afternoon at his late residence on Russell Avenue at 1 o'clock, followed by services at the A. M. E. Church, at which Rev. A. M. Buckley will officiate.  Interment will be made in the Colored Cemetery at East Middletown.
As a result of his Civil War service, George Shorter applied for and received a pension as shown by the Pension Index Card available from Fold3: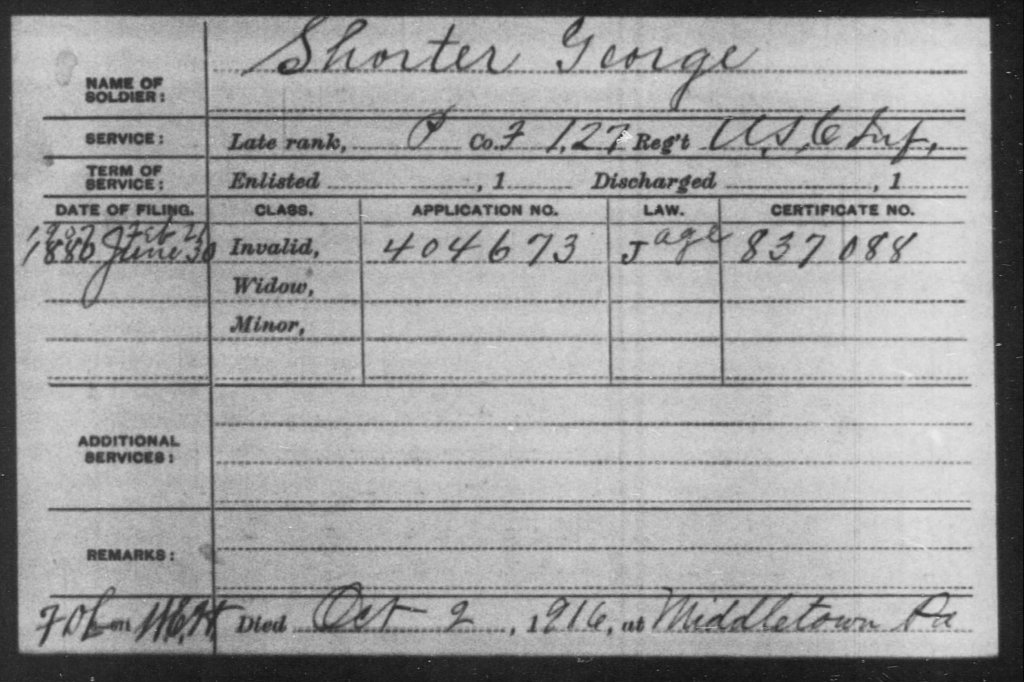 According to the card, the application was made on 30 June 1880 and was re-submitted for an increase due to age on 21 February 1907.  His death date of 2 October 1916 and place of death of Middletown is confirmed on the card.
The military service of George Shorter is also confirmed in index cards available through Fold3.  In all, 13 scanned images are available including the one shown below which gives some personal information about him: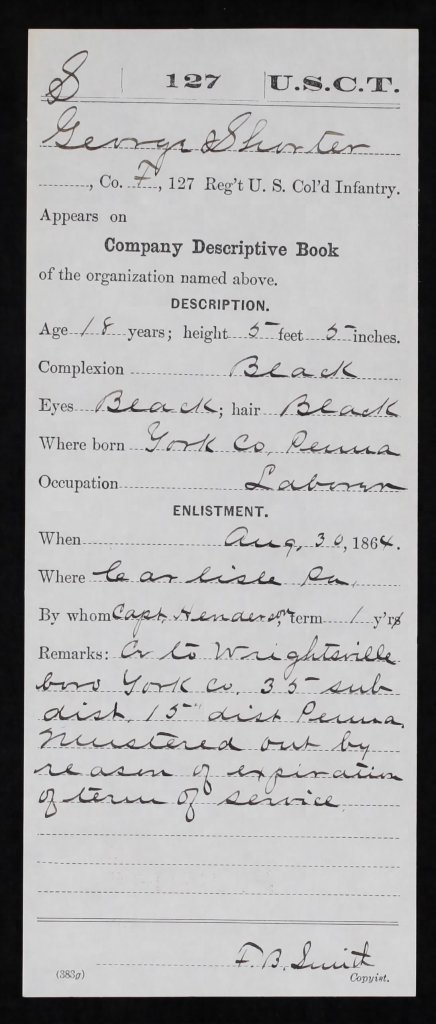 At the time of his enlistment at Carlisle, Cumberland County, Pennsylvania, George Shorter claimed to be 18 years old, he stood 5 feet, 5 inches in height, had black complexion, black eyes, and black hair.  His place of birth was York County, Pennsylvania, and his occupation was laborer.  His enrollment as a Private on 30 August 1864 was credited to Wrightsville, York County.
Shorter received his basic training at Camp William Penn in Philadelphia.  The other index cards show that he was promoted to Corporal on 10 September 1864 but then was reduced in rank to Private on 9 January 1865 from what seems to be a dispute over some lost equipment that he was unable to pay for.  The military records also show that he was at Brazos Santiago, Texas, on 8 September 1865, and that he received an honorable discharge on 20 October 1865.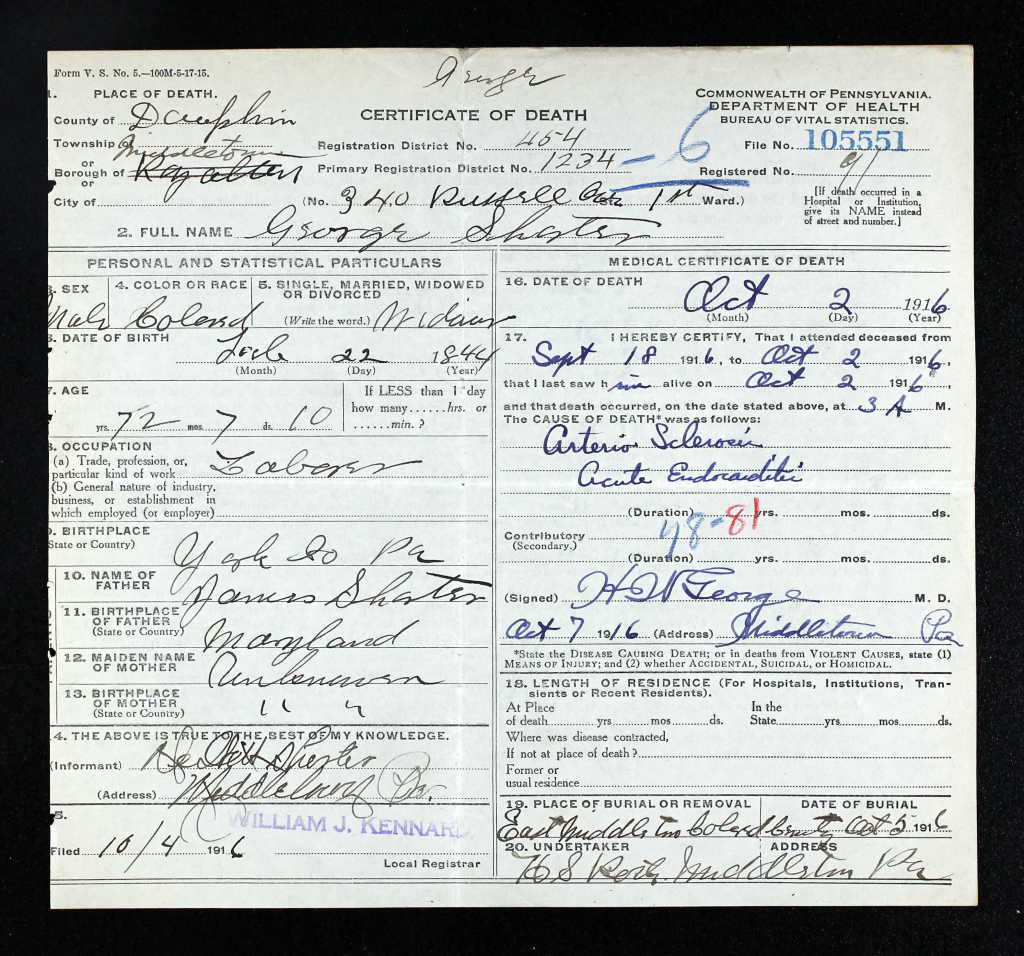 At this time, not much is known about his time after the Civil War, except what appears in his death certificate (shown above from Ancestry.com).  The death certificate informant was a member of his family who stated that George Shorter was a widower at the time of his death, that his occupation was laborer, and that he had been born in York County on 22 February 1844 to a father James Shorter, who had been born in Maryland and an unknown mother.  Although the birth date on the death certificate conflicts with birth date on the grave marker, it is clearly the same person.
Additional information is sought about George Shorter, his family, and his military service.  Add comments to this post or send by e-mail.
——————————
February is Black History Month.  This post on Rev. George Shorter is about the role of one of many African Americans in the Civil War.