Posted By Norman Gasbarro on February 17, 2015
Major John W. Simpson was an African American Civil War veteran from Philadelphia who settled in Harrisburg after the war.  He died on 6 April 1899 and is buried in Lincoln Cemetery in Harrisburg.  The Harrisburg Patriot commemorated his life with a lengthy obituary:
MAJOR J. W. SIMPSON

Prominent Colored Citizen of This City Passes Away at His Home.

Major John W. Simpson, one of the most prominent colored men of this city, died yesterday morning at 6 o'clock at his home, 665 Briggs Street.  Deceased was born 24 February 1835 in Philadelphia where he was educated in the common schools.  In early life he showed rare capacity as a pleasing, forcible public speaker, and in his young manhood was actively engaged in every movement which was made for the improvement of the condition of his race.  During the Civil War Major Simpson became Sergeant of the 24th Regiment, United States Volunteers [24th United States Colored Troops] under Captain Morton Kellog.  After having been honorably discharged he joined the 12th Infantry National Guard of Pennsylvania, commanded by Colonel Wagner, and was soon after made a Major.  On account of his activity on behalf of his people he had a number of narrow escaped from mob violence, and but for the foresight of his wife, who insisted upon his remaining home, he would have lost his life at the time when his friend, Octavius Catto was shot down.

Major Simpson had the honor of being the first colored man to hold a state clerkship.  He was a clerk in the land office under Surveyor General Robert B. Beath during 1872-1875.  At this time he removed to Harrisburg and soon became very prominent in public affairs in this city.  He, associated by several others, began an agitation for graded schools among his people.  As a result of these efforts the Board of Control erected the Lincoln Building on North Street.

Major Simpson organized Post No. 520 Grand Army of the Republic, and became its first commander.  He represented this post in several state and national gatherings.  His record as a Mason was most enviable.  He was for two consecutive terms the grand master of the Free and Accepted Masons of Pennsylvania.  During his administrations many new lodges were organized and all the old ones received new impetus.  He was past grand master of Chosen Friends Lodge, No. 43, Free and Accepted Masons of this city.

Deceased was also an Odd Fellow, being a member of the partiarchie Grand United Order of odd Fellows.  For many years he was a trustee of Brotherly Love Lodge, No. 896, and greatly assisted that lodge in securing the very desirable property which it now owns.  He represented his lodge in the B. M. C., the national assembly at Cincinnati, Washington, and Philadelphia.

Major Simpson took an active interest in politics.  he was alderman of the 8th Ward, preceding Charles Walter, the present incumbent.  Deceased was about 70 years of age, and is survived by a wife and daughter, Miss Marie Simpson.  The funeral will be held tomorrow afternoon from State Street A. M. E. Church.  Masons, Odd Fellows and Grand Army of the Republic men will attend in a body.
From House Divided website at Dickinson College, Carlisle, the following information about John W. Simpson was provided by Brenna McKelvey:
John W. Simpson was born around 1835 in Philadelphia, Pennsylvania. He worked as a shoemaker prior to enlisting in Company E of the 24th United States Colored Troops Regiment. At thirty years old, Simpson enlisted on 23 February 1865 in Philadelphia for a one year term. Simpson was five feet, seven inches tall at the time of his enlistment. The 24th trained at Camp William Penn in Philadelphia, Pennsylvania until they moved to their new station in Washington, D.C. on 5 May 5 1865. The 24th never participated in any active engagements. From 1 June to 16 July 1865, Simpson's regiment served as guards at a prison at Point Lookout, Maryland. Afterwards the regiment relocated to Richmond, until they mustered out on 1 October 1865. Simpson was promoted to sergeant during his enlistment. He was buried in Allegheny Cemetery in Pittsburgh, Pennsylvania.
Although the above website accompanies the information about John W. Simpson with a drawn portrait of him, that drawing is of a generic African American soldier.  As of this writing, no actual picture of John W. Simpson has been seen.
Also, at this writing, the Findagrave Memorial for him contains very little information beyond what Brenna McKelvey provided to the Dickinson site.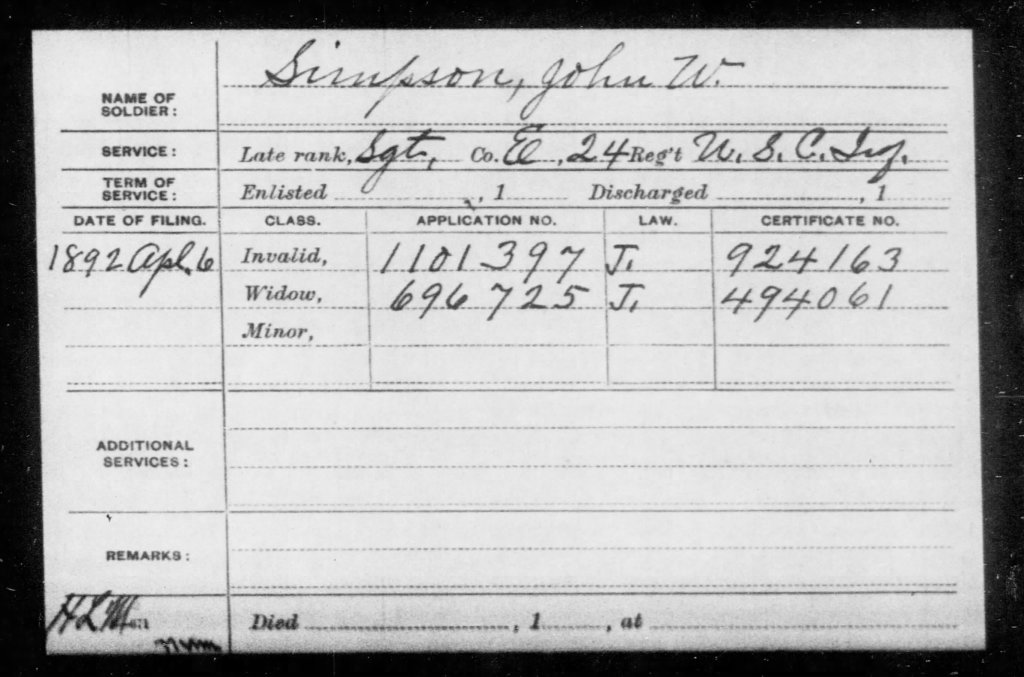 The Pension Index Card (above, from Fold3) for John W. Simpson shows that he applied on 6 April 1892 for a pension and eventually received it.  Likewise, after his death, his widow Mary Simpson also applied and collected.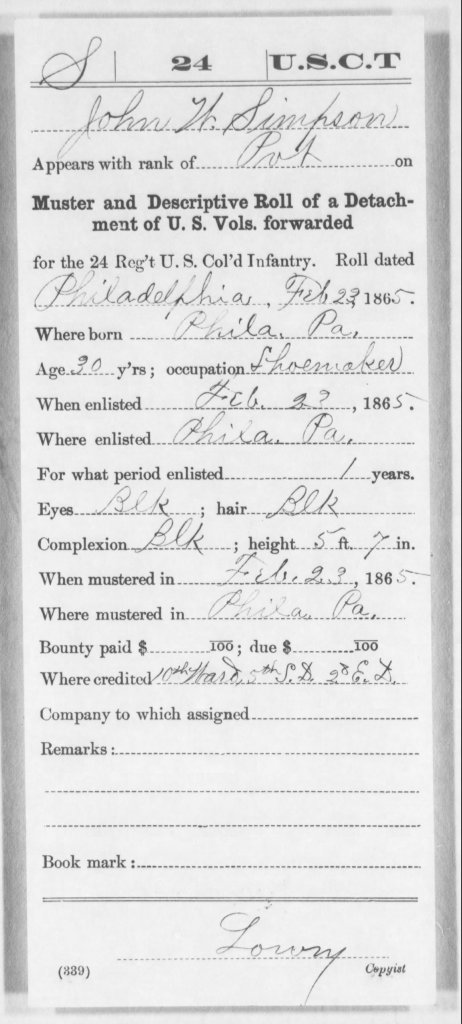 The Military Index Card (above from Fold3) is one of 16 cards and documents available for John W. Simpson.  It gives the basic information about him including his height of 5 foot, 7 inches; his black eyes, hair and complexion, and his age of 30.  The remainder of the cards and documents can be seen at Fold3 or at the National Archives in Washington, D.C.
Finally, there are at least a dozen articles that appeared in the Harrisburg Patriot that describe the various activities of John W. Simpson, including one that was previously used here on this blog:
Republican Aspirants.  A List From Which Candidates Will Be Chosen.

The following is the list made up at the republican naming meeting on Saturday night from which the candidates of that party will be selected on Saturday evening:….

Eighth Ward, First Precinct – Delegates, Spencer P. Irvin, C. W. Harley, T. H. Thompson, George W. Krause, Samuel Bennett; select council, George W. Stoner; common council, P. H. Ryan, C. A. Miller, John A. Krause, Charles Weaver, A. H. Frankem, Joseph B. Popel, Jacob Camp, Alfred Garner; school director, Amos W. Young, William H. Day, James Templar; assessor, John W. Simpson, George Douglass; constable, C. W. Harley, William R. Dorsey, James Hunter; judge of election, J. P. Crabbe; inspector, James H. Howard, L. V. Early, Thomas Thompson. [From Harrisburg Patriot.  25 January 1881].

Any additional information about John W. Simpson would be appreciated.
——————————-
News stories are transcribed from the on-line resources of the Free Library of Philadelphia.
February is Black History Month.  This profile is another in a series of posts to honor African Americans who lived through or were affected by the Civil War.