Posted By Norman Gasbarro on February 20, 2015
On 23 March 1917 a brief obituary appeared in the Harrisburg Patriot noting the death of a prominent businessman of Millersburg, Frank N. Douden.  Although the obituary gave his middle initial as "S," it is the same person who served in the Civil War in Company G of the 96th Pennsylvania Infantry.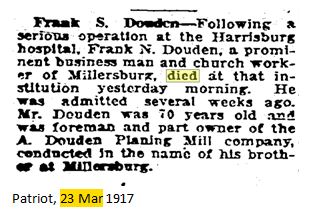 Frank S. Douden – Following a serious operation at the Harrisburg Hospital, Frank N. Douden, a prominent business man and church worker of Millersburg, died at that institution yesterday morning.  He was admitted several weeks ago.  Mr. Douden was 70 years old and was foreman and part owner of the A. Douden Planing Mill company, conducted in the name of his brother at Millersburg.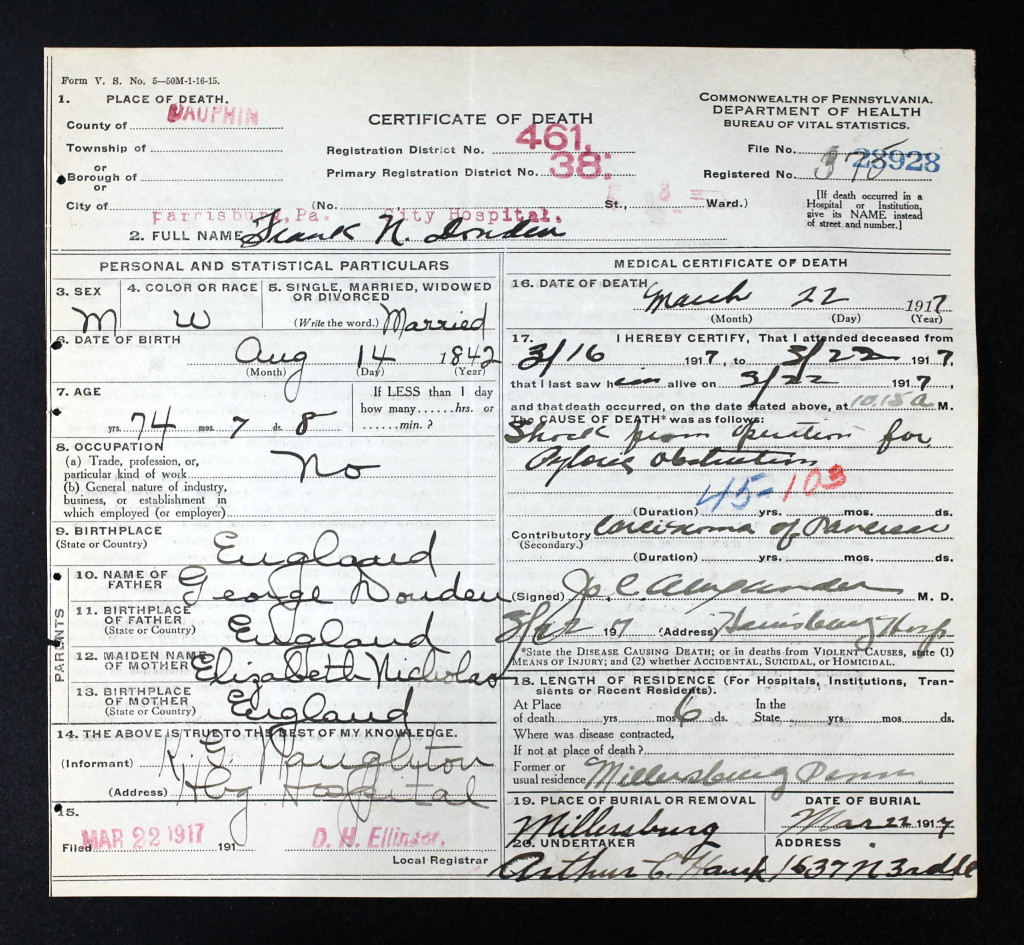 According to his death certificate (above from Ancestry.com), Frank N. Douden was born in England on 14 August 1842 to George Douden and Elizabeth [Nicholas] Douden.  The cause of death was given as "shock from operation."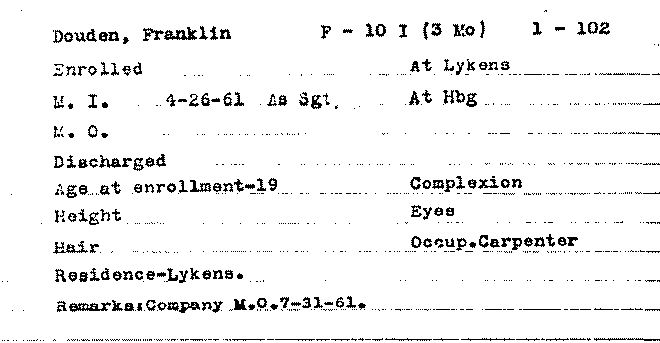 As for his military record, Franklin Douden first enlisted in the 10th Pennsylvania Infantry, Company F, as a Sergeant in Lykens on 26 April 1861 and served a full 3 month term.  He was honorably discharged on 31 July 1861.  At the time of his enrollment, he gave his age as 19 and his occupation as carpenter.  The card shown above, from the Pennsylvania Archives, is a record of that enlistment.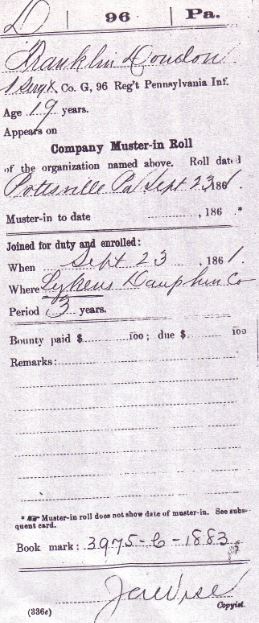 For his second enlistment, Franklin Douden enrolled in the 96th Pennsylvania Infantry, Company G, as a Sergeant, in Lykens, on 23 September 1861.  He was then mustered into service at Pottsville.
There are two records that indicate what happened to him while serving in the 96th Pennsylvania Infantry: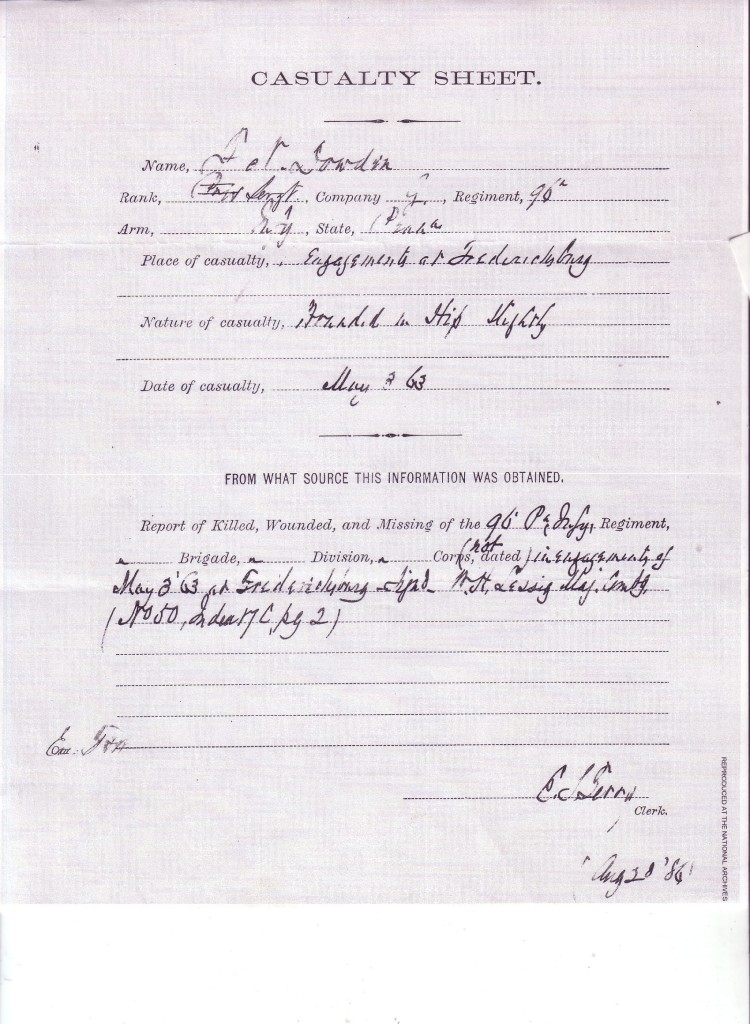 The casualty sheet (above) indicates that F. N. Douden, a member of the 96th Pennsylvania Infantry, Company G, was "wounded in hip slightly" at Fredericksburg, Virginia, on 3 May 1863.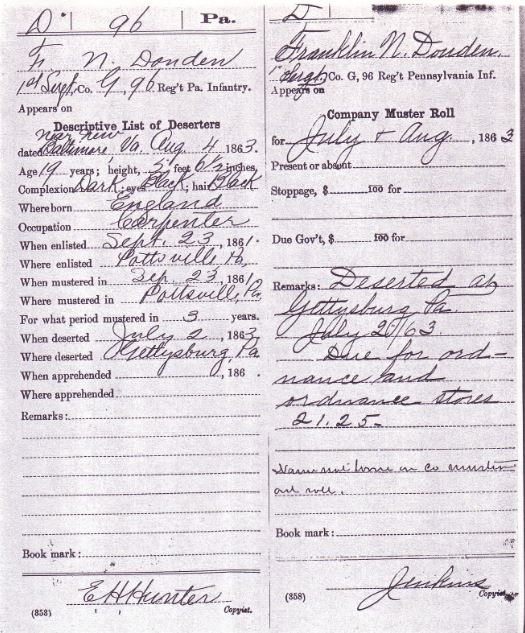 The second document is two cards from the Military Index Records which note that F. N. Douden or Franklin Douden was considered a deserter at Gettysburg, 2 July 1863.  One of those cards also gives personal information about him at the time of his enlistment:  He was born in England, worked as a carpenter, was 19 years old in September 1861, had dark complexion, black hair, black eyes, and was 5 foot, 6 1/2 inches tall.  The desertion information is also confirmed in Bates.
No record has been found that Frank N. Douden ever applied for a pension and he has not been located in the 1890 Veterans' Census.

However, the name Frank Douden appears on the Lykens G.A.R. Monument under 1st Sergeants.  His name is in the category of those who served in the war but were not members of the Heilner Post.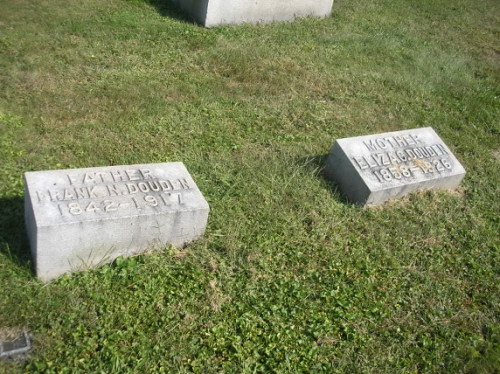 Frank. N. Douden is buried at Oak Hill Cemetery in Millersburg next to his wife, Elizabeth [Dannenhower] Douden.  There is no G.A.R. star-flag holder at his grave.
The following entries from the Diary of Henry Keiser help explain the circumstances of the desertion of Frank N. Douden:
Thursday, October 31, 1961. The non-commissioned officers were appointed today by our captain and 2nd Lieutenant Fessig from Hamburg, Berks County, who brought a good squad to camp and they were consolidated with our company. I was appointed 4th Corporal [and] Frank Douden, 1st Sergeant.

Friday, February 7, 1862. The sun shines bright. I was detailed as guard by the 1st Sergeant this morning at eight o'clock. Was Corporal of the 2nd Relief. [Note:  1st Sergeants at the time were John Williams and Frank N. Douden].

Tuesday, July 29, 1862. The regiment went out on picket at 9 this p.m. I was put on guard at brigade headquarters by our 1st Sergeant Frank Douden, when he knew I was not fit. Got a heavy fever while there and taken to my quarters and Douden was reprimanded by the officer in charge for sending me.

Sunday, October 12, 1862. It was cold and windy last night and is still so this morning. Had our arms and accoutrements inspected by the orderly. F. Douden this forenoon.

Wednesday, April 22, 1863. It is still cloudy but no rain. We were relieved by the 95th P. V. [95th Pennsylvania Infantry] at noon. We drawed bread when we arrived in camp. I signed a list recommending F. N. Douden for promotion. Had Dress Parade at five p.m.

Friday, May 18, 1863. Left for Acqula Creek at 8 a.m. and arrived there near non. I then took the cars for Falmouth Station, Virginia, from there I started on foot to find my Regiment, which I did this evening in their old camp. The Regiment was badly used up at the Battle of Fredericksburg, fought last Sunday. Edwin Mayer had a finger shot off. John Rence had a wound in the head. Lafayette Billig, wounded in the leg. Louis Fretz, slightly wounded and 1st Sergeant Frank Douden wounded in the thigh. All our Company (G). Jacob Nice returned to the Regiment.

Thursday, July 2, 1863. Instead of turning to the left last night we should have turned to the right, and by the time we were fairly started on the right road it was daylight. At 8:30 this morning we crossed the line into Pennsylvania, at ten a.m. we passed through Littlestown. The citizens along the line of march could not do enough for us. Most every house hold standing reading with water buckets, dealing out water to the boys as we marched along and the stars and stripes hanging out in all directions. It made us feel as if we were home once more, and the citizens of Southern Pennsylvania, through their kindness to the soldiers have put new life into us. Can hear heavy cannonading ahead all day. At five o'clock this evening we arrived at what is called Round Top, a short distance from Gettysburg. Very heavy fighting to our left, at five o'clock. At six this evening we filed left, marched some distance, when we formed a line of battle on a knoll and in some underbrush; Our troops gave way and the Rebs drove our men. The Pennsylvania Reserve forming in our front, counter charged the Rebs, our line following up sharp. The enemy was driven back and we regained the ground lost a short time before. We battled in a hollow behind a stone fence, having marched since last evening thirty two miles at the time we formed a battle line. I threw my knapsack portfolio, being too tired to carry it in the charge, but after advancing a short distance, the Regiment was halted and the men unslung knapsacks and had guards placed over them. As we were going in, Gen. Sickles was carried past on a stretcher. 1st Sgt. Frank Douden, W. D. Ferree, John Glass, and John Romberger are back this evening.

Saturday, July 4, 1863. OK has been cloudy ever since we were on the march. Rained little last night. All is great along the line this morning. I picked up a tent and green blanket while going over to the battlefield. The Rebs are over a mile from here. At ten o'clock a.m. —–. Post was made in fence and then returned to our old position. It was though the Rebs were learning, but it was a mistake. First Sergeant F. N. Henden [Douden?] — [Note: at this point the handwriting changes and the text begins to make more sense] not yet made his appearance and it is thought he has deserted.

Thursday, August 20, 1863. My leg is still very sore. Finished Cousin Lucy's letter and sent it off. Heard that W. D. Ferree who left us on "French Leave" in July 2, 1863, was at home and that 1st Sergeant F. N. Douden who deserted July 2nd, 1863 while on march to Gettysburg was at Minersville. Received a letter from brother George. Had Dress Parade. Very hot.
Additional information is sought on Frank N. Douden.  Please add comments to this blog post or send by e-mail.
———————————–
The news clipping is from the on-line resources of the Free Library of Philadelphia.  The military records are from the file of Frank N. Douden available from the National Archives.