Posted By Norman Gasbarro on February 24, 2015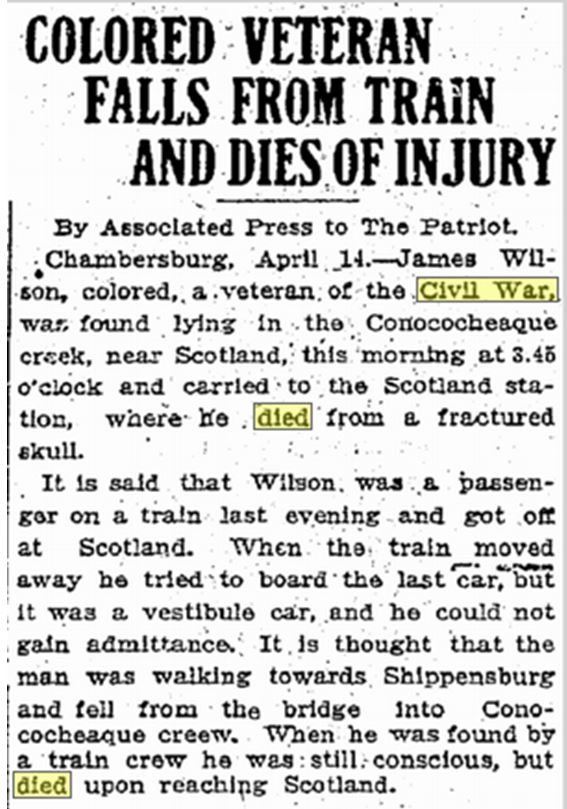 A news story that appeared in the Harrisburg Patriot on 15 April 1907 told of the untimely death of a Civil War veteran, James P. Wilson:
COLORED VETERAN FALLS FROM TRAIN AND DIES OF INJURY

By Associated Press to the Patriot

Chambersburg, Pennsylvania, 14 April 1907 — James Wilson, colored, a veteran of the Civil War, found lying in the Conococheaque Creek, near Scotland, this morning at 3:45 o'clock and carried to the Scotland Station, where he died from a fractured scull.  It is said that Wilson was a passenger on a train last evening and got off at Scotland.  When the train moved away he tried to board the last car, but it was a vestibule car, and he could not gain admittance.  It is thought that the man was walking toward Shippensburg and fell from the bridge into Conococheaque Creek.  When he was found by a train crew he was still conscious, but died upon reaching Scotland.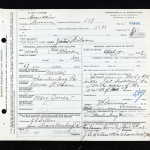 The death certificate of James Wilson gives the information that he was born in Chambersburg, Franklin County, Pennsylvania, to parents James Wilson and Mary Jones.  His estimated year of birth was 1840, based on his age at death of 67.  The specific cause of death confirms what was found in the news article.
James P. Wilson is buried at Lebanon Cemetery, Chambersburg, and some further information about him can be found at his Findagrave Memorial.  A G.A.R. shield and flag holder is at the side of his grave marker.  According to the stone, he served in Company L of the 2nd United States Colored Cavalry and was 66 years old at the time of his death.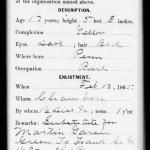 One of 17 Military Index Cards for James P. Wilson is pictured at the left.  These cards are found on Fold3.  According to the card, Wilson was 17 years old at the time of his enrollment, 15 February 1865, at Chambersburg.  He was a substitute for Martin L. Garver of Franklin County.  Wilson gave his occupation as butcher and had yellow complexion, was 5 foot – 3 inches tall, had dark eyes and black hair.  He enlisted for one year. He was discharged at Brazos, Santiago, Texas on 12 February 1866.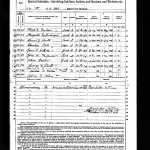 In 1890, James P. Wilson was living in Chambersburg and reported his Civil War service to the census taker.  No Civil War-related injuries were stated.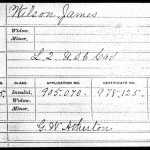 On 5 September 1890, James P. Wilson applied for a pension based on his service in the 2nd United States Colored Cavalry.  The pension was received.  Although Wilson's death certificate (above) indicates that he was married at the time of his death in 1907, no widow applied for benefits.  The Pension Index Card shown at the left is from Ancestry.com.
Based on information in the death certificate, it can be assumed that in 1860, James Wilson at age 13 was living with his parents in Chambersburg.  His father James Wilson, age 65, was employed as a cutter and his mother, Mary Wilson, was 39 years old.  There were three other children in the household, all girls who were younger than James.  There are several persons of the name "James Wilson" who were enumerated in Chambersburg in the censuses from 1860 through 1880, making it difficult to determine which is the one who served in the 2nd United States Colored Cavalry during the Civil War.  One possibility for 1880 is that James Wilson, age 40, was living with a wife named Ida Wilson, age 26, in Chambersburg, and working as a laborer.  This 1880 information has not been confirmed.  As fr the 1900 census, no possible matching form has been seen.
Additional information about James P. Wilson is sought from readers.
—————————–
February is Black History Month.  This post on James P. Wilson is about the role of one of many African Americans in the Civil War.