Posted By Brian Tomlin on February 27, 2015
February 3. Legislature of Canada approves message to British Crown for union of British North American Provinces.  The four provinces united were: Province of Canada, New Brunswick, and Nova Scotia. The former Province of Canada was split back into its pre-1841 parts, with Canada East (Lower Canada) renamed Quebec, and Canada West (Upper Canada) renamed Ontario. These were the original four provinces of Canada.
February 15-16. Earliest inter-colonial cricket match held in the West Indies between Barbados and Demerara (now Guyana). This is recognized as the start of West Indian first-class cricket.
February 20. The Canadian Legislature approves a motion in favor of Confederation. The British Parliament approved the measure in July, 1867, officially forming the Dominion of Canada.
February 21. John Deere receives a patent for a steel plough. This model was an improvement of his earlier designs, first released in 1837. These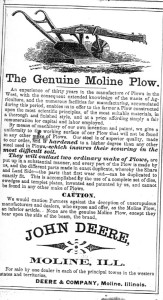 ploughs increased productivity of U.S. farmland and especially helped the boom in farming in the midwest.