Posted By Norman Gasbarro on February 2, 2015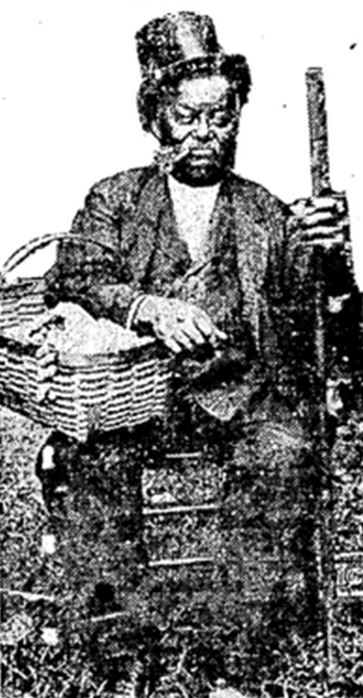 Dan Haller was one of the most colorful figures of post-Civil War Harrisburg.  He was born a slave and after the Civil War came to Harrisburg to work.  A total of nineteen articles about him were found in the Harrisburg Patriot, all of which are available through the on-line resources of the Free Library of Philadelphia.  The last of the articles, his obituary, included a picture of him (shown above).  Some of the articles describe lectures he gave before various Harrisburg groups and one article states that he was once a candidate for a political office.  In his later years he sold peanuts as a street vendor.  According to the articles, he was well known among all who frequented the area between the capitol building and Front Street.
Dan Haller and his wife escaped slavery during the Civil War and headed north, ending up in Harrisburg.  He had no known Civil War military service.
The death certificate of Daniel Haller noted that he was born in "America" of unknown parents, who were possibly from Virgina.  He was a laborer and he died at the Dauphin County Almshouse of senility.  His age at death was estimated as 100 years, 2 months and therefore his birth date was estimated as May 1813.  He was buried in Lincoln Cemetery in Harrisburg.
The obituary of Dan Haller appeared in the Harrisburg Patriot on 31 July 1913:
DAN HALLER, WHOM EVERYBODY KNEW, DIES IN ALMSHOUSE

Old "Darkey," His "Whoop Whoop" Stilled Was Town Character

WAS OLD SLAVE

Early Life Devoted to Industry, Was a Good Marksman

Dan Haller, who died at the Almshouse yesterday, his age is estimated at between 95 and 100 years.

Dan Haller's "whoop, whoop" is stilled.  His last "jumbo" peanut has been sold.  Dan died at the almshouse yesterday.  His age was estimated at between 95 and 100 years.

Dan Haller was one of the best known persons in town.  He was one of the vanishing part of the colored race called "darkies."  His place in the community was in the constellation of "town characters."  Every boy was his fun-loving tease; almost every adult his friend.

Few people living or having business in the central part of the city did not know Dan.  With his basket of peanuts and his long staff, he was a familiar figure on the central streets.  His "whoop whoop" salutation brought mirth to pedestrians and his good nature made others smile.

But Dan was not a joke.  His early life was devoted to industry and fidelity to his task.  For eight years he had been a farm hand and a good one, his employer said.  After that he was a man of all work and later he became a street vendor, though as age, a year ago, laid a heavy hand.  Dan was taken from his Marion Street home to end his days in the poorhouse.

This was not a necessary hardship for the old fellow, who seemed just as light-hearted there as elsewhere.  Persons passing the county institution were wont to hear Dan's "whoop whoop" and "hay hay" many times.

Was Old Slave

In the midst of the Civil War, Dan and his wife were slaves on their master's place near Frederick, Maryland.  One hot July Sunday in 1863, George W. Mumper and his family, including his son George B. Mumper, were driving to service at Silver Spring Church from their home near White Hill.  On the way they encountered two dust-covered colored folks, a man and a woman.

Out of the cloud of dust, the man saluted Mr. Mumper.  It was Dan Haller, then middle aged.  The woman was his wife.  Dan asked for work after telling that he and his wife had escaped from their "massah's" place and were fearful of being caught.

The senior Mumper, who now resides in New Cumberland, gave them a place and for eight years Dan and his wife worked on the farm.  All during the time before the Emancipation Proclamation, Dan never went to bed sure that he wouldn't be caught and taken back to Maryland.

"Dan was a good, dependable workman," said George B. Mumper in his apartments at 133 Walnut Street.  "He was faithful and could be counted upon.  One of the things he did was to haul the stone for the residence of James McCormick at Front and Walnut Street."

After Dan left the farm, he became a workman about the drug store of E. Z. Gross, staying there for many years.  In the course of his work, he became the friend of many Front Street residents with whom he was much of a favorite, several of them delighting in posing Dan for their camera and getting splendid results.

Where He Loafed

Dan was so attached to the drug store that after he severed his business relations, he spent a good deal of his time there with his peanut basket on his arm.  When he wasn't at the drug store, he was at the grocery store of Kreider Brothers, Second and Walnut Streets, the Court House, or between those places.

It was on these journeys that he became the taunting object of fun-loving boys.  Their cry to him was "whoop whoop;." his answer, "hay hay," though oftimes he led off.  Dan didn't seem to mind the ridicule, taking it probably as it was meant, smiling, tapping his staff on the pavement and walking on.

He had to stand for more of the same sort of greeting.  "Who shot a cat for a rabbit," was shouted at him several times a day.  Back of this remark is the story of a joke worked on Dan years before.  As a shot, it is declared there were few better.  He spent much of his time hunting and those who know say he rarely missed a bird or a rabbit.

It was on such a hunting trip, it is said, that he came back laden with cotton tails.  He took his hunting bag fro his shoulder and while he was not looking, the joker slipped a dead cat into the bag.  Dan never lived the joke down.

He also had to provide amusement for many persons.  he said oftimes that he was a preacher and a lecturer and many times appeared before organizations to argue his theory that "the world was square" though it didn't seem to be in its treatment of him.

Within a year or so, he was the victim of an hysterical anger when after being teased by boys at his Marion Street home, he fired some bird shot into them.  Of course, the police had to take him, but he was put on probation.  Shortly after that he was taken to the almshouse.
—————————–
The obituary of Dan Haller and the picture of him are from the on-line resources of the Free Library of Philadelphia.
—————————–
February is Black History Month.  This article on Dan Haller is part of series on the influences of African Americans on the Civil War and post-Civil War generations in and around Dauphin County, Pennsylvania.