Posted By Norman Gasbarro on January 15, 2015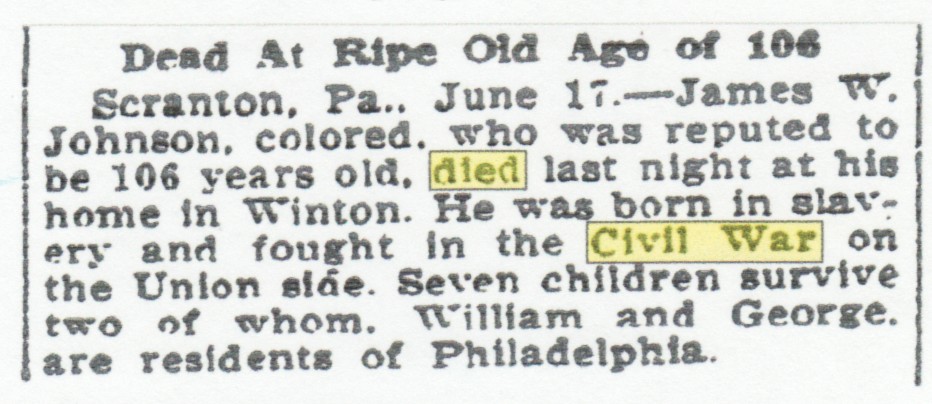 An obituary of James W. Johnson which appeared in the Harrisburg Patriot on 18 June 1910 gave the following information:
Dead At Ripe Old Age of 106

Scranton, Pennsylvania, 17 June 1910 — James W. Johnson, colored, who was reputed to be 106 years old, died last night at his home in Winton.  He was born in slavery and fought in the Civil War on the Union side.   Seven children survive two of whom, William Johnson and George Johnson, are residents of Philadelphia.
More information is sought on James W. Johnson.  No Pennsylvania death certificate has been located for him and identifying him in a Union regiment is difficult because of the great number of persons with the same name.  In the United States Colored Troop regiments there are dozens of persons with this name.
Some clues for those willing to research this:  (1) Winton, or Jessup, is a small community that was originally part of Luzerne County, but after 1878 became part of Lackawanna County; (2) It developed in the late 1900s as a coal mining community and attracted many immigrants;  (3) Today, the population of that community is less than 1% African American.
In browsing the 69 pages of census returns for 1900 for Winton, the immigrant population stands out as a significant component of the community, while the occupations in mining are dominant.  Also, in 1900, less than 1% of the population identified by color or race as "B" (for Black).  The closest person who could be the Civil War veteran is James W. Johnson is a stone mason who was born in Virginia.
However, that James Johnson was born (according to the census) in May 1822 and was 78 years old in 1900.  The correct birth year for someone who was 106 years old in 1910 (at death) would be 1804.  Was it possible that a 78 year old (who was still working as a stone mason) was actually 96 years old?
It is possible that James W. Johnson was enumerated in the 1910 census for Winton and may have died only days after the enumeration.  In that case, that census collected information on Union and Confederate Civil War veterans, and he could have been identified as such.  It is also possible that James W. Johnson appears in the 1890 Veterans' listings for Winton or Lackawanna County, Pennsylvania.  The 1890 census identifies regiment and company, dates of service, and reported disabilities incurred in the war.   However, at this time, neither of those censuses have been consulted.
No Findagrave Memorial has been located for a James W. Johnson who died in 1910.
Anyone who can give more specific information about this Civil War veteran can add a comment to this post or send the information by e-mail.  There could be some very interesting stories found as a result of researching further into a African American who was born in slavery, fought in the Civil War on the Union side, and lived to be 106 years old!