Posted By Norman Gasbarro on January 22, 2015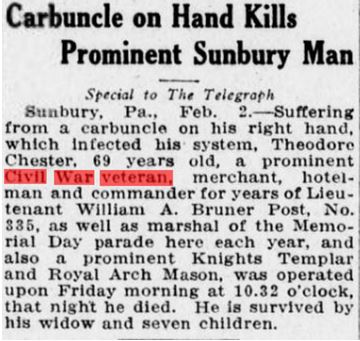 Theodore Chester (1846-1914) served in the Civil War in the 136th Pennsylvania Infantry, Company C, as a Private from 16 August 1862 through his honorable discharge on 29 May 1863.  He enrolled and was mustered in at Harrisburg claiming to be 21 years old, when in fact he was only 16.
His obituary appeared in the Harrisburg Telegraph on 2 February 1914:
Carbuncle on Hand Kills Prominent Sunbury Man

Special to the Telegraph

Sunbury, Pennsylvania – 2 February 1914 — Suffering from a carbuncle on his right hand, which infected his system, Theodore Chester, 69 years old, a prominent Civil War veteran, merchant, hotelman, and commander for years of Lieutenant William A. Bruner Post No. 335, as well as marshal of the Memorial Day Parade here each year, and also a prominent Knights Templar and Royal Arch Mason, was operated upon Friday morning at 10:32 o'clock, that night he died.  He is survived by his widow and seven children.
On 30 July 1890, Theodore Chester applied for a Civil War pension  Following his death, his widow, Louisa [Wolf] Chester applied on 6 February 1914.
He is buried in St. Luke's Cemetery, Sunbury, Northumberland County, Pennsylvania:
—————————
The news clipping is from Chronicling America, available through the on-line resources of the Library of Congress.