Posted By Norman Gasbarro on January 28, 2015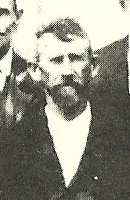 According to a biographical sketch of Israel Otterbein Enders, found in Captain Enders Legion, he was born 5 October1845 in Enders, Dauphin County, Pennsylvania.  He married Caroline Keiter, the daughter of John L. Keiter and Susannah Keiter of Fisherville, Dauphin County, Pennsylvania.  She was born in Enders on 27 September 1848.   The couple had thirteen children:  Irvin T. Enders, born 3 May 1871; Alvin Clement Enders, born 23 November 1872 and died 23 October 1879; Sarah Ellen Enders, born 2 January 1874 and died 10 October 1879; Ida Alice Enders, born 22 September 1875, and died 16 September 1876; Edgar Edwin Enders, born 26 Dec 1876; Warren W. Enders, born 27 March 1878; Walter E. Enders, born 5 July 1879; Emma E. Enders, born 6 Nov 1880; Katherine E. Enders, born 29 July 1882; Joel Esli Enders, born 25 November 1883; Salome Ella Enders, born 12 February 1885; Irene Eva Enders, born 17 May 1888; and Lena May Enders, born 6 March 1890…. Israel died 8 Jun 1917 in Fisherville, Pennsylvania and is buried in the United Brethren Church Cemetery in Enders.  His wife Caroline died 1 April 1914 and is buried beside her husband.
At the time of the writing of Captain Enders Legion, the authors had not confirmed Israel's regiment of Civil War service, but knew that he had not served in a Pennsylvania Regiment, because he was not named in Bates.
In the 1890 Veterans' Census, Israel O. Enders reported that he had served in the 6th U.S. regiment, from 1866 through 1869, but did not indicate whether this service was in the infantry or cavalry. That census report, shown below, is difficult to read:
The bottom portion of the census sheet notes that he had a combined injury affecting, head… heart… lungs, and in the remarks section states "this soldier is entirely unfit to do any kind of work…."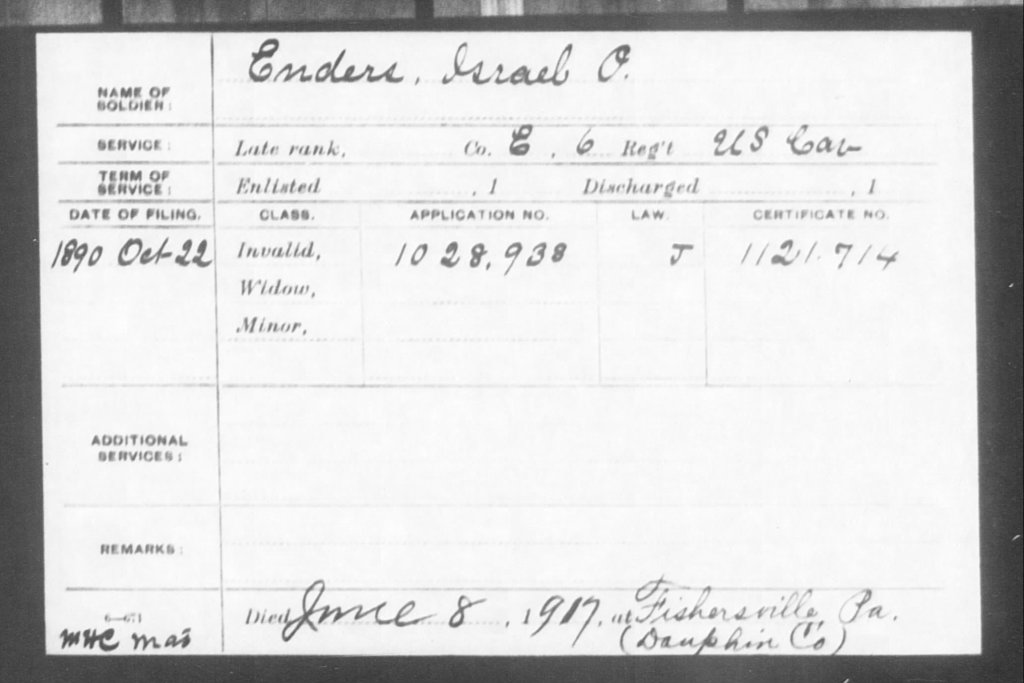 Israel O. Enders applied for a pension on 22 October 1890, just a few months after the 1890 Census where he reported his disabilities.  The Pension Index Card (above, from Fold3), shows that the service was in the 6th U.S. Cavalry.
On 11 June 1917, the Harrisburg Patriot reported his death:
ISRAEL O. ENDERS

Israel O. Enders, aged 71 years, died at his home near Fisherville Friday night.  He was a veteran of the Civil War, being a member of Troop E. 6th Regiment, United States Cavalry [6th U.S. Cavalry].

He is survived by four sons:  Thomas I. Enders of New York; Edgar E. Enders, Warren W. Enders; Joel E. Enders; five daughters, Irene E. Enders, dietitian at the Woman's Hospital, Philadelphia; Lena M. Enders; Katharine E. Enders; Mrs. Milton Kinnel; and Mrs. Arthur Seibert, all of this city, besides a large number of relatives.  Robert A. Enders, President of the Camp Curtin Trust is a nephew.  Funeral services will be held Tuesday morning a 10 o'clock at Fisherville.  Interment in the family lot, Enders, Pennsylvania.
Additional information about Israel O. Enders, including the birth and death years of his children, can be found at his Findagrave Memorial.
—————————–
News clippings are from the on-line resources of the Free Library of Philadelphia.