Posted By Norman Gasbarro on January 3, 2015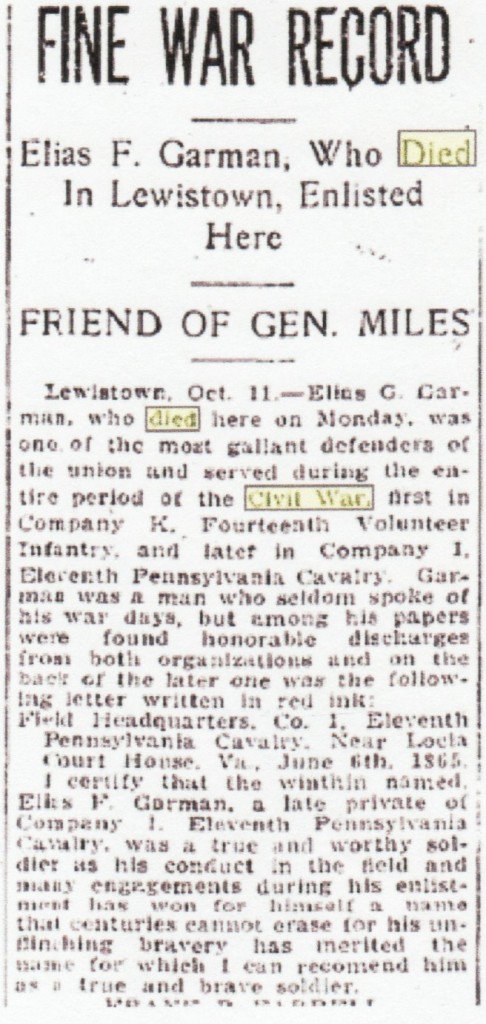 The obituary of Elias F. Garman appeared in the Harrisburg Patriot on 12 October 1910:
FINE WAR RECORD

Elias F. Garman, Who Died in Lewistown, Enlisted Here

FRIEND OF GEN. MILES

Lewistown, 11 October 1910 — Elias G. Garman, who died here on Monday, was one of the most gallant defenders of the Union and served during the entire period of the Civil War, first in Company K, Fourteenth Volunteer Infantry [14th Pennsylvania Infantry]. and later in Company I, 11th Pennsylania Cavalry.  Garman was a man who seldom spoke of his war days, but among his papers were found honorable discharges from both organizations and on the back of the later one was the following letter written in red ink:

……………………..

Field Headquarters, Company I, 11th Pennsylania Cavalry, Near Locia Court House, Virginia, 6 June 1865.

I certify that the within named, Elias F. Garman, a late private of Company I, 11th Pennsylania Cavalry, was a true and worthy soldier as his conduct in the field and many engagements during his enlistment has won for himself a name that centuries cannot erase for his unflinching bravery has merited the name for which I can recommend him as a true and brave soldier.

FRANK F. Farrell, 1st Lieutenant, 11th Pennsylania Cavalry, Commanding Company I

……………………..

The secret of what these acts of bravery consisted was probably taken to the grave with him unless some of his comrades can recall them which is not likely, as he refused to speak of them.  Even when petitioned by his children his only reply was "No, you must hear them from other lips than mine."  It is known, however, that he spent several months in the secret service of the army and that he thrice entered the enemy's lines in front of Petersburg and Richmond and returned with valuable information.

He was helpless from paralysis for two years and during this period he received a letter from General Nelson A. Miles, with whom he was intimately associated during the war and it was read to him he cried like a child.  He had in his possession a razor, a pair of booty pullers and long dirk knife by which he set great store and said he secured them from the headquarters of General Robert E. Lee prior to his surrender, but he refused to tell the story of how they came into his possession.

The body will be taken to New Cumberland, his old home, for interment, on Wednesday.  Garman enlisted from Harrisburg, in fact was born in Dauphin County, 18 August 1844.  He is survived by two brothers, George Garman of Jersey Shore, and John Garman of Canesville, Illinois, and three sons, Theodore G. Garman, of Harrisburg; Robert B. Garman of Lewistown; and William E. Garman of Chester.  In this as in many other cases the United States Government failed to provide an adequate pension to bring him comforts in his declining years, but these were furnished by Carthage Lodge, No. 194, K. of P., Steelton, through the agency of Juniata Lodge, No. 270, of this city, and by his son, Robert E. Garman, with whose family he made his home.  Funeral services will be held at New Cumberland at 2 P.M. Wednesday.
Turning to the Findagrave Memorial, a conflicting statement was found regarding Garman's first service:
He was drafted in Harrisburg 16 October 1862, and mustered into federal service there 3 November 1862, as a private with Company K, 173rd Pennsylvania Infantry, and honorably discharged with his company 18 August 1863.
Bates notes that a Lawrance Garman served in the 14th Pennsylvania Infantry and a Elias F. Garman served in the 173rd Pennsylvania Infantry.
The Findagrave Memorial also notes that he is buried at Mount Olivet Cemetery, York County, not in New Cumberland.
On the matter of the "inadequate pension," it should be noted that Garman did not apply for pension benefits until 20 July 1897, a pension which was received and collected until his death.  The Pension Index Card notes that his service other than the cavalry regiment was in the 173rd Pennsylvania Infantry, not the 14th Pennsylvania Infantry as noted in the obituary.
The Pennsylvania Death Certificate for Elias Garman was found on Ancestry.com: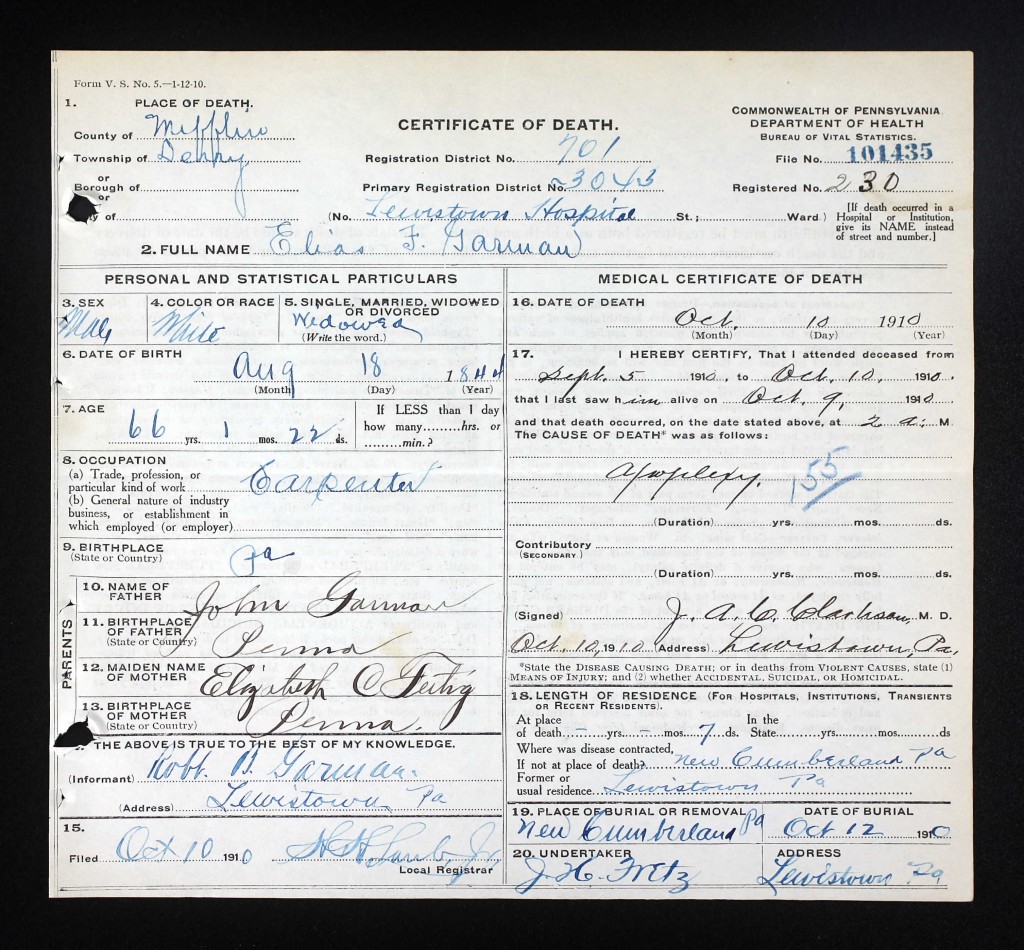 According to the death certificate, Elias Fertig Garman died at Lewistown Hospital, Derry Township, Mifflin County, Pennsylvania.  His last occupation was carpenter and he was a widower at the time of his death.  His father's name was John Garman and his mother's name was Elizabeth C. Fertig, which accounts for the middle name of "Fertig."  The death certificate does indicate that Elias was buried at New Cumberland, not York as stated in Findagrave.
Finally, a search was made of the York County Heritage Civil War Database created by Dennis Brandt.  Elias Garman is included in that database.  There are a number of other facts about him not previously mentioned in this post, including that his "hometown" was Middle Paxton Township, Dauphin County.