Posted By Norman Gasbarro on January 4, 2015
At the time of death of individuals, when their families are required to present them in the best light in an  obituary, often undocumented claims are made about their lives and sometimes their achievements are cast in terms of how they performed their duties or had personal connections with famous historical characters.  Both Lincoln and Jefferson Davis are sometimes mentioned, with Lincoln getting the greatest share of relationships.  However, four individuals died over the period 1915 to 1922 whose recently-located obituaries referred to the President of the Confederacy, Jefferson Davis.
In the first one below, the family of one individual reported that he was the last survivor of the men who guarded Jefferson Davis – which was immediately disputed by another survivor.
In the second, it was claimed that the soldier was a blacksmith who made the shackles that held Davis at Fortress Monroe.
In the third, an African American, who claimed to be a body servant of Davis, hid the seal of the Confederacy and kept the secret through death.  Was the seal ever found?
In the final obituary and funeral notice, the veteran who disputed the first account died, and his family claimed that he was the last survivor of the men who guarded Jefferson Davis.
The veracity of these claims has not be checked for this blog post.  They are presented here to show that despite all that all that these individuals accomplished in life, including their roles as veterans of the Civil War, nothing was as important as their relationship with Jefferson Davis.
Of course, as always, readers are invited to comment.
—————————-
JOHNSON WAS GUARD

A recent story that the last member of the guard, which watched Jeff Davis at Fortress Monroe, while he was a prisoner of the Union authorities, died at Wilkes-Barre, is disclaimed by Richard M. Johnson, 232 North Front Street [Harrisburg], who says that William H. Davis of New Cumberland, a veteran named McAllister of McAllisterville, and himself still survive the detachment which guarded the imprisoned President of the Confederacy.

The three Civil War veterans were members of a Pennsylvania Battery of heavy artillery which was enlisted in Juniata County in February 1864.  [from Harrisburg Patriot, 8 September 1915]
——————————

Canton, Pennsylvania — Henry Arnold, Civil War veteran, died at his home at Granville Center.  He was a blacksmith by trade and was the man who forged the shackles on Jefferson Davis, President of the Southern Confederacy, at Fortress Monroe.  [Harrisburg Patriot, 11 May 1918]
—————————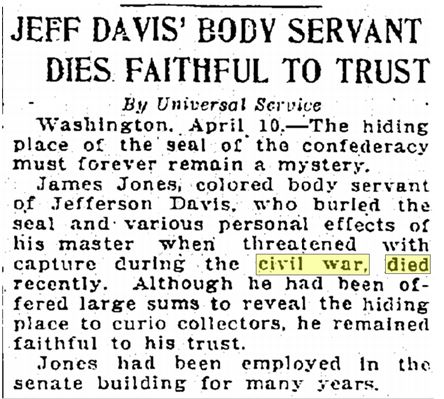 JEFF DAVIS BODY SERVANT DIES FAITHFUL TO TRUST

By Universal Service

Washington, 10 April 1921 — The hiding place of the seal of the Confederacy must forever remain a mystery.  James Jones, colored body servant of Jefferson Davis, who buried the seal and various personal effects of his master when threatened with capture during the Civil War, died recently. Although he had been offered large sums to reveal the hiding place to curio collectors, he remained faithful to his trust.

Jones had been employed in the Senate building for many years. [Harrisburg Patriot, 11 April 1921].

——————————-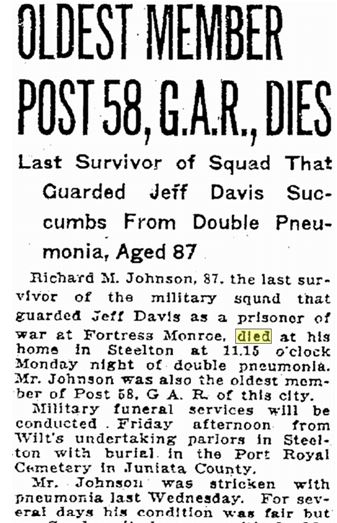 OLDEST MEMBER POST 58 G.A.R., DIES

Last Survivor of Squad That Guarded Jeff Davis

Succumbs from Double Pneumonia, Aged 87

Richard M. Johnson, 87, the last survivor of the military squad that guarded Jeff Davis as a prisoner of war at Fortress Monroe, died at his home in Steelton at 11:15 o'clock Monday night of double pneumonia.  Mr. Johnson was also the oldest member of Post 58, G.A.R. of this city [Harrisburg].

Military funeral services will be conducted Friday afternoon from Wilt's undertaking parlors in Steelton with burial in the Port Royal Cemetery in Juniata County.  Mr. Johnson was stricken with pneumonia lat Wednesday.  For several days his condition was fair but on Sunday it became critical. Mr. Johnson was  born 8 February 1835, in Perry County and enlisted early in the Civil War.  He was stationed for some time at Fortress Monroe and was guard over Jeff Davis from 8 June 1865 to 8 November 1865.

Besides his wife he is survived by several children and a number of grandchildren.

Mr. Johnson participated in the Memorial Day services here for many years and this year was the first that he agreed to ride in an automobile instead of walking.

Mr. Johnson lived in Steelton for more than forty years.  His home is at 250 North Front Street.  Until four years ago when he retired he was employed in the boiler shop of the Bethlehem Steel Company. [Harrisburg Patriot, 5 July 1921].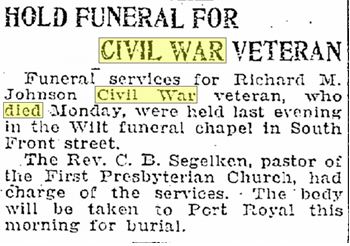 HOLD FUNERAL FOR CIVIL WAR VETERAN

Funeral services for Richard M. Johnson, Civil War veteran, who died Monday, were held last evening in the Wilt funeral Chapel in South Front Street.

The Rev. C. B. Segelken, pastor of the First Presbyterian Church, had charge of the services.  The body will be taken to Port Royal for burial. [Harrisburg Patriot, 7 July 1921].
—————————-
News clippings are from the on-line resources of the Free Library of Philadelphia.   The picture of Jefferson Davis at the top of this post is from the Library of Congress.