Posted By Norman Gasbarro on January 9, 2015
CARSONVILLE MERCHANT DIES OF APOPLEXY

Elizabethville, 19 July 1917 —Alexander McLaughlin, a Civil War veteran who for many years conducted the general store and post office at Carsonville, died at his home here this afternoon at 4:30 p.m., following a stroke of paralysis.

He was 76 years of age.  He is survived by three sons, CurtisMcLaughlin, of Harrisburg; Harry McLaughlin of Harrisburg and John McLaughlin, who resides in New Jersey.  Funeral services will be conducted Sunday afternoon at 2 o'clock in charge of Rev. Mr. Wehr, assisted by Rev. Mr. Shoop.  Interment will be in Enterline Cemetery.  [Harrisburg Patriot, 20 July 1917].

During the Civil War, Alexander McLaughlin served with two regiments as shown on his Pension Index Card from Fold3 (below):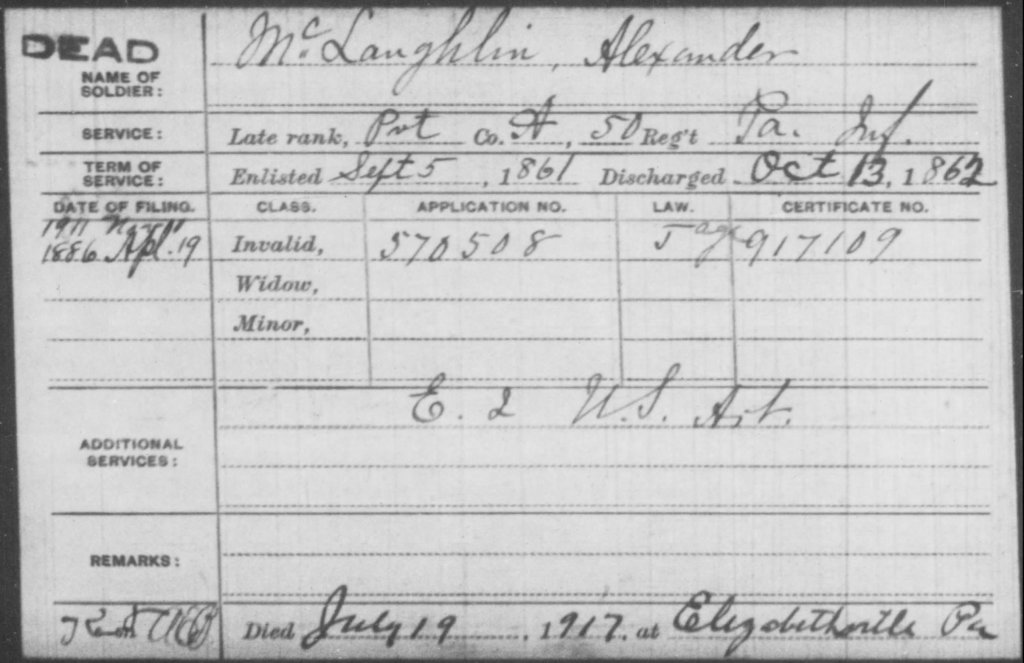 His service was in the 50th Pennsylvania Infantry, Company A, and in the 2nd U.S. Artillery, Company E.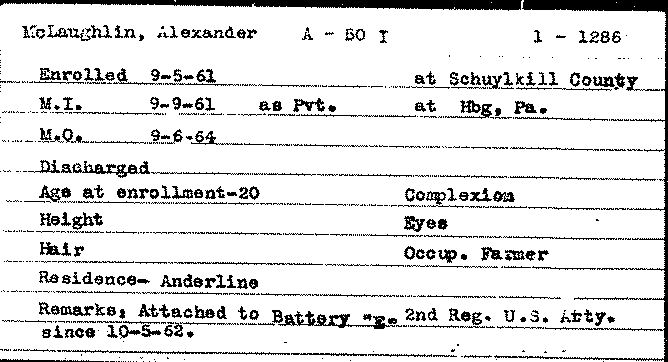 The Pennsylvania Veterans' File Card from the Pennsylvania Archives notes that he first enlisted at Schuylkill County on 5 September 1861 and was mustered into service in Company A as a Private on 9 September.  He gave his age as 20, his residence as "Anderline" [Enterline], and his occupation as farmer. On 5 October 1862 he was assigned by attachment to the 2nd U.S. Artillery, where he remained until his discharge on 6 September 1864, after 3 years of service.

McLaughlin's name appears on the Elizabethville Civil War list and on the Lykens G.A.R. Monument as a member of the Heilner Post who joined after organization.  Elizabethville did not have a G.A.R. Post and many of the veterans from that community joined the Lykens G.A.R.  However it is possible that there is another person of this name as can be speculated from the assault case noted below:
The following item was found in the court reports of Dauphin County as reported by the Harrisburg Patriot, 14 September 1892: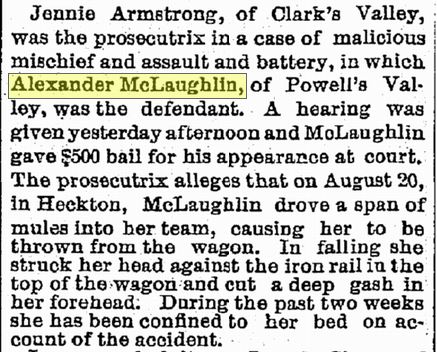 Jennie Armstrong, of Clark's Valley, was the prosecutrix in a case of malicious mischief and assault and battery, in which Alexander McLaughlin, of Powell's Valley, was the defendant.  A hearing was given yesterday afternoon and McLaughlin gave $500 bail for his appearance at court.  The prosecutrix alleges that on 20 August, McLaughlin drove a span of mules into her team, causing her to be thrown from the wagon.  In falling she struck her head against the iron rail in the top of the wagon and cut a deep gash in her forehead.  During the past two weeks she has been confined to her bed on account of the accident.
No information was located to indicate how this case was resolved.   And, as previously stated, it is also possible that this Alexander McLaughlin is not the same person as the Civil War veteran portrayed in this blog – but the location is the same as where he resided at the time.
On 23 January 1902, the Patriot reported that Alexander McLaughlin, along with A. Fortenbaugh, George Gilbert, H. Shoop, John H. Lyter, James Hoffman, Jesse Sheets, John E. Nace, Calvin Shull, Cor Bixler, William H. Lebo and George W. Enders, had been elected as Directors of the Halifax Mutual Fire Insurance Company.
Alexander McLaughlin is buried with his wife Amanda [Spayd] McLaughlin at St. Paul's Lutheran Church Cemetery in Enterline.  More information can be found about him and his family at his Findagrave Memorial.  In addition, there is a great deal of genealogical information about him in his death certificate (shown below from Ancestry.com), including the names of his parents.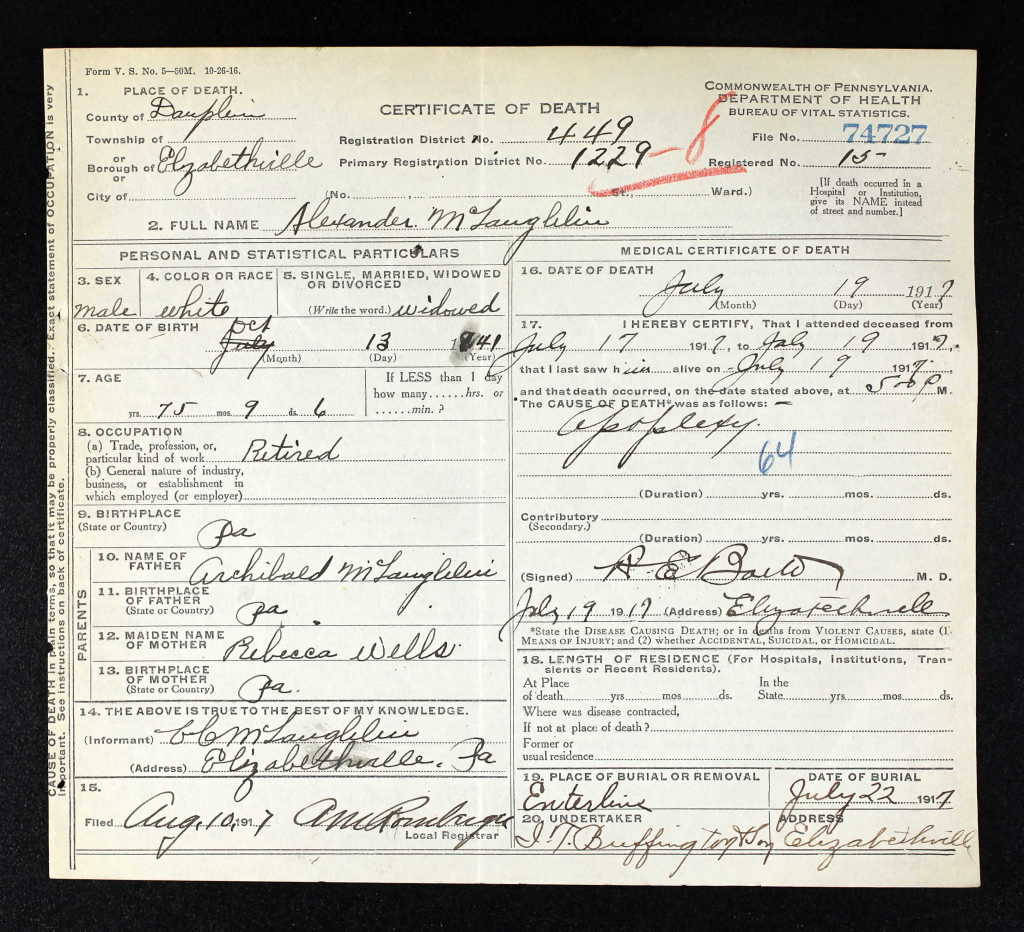 If any reader has a picture of Alexander McLaughlin, documents or stories about his war experiences, or additional information about his family, it can be added to this post as "comments" or sent by e-mail.
—————————–
News clippings are from the on-line resources of the Free Library of Philadelphia.