Posted By Norman Gasbarro on December 18, 2014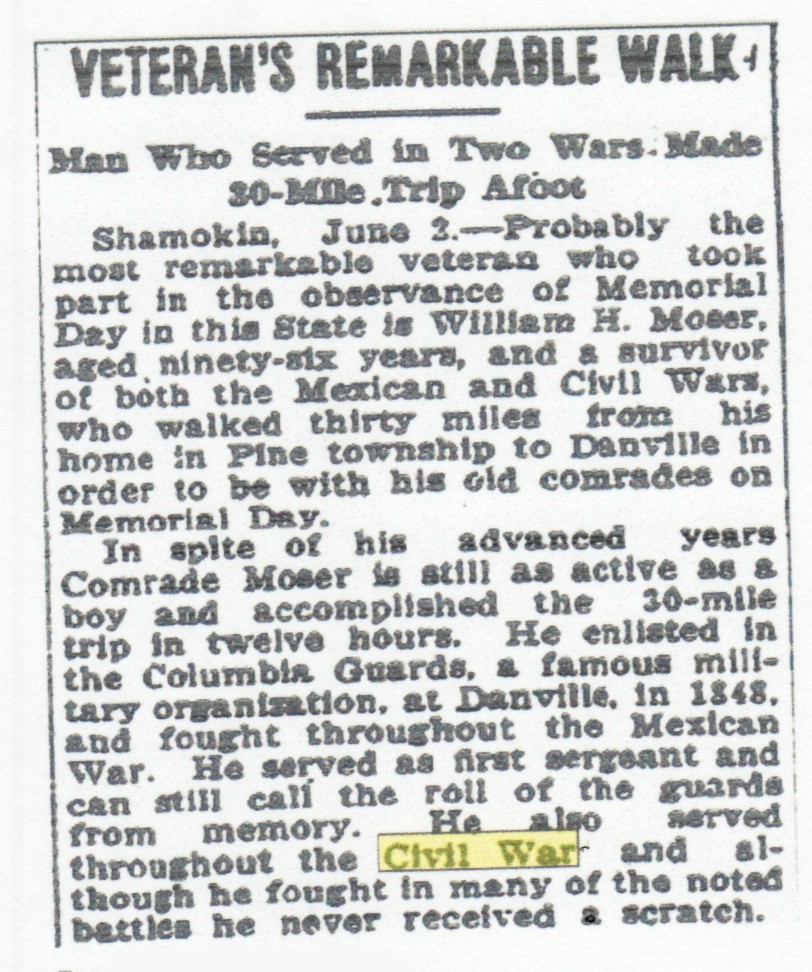 From the Harrisburg Patriot of 3 June 1910, we learn an interesting story of an old veteran of the Civil War:
VETERAN'S REMARKABLE WALK.

Man Who Served in Two Wars Made 30-Mile Trip Afoot.

Shamokin, 3 June 1911 — Probably the most remarkable veteran who took part in the observance of Memorial Day in this state is William H. Moser, aged ninety-six years, and a survivor of both the Mexican and Civil War, who walked thirty miles from his home in Pine Township to Danville in order to be with his old comrades on Memorial Day.

In spite of his advanced years Comrade Moser is still as active as a boy and accomplished the 30-mile trip in twelve hours.  He enlisted in the Columbia Guards, a famous military organization at Danville in 1848 and fought throughout the Mexican War.  He served as First Sergeant and can still call the roll of the guards from memory.  He also served throughout the Civil War and although he fought in many of the noted battles he never received a scratch.
Several documents were found on-line to confirm this veteran's age and military service: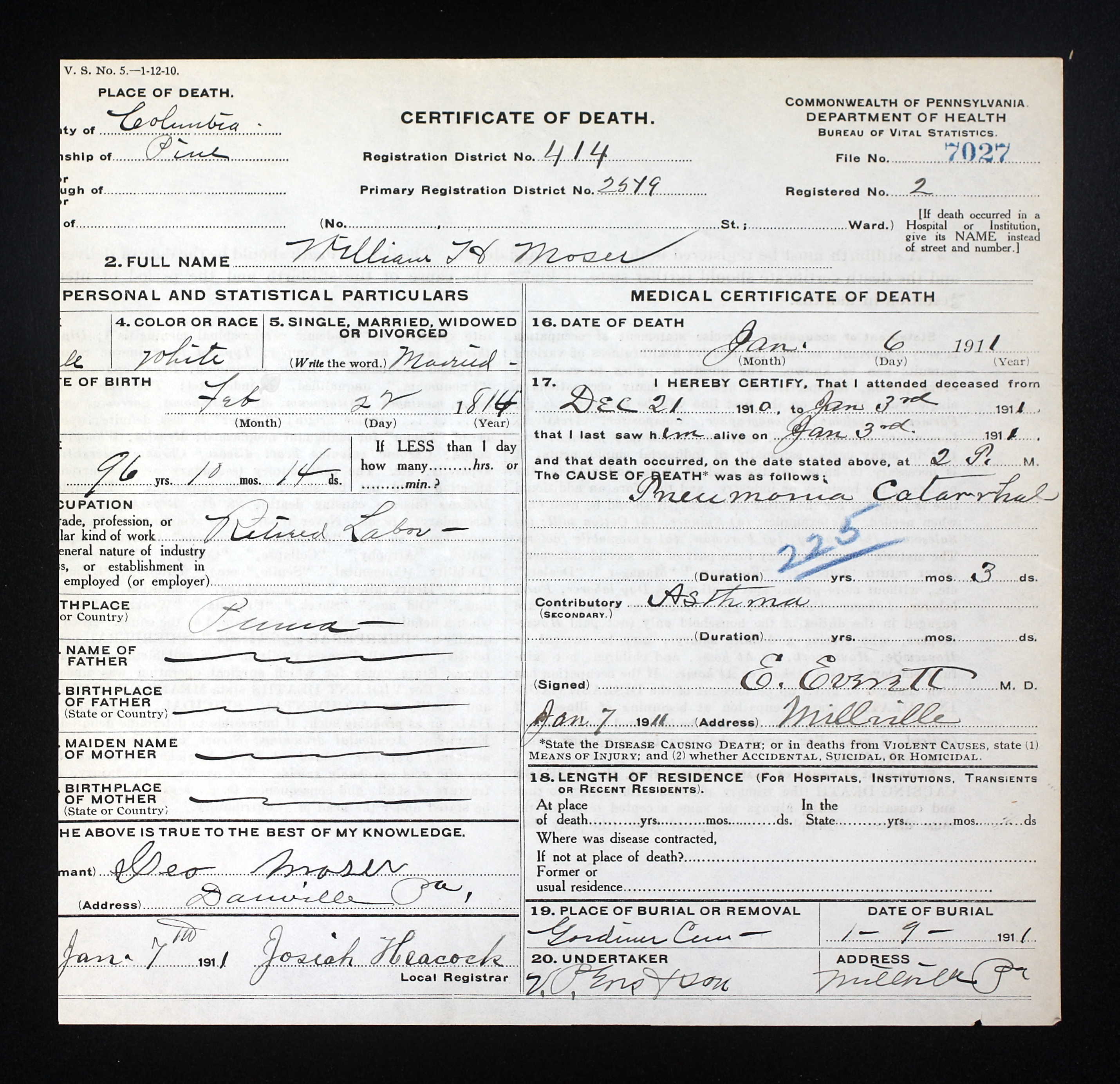 The Pennsylvania Death Certificate (above, from Ancestry.com) indicates that Moser died on 6 January 1911 in Pine Township, Columbia County, Pennsylvania.  His birth date as given on the certificate was 22 February 1814. and he was nearly 97 years old when he died.  The informant could not provide the names of his parents.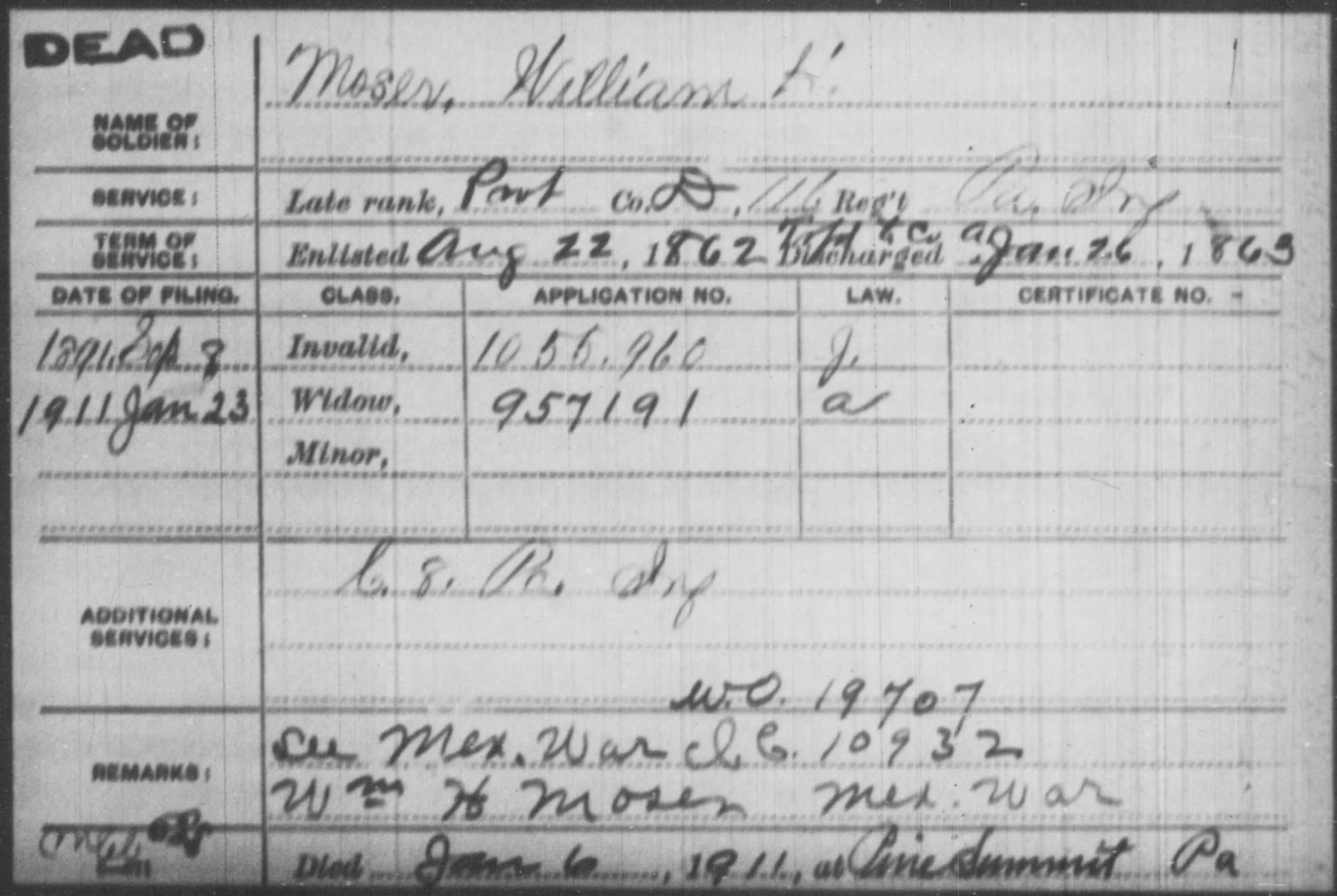 The Pension Index Card for William H. Moser (above from Fold3) shows his service in the Mexican War, for which he was apparently receiving a pension, confirms the death date as 6 January 1911, and place as Pine Summit, and gives two regiment numbers for his Civil War service.  His Civil War Pension application date is given as 8 September 1891 – a pension he never received.  Likewise, a widow applied on 23 January 1911, but no widow's pension was approved or received.
The regiment numbers were checked against the Pennsylvania Veterans' Card File at the Pennsylvania Archives: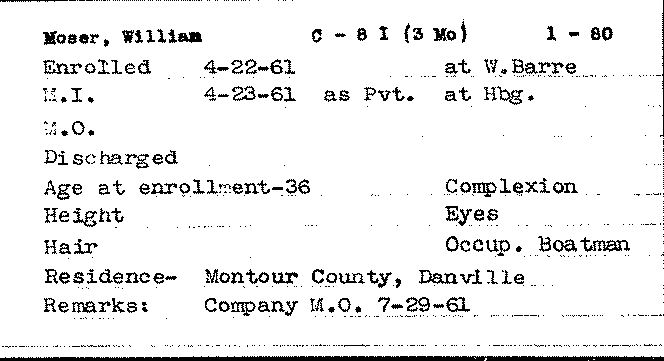 For Moser's first Civil War service, he enrolled at Wilkes-Barre, Luzerne County, Pennsyvlania, on 22 Apr 1861 and was mustered into the 3-month service of the 8th Pennsylvania Infantry, Company C, as a Private on 23 April 1861.  At that time he claimed he was 36 years old, but was actually 47 if born in 1911.  He also claimed that his residence was Danville, Montour County, Pennsylvania, and that he was employed as a Boatman.  He was discharged with his company on 29 July 1861.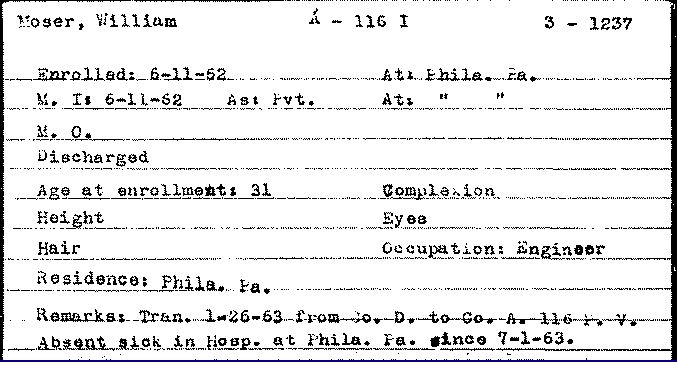 For his second service, he enrolled and was mustered in at Philadelphia on 11 June 1862 in the 116th Pennsylvania Infantry, Company D, as a Private, but the record states that he was transferred to Company A on 26 January 1863.  At the time of his enrollment, he claimed to be 31 years old, but was actually 48.  He gave his occupation as engineer and his residence as Philadelphia.  The note at the bottom of the card indicates that he was "absent sick in hospital at Philadelphia since 1 July 1863."  Bates indicates that he was "absent sick at muster out."  The regiment and company was mustered out on 3 June 1865.  So, was William H. Moser in the hospital from 1 July 1863 through muster out nearly two years later?  Or, did he return to the regiment, only to get sick later?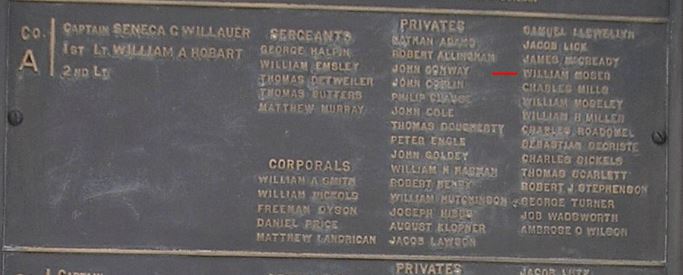 The tablet at Gettysburg for the 116th Pennsylvania Infantry, Company A, does note the name of William Moser.  But these tablets could be wrong, as has been shown in many prior cases.  At the very least, the available record, if correct, indicates that Moser only participated in the first day of the Battle of Gettysburg and then was transported to the hospital in Philadelphia where he remained for an unknown amount of time.  If the newspaper article is correct in that he served "throughout the Civil War," then he had to have returned to his regiment.  And, if the newspaper article is correct that "he never received a scratch," then his stay or stays in the hospital were for illness, not injuries or wounds.
So, some questions have been answered, but some remain.  Readers who have additional knowledge of this veteran (particularly pictures and stories), are encouraged to submit comments to this post or send information by e-mail.