Posted By Norman Gasbarro on December 6, 2014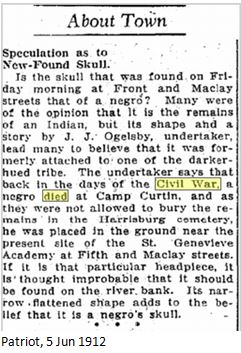 A brief story found in the 5 June 1912 edition of the Harrisburg Patriot told of the finding of a scull along the Susquehanna River bank at Maclay Streets.  No follow-up story was located where the identity, or race, of the individual was determined.
The article harks back to a period when phrenology was believed to be a science.  It was not until after World War II that phrenology was debunked and formally discredited.
Note also that the article uses the word "negro" (with lower case "N") and the word "Indian" (with upper case "I").  Reference to the scull as being a "headpiece" formerly attached to "one of the darker hued tribe" is an example of a systematic attempt to de-humanize African Americans, a common practice at the time.
The article is interesting in that it states that a "Negro" died at Camp Curtin and as a result of the segregated policies of the Harrisburg Cemetery, his remains were not allowed to be buried there.  There is a story to be researched – to determine how and why an African Ameican died at Camp Curtin and to determine how and why a cemetery in Harrisburg, Pennsylvania, came to be segregated.
ABOUT TOWN

Speculation as to New-Found Scull.

Is the scull that was found on Friday morning at Front and Maclay Streets that of a negro?  Many were of the opinion that it is the remains of an Indian, but its shape and a story by J. J. Ogelsby, undertaker, lead many to believe it was formerly attached to one of the darker-hued tribe.  The undertaker says that back in the days of the Civil War, a negro died at Camp Curtin, and as they were not allowed to bury the remains in the Harrisburg Cemetery, he was placed in the ground near the present site of the St. Genevieve Academy at Fifth and Maclay Streets.  If it is that particular headpiece, it is thought improbable that it should be found on the river bank.  Its narrow-flattened shape adds to the belief that it is a negro's skull.
—————————-
News clippings are from the on-line resources of the Free Library of Philadelphia.