Posted By Norman Gasbarro on December 22, 2014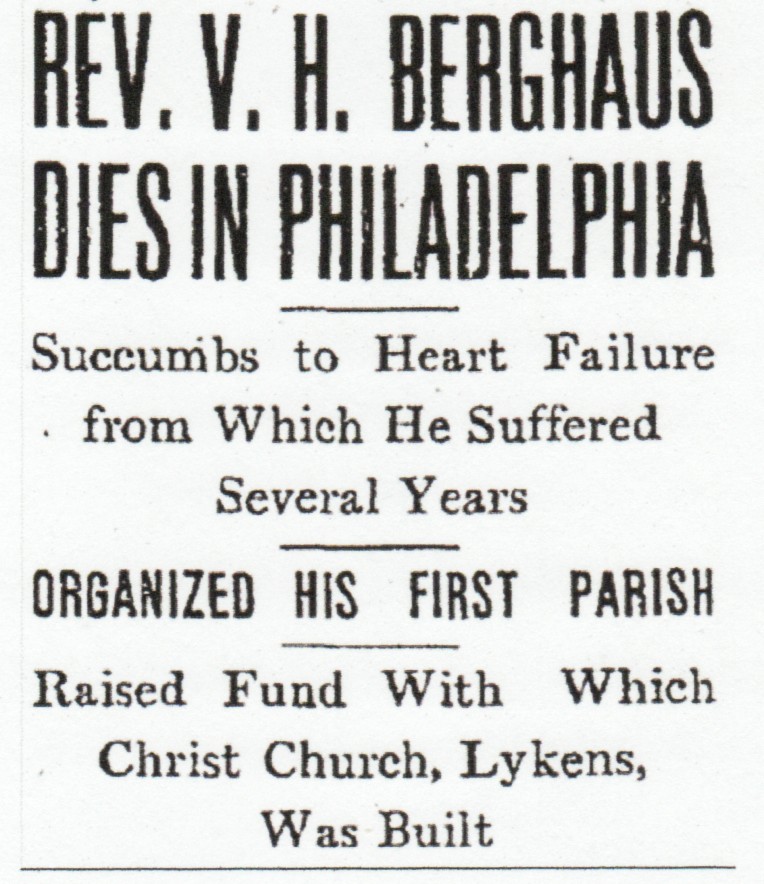 The obituary of Rev. Valentine H. Berghaus appeared in the Harrisburg Patriot on 23 March 1910.  Although he did not officially serve in a Civil War regiment, he volunteered as a youth when he believed his home town was in danger.  Later, after receiving his education at Princeton and his ordination, he organized his first parish at Lykens, Dauphin County, and led the campaign to raise the money to build a church building.  He died in Philadelphia on 22 March 1910.
REV. V. H. BERGHAUS

DIES IN PHILADELPHIA

Succumbs to Heart Failure from Which He Suffered Several Years

ORGANIZED HIS FIRST PARISH

Raised Fund With Which Christ Church, Lykens, Was Built

Special Dispatch to the Patriot.

Philadelphia, 22 March 1910 — The Rev. Valentine Hummel Berghaus, of Harrisburg, a retired Episcopal clergyman, died this morning in the private hospital of Dr. P. H. Lane in Chestnut Hill, this city.  Death was due to heart failure brought on by nervous disorders from which he had been suffering for several years.  The Rev. Mr. Berghaus left a widow, Louisa Clayton Berghaus, and four sons, Paul Berghaus, of Austin, Texas; Clayton Berghaus, of Orangeburg, North Carolina; V. Hummel Berghaus Jr., of New York City, and Charles E. Berghaus, of Philadelphia.  He is also survived by three sisters, Mrs. Elbridge McConkey, of Harrisburg; Mrs. J. Lancaster Reppier, of Reading; and Miss Mary Berghaus, of Harrisburg.  Another sister, Mrs. A. S. McCreath, of Harrisburg, died last September.

Born in Harrisburg in 1844

Mr. Berghaus was of an old Pennsylvania family and was born in Harrisburg on 12 June 1844.  He was a pupil in the Harrisburg Academy under Professor Jacob F. Seiler and subsequently went to Princeton where he was graduated in 1864.  When in Princeton he was elected junior orator for his class in the American Whig Society which in those days was regarded as a high mark of undergraduate distinction.

In 1867 a degree of Master of Arts was awarded to him by the college.  In 1869 he was graduated from the Philadelphia Divinity School and he was ordained a priest by Bishop Howe.

Volunteered as Defender

During the Civil War Mr. Beghaus, when still a boy, volunteered as a defender of his home city when it was feared the Confederate forces were planning a raid by coming up the Cumberland Valley.  As a soldier he slept one night on the bare stones of the court house steps in Chambersburg.  It was soon learned, however, that the alarm was a groundless one and he retired from his emergency military service.

Mr. Berghaus' first parish was one he himself organized among the coal miners in Lykens, Dauphin County.  This is Christ Church and he raised the fund by which the building was obtained.  Mr. Berghaus subsequently was the rector of the following churches:  St. Paul's, Doylestown, Pennsylvania; Trinity, Chambersburg, Pennsylvania; Calvary, Wilmington, Delaware; and Trinity, Athens, Pennsylvania.  His health began to fail when in charge of the Athens Church and he resigned.  After living in Waverly, New York, he went to his hometown of Harrisburg to live.

Health Failed Last April

In April 1909, Mr. Berghaus went to Chestnut Hill to receive treatment from specialists and remained there until his death.

The body will be taken to Harrisburg on Thursday morning.  There will be brief services for the family alone in the home of Mr. Berghaus' brother-in-law, A. S. McCreath, of 119 South Front Street, the house in which Mr. Berghaus was born.  At 3 o'clock there will be a public funeral service in St. Steven's Church.  The Rev. Rollin A. Sawyer, the rector, will officiate, and Bishop Darlington also has been asked to participate in the services.  Interment will be in the Harrisburg Cemetery.
His Findagrave Memorial, as of this writing, has very little information about him.