Posted By Norman Gasbarro on December 13, 2014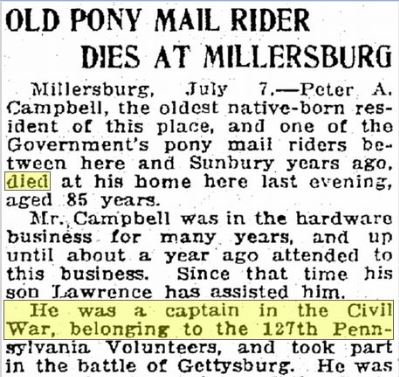 The death of Peter A. Campbell was noted in the Harrisburg Patriot on 8 July 1919:
OLD PONY MAIL RIDER DIES AT MILLERSBURG

Millersburg, 7 July 1919 — Peter A. Campbell, the oldest native-born resident of this place, and one of the Government's pony mail riders between here and Sunbury years ago, died at his home here last evening, aged 85 years.

Mr. Campbell was in the hardware business for many years, and up until about a year ago attended to this business.  Since that time his son Lawrence has assisted him.

He was a Captain in the Civil War, belonging to the 127th Pennsylvania Volunteers [127th Pennsylvania Infantry] and took part in the battle of Gettysburg.  He was a prominent member of the G.A.R. and the Knights of the Golden Eagle and both orders will attend the funeral and have charge of the services at the grave.  The funeral will take place on Wednesday afternoon at 3 o'clock with the Rev. J. H. Barnes, pastor of the Methodist Church, officiating.  Burial will be made in the Oak Hill Cemetery.

Mr. Campbell is survived by four children:   Lawrence Campbell; Frank Campbell; William Campbell; and Mary Campbell, all of Millersburg.
Peter Campbell's second enlistment was in the Emergency Service of 1863, when he enrolled at Millersburg in the 26th Pennsylvania Infantry Militia, Company K, as a 1st Lieutenant.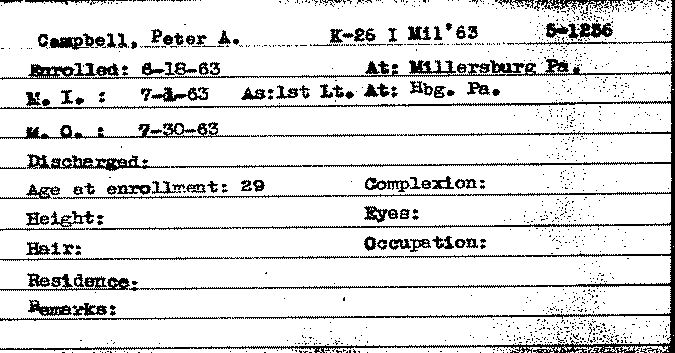 It was part of this second service that Peter Campbell took part in the Battle of Gettysburg.  In recognition of that service, his name appears on the Pennsylvania Memorial table for the Emergency Force of 1863, Company K: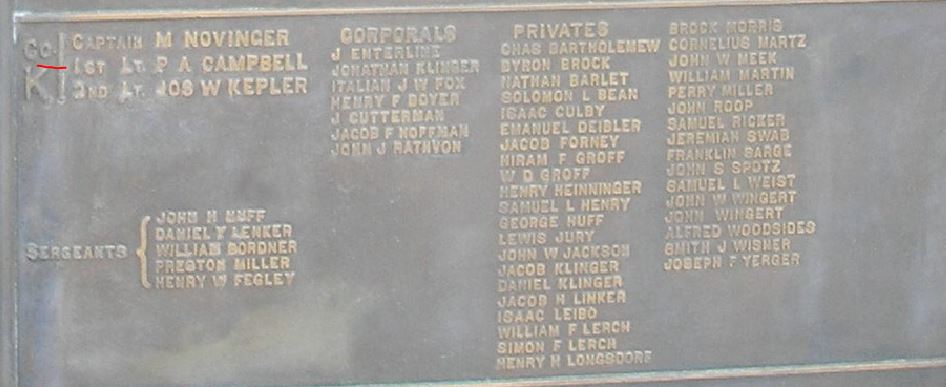 There is no mention on the Veterans' Card or on the Gettysburg plaque that he served as a Captain in this regiment, but it is possible that at some point he received a promotion.
Peter Campbell's first enlistment took place at Harrisburg on 2 August 1862, Company F, of the 127th Pennsylvania Infantry, as a Corporal.  At the time he declared his age as 32 and his occupation as machinist.  His residence was Harrisburg, Pennsylvania.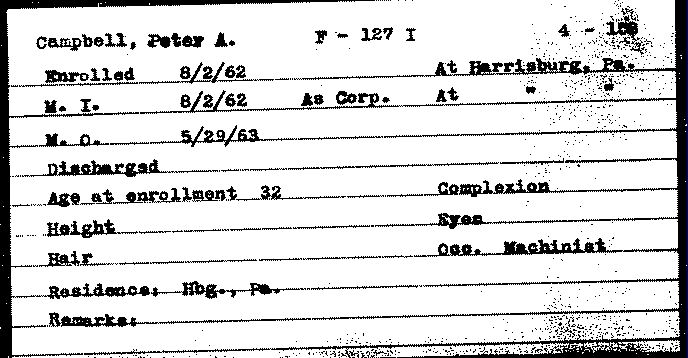 The Pension Index Card (shown below from Ancestry.com) gives his pension application date as 26 February 1896.  He received the pension, which he collected until his death in July 1919, whereupon his widow, Emma J. Campbell, applied and collected until her death. Peter reported no Civil War-related disabilities in 1890 at the time of the census.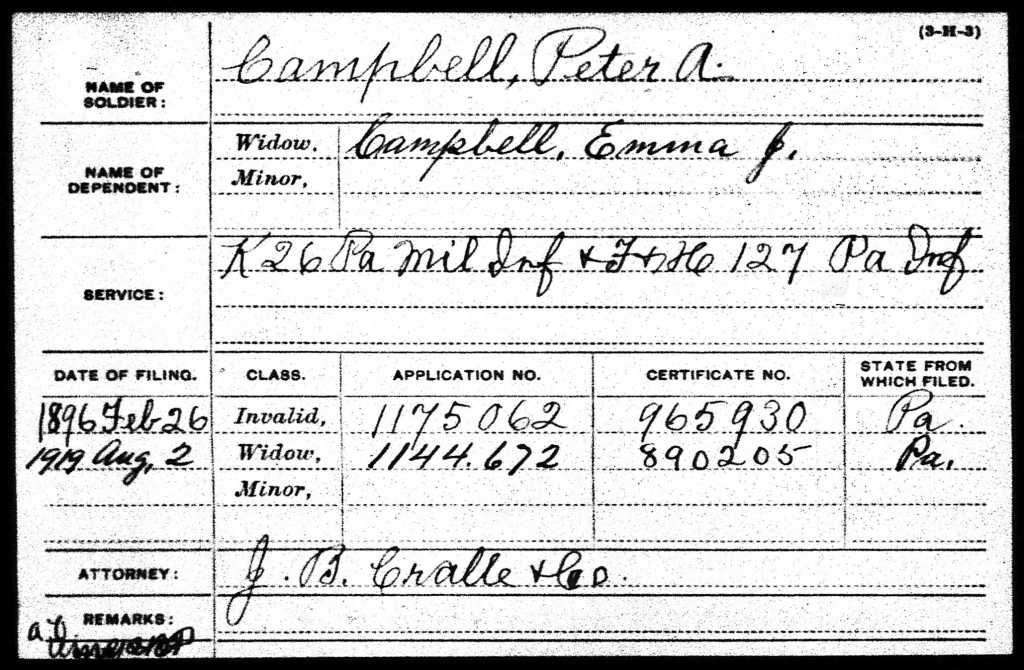 For his service, Peter A. Campbell is recognized on the Millersburg Civil War Soldier Monument:

In addition to the occupations of pony mail rider, machinist, and hardware store proprietor, various censuses report that he was also a boatman, a lumberman, and a window sash maker.