Posted By Norman Gasbarro on December 16, 2014
The obituary of William C. Armor (1842-1911) has been located in the Harrisburg Patriot of 14 August 1911.  The portrait above was included with the obituary and was attributed to the photographer "Roshon."  Previously on this blog, a post entitled William C. Armor – Historian and Bookseller was presented.  This post adds the text of the Patriot obituary and provides three photographs of the Armor Book Store and Curiosity Shop that appeared in the Patriot on 31 August 1911.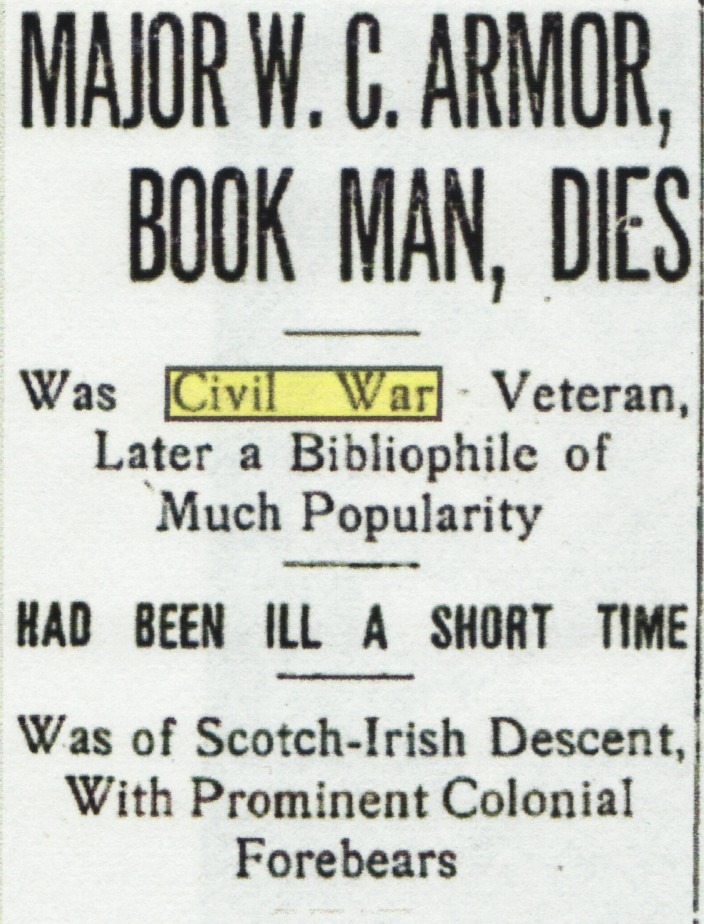 MAJOR W. C. ARMOR BOOK MAN, DIES

Was a Civil War Veteran, Later a Bibliophile of Much Popularity

HAD BEEN ILL A SHORT TIME

Was of Scotch-Irish descent, With Prominent Colonial Forebears

After a short illness Major William Crawford Armor, Civil War veteran, antiquarian, and book merchant at 6 North Court Street, died Saturday at his home, 128 State Street.

Death was due to heart failure that followed poor health of more than a year.  Mr. Armor, however, did not complain of being ill until Saturday, when he took to his bed.  He was aged 69 years and is survived by his widow and one son, Dr. Russell Armor, of Crafton, and one daughter, Miss Helen Armor.

The funeral services will be held tomorrow afternoon at 2 o'clock from his late residence, and will be conducted by the Rev. John D. Fox, pastor of the Grace Methodist Church, of which he was a member.

Scotch-Irish Descent

Mr. Armor was born 19 September 1842, at Laughlinstown, Westmoreland County, and was of Scotch-Irish descent.  He was the second of a family of seven sons, four of whom were volunteer soldiers in the Civil War.  His great grandfather, James Armor, was a lieutenant in the Revolution.

His great great grandfather, Robert Armor, of Scotch descent, came to this country from the North of Ireland prior to 1710.  In 1734 he took up a tract of 200 acres of land at the head of Pequa Creek, Lancaster County, and was a farmer during his life.

Major William Armor received a common school education, and taught at the age of sixteen years taught school in his native town.  He entered a preparatory school in Cumberland County, with a view to entering college.  He later changed his mind, however, and went to the iron moulding trade, at which he worked when the war broke out.

He was proud of his war record and talked of it with satisfaction.  Some time ago he went to Savannah, where he met many of the officers of the Confederate Army, among them being General Gordon, whom he knew in war times.

Enlisting in Company B, Twenty-eighth Pennsylvania Volunteers [28th Pennsylvania Infantry], he rose to the command of his company.  He was wounded at Antietam and Chancellorsville, and was then appointed aide-de-camp to Major General John W. Geary, and was breveted major for gallant and meritorious conduct in the campaign of the Carolinas.

During a period of six years as Executive Clerk under Governor Geary he wrote the Lives of the Governors of Pennsylvania.

Mr. Armor was a member of the Loyal Legion, Robert Burns Lodge of Masons, and of the Scotch-Irish Society of America.  He was the only surviving charter member of the Post No. 58, G.A.R., a charter member of the Dauphin County Historical Society and for a number of years was its secretary.  He was also secretary and treasurer of the Harrisburg Underwriters Association.

His Law Studies

He was also registered and studied law with Attorneys General Benjamin Harris Brewster and F. Carrol Brester; passed the full examination, but never applied for admission to the bar.  He afterward spent six years in the wholesale glass business in Pittsburgh, and then went to McKean County and became engaged in the production of oil.

He again removed to Harrisburg eight years after being in the oil business as served two years as an assistant in the State Library and for one year was Librarian of the Harrisburg Public Library.

Although rustic in appearances, his book shop on Court Street was known to practically all book lovers throughout the city, and many from distant towns came here to look up some ancient book or publication.  Mr. Armor himself was a book lover.
The three photographs that appeared in the Patriot article of 31 August 1911, follow: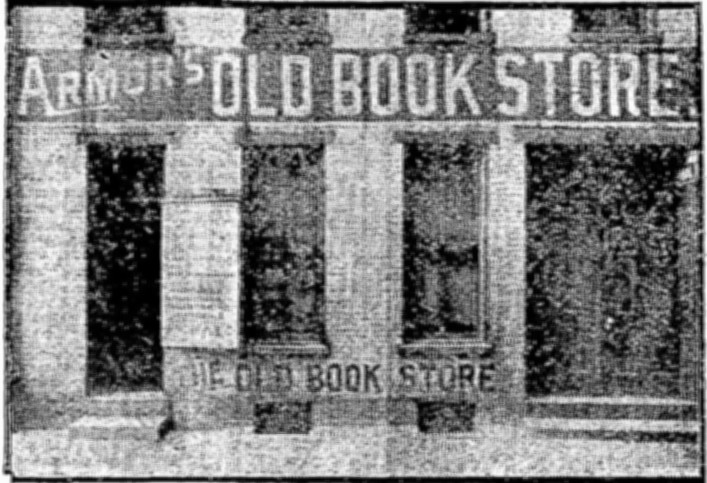 ———————————-
News clippings are from the on-line resources of the Free Library of Philadelphia.