Posted By Norman Gasbarro on December 10, 2014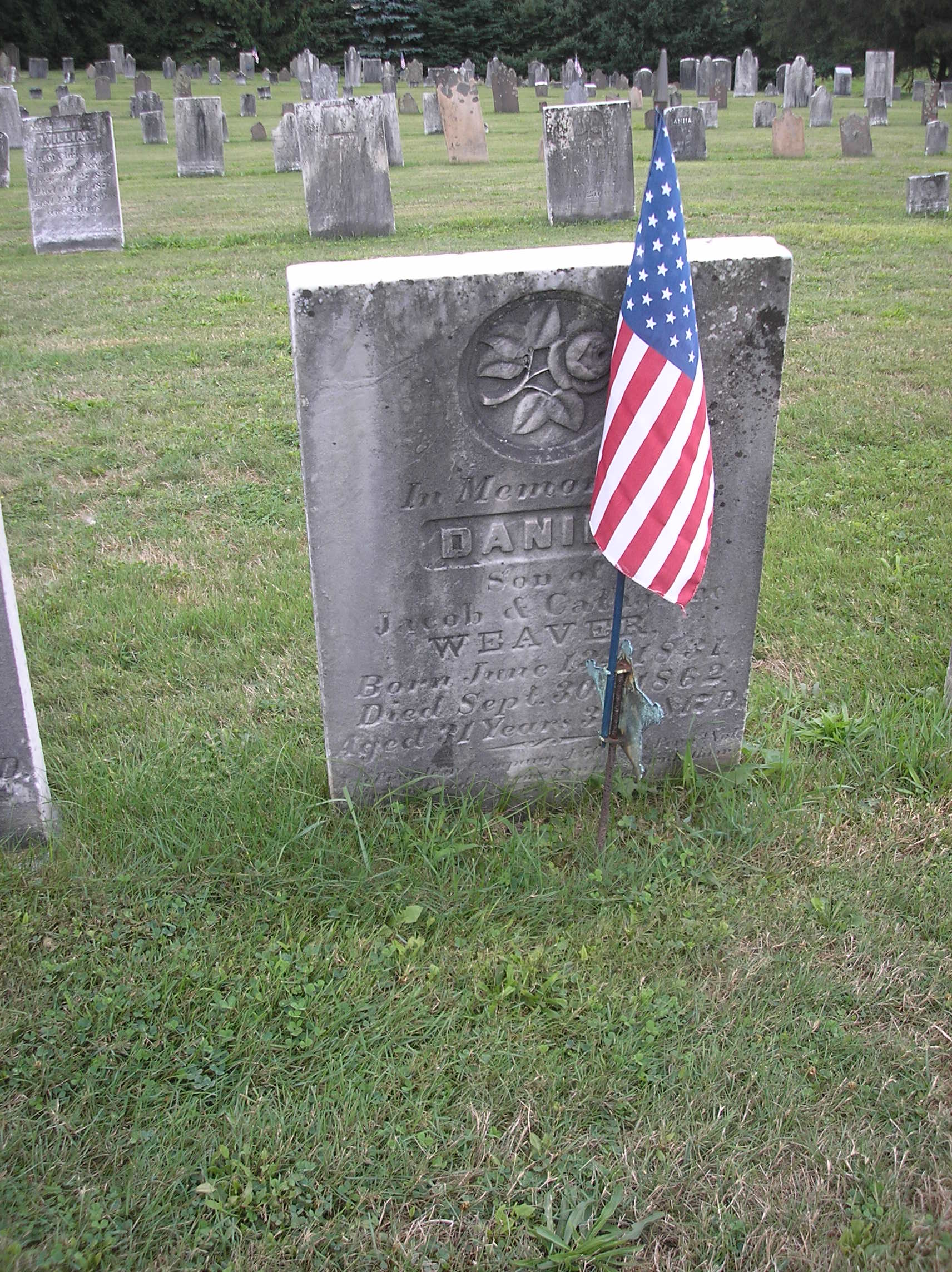 Daniel D. Weaver was born 13 June 1831, the son of Johann Jacob Weaver (1803-1875) and Catharina [Lenker] Weaver (1798-1862).  In 1850 the family was living in Upper Paxton Township, Dauphin County, Pennsylvania and Daniel was working as a laborer.  The father Jacob was a farmer and brother John Weaver, age 22  living at home, was a Carpenter and brother Josiah Weaver, age 15, also living at home, was working as a laborer.
On 27 August 1861, Daniel D. Weaver enrolled in the 50th Pennsylvania Infantry at a recruitment location in Dauphin County.  About two weeks later on 9 September 1861, he was mustered into Company A, as a Private at Harrisburg.  He was 30 years old at the time, was working as a carpenter, and claimed Millersburg as his residence.  The Pennsylvania Veterans' File Card (shown below) from the Pennsylvania Archives notes that he was discharged on a Surgeon's Certificate of Disability, date unknown.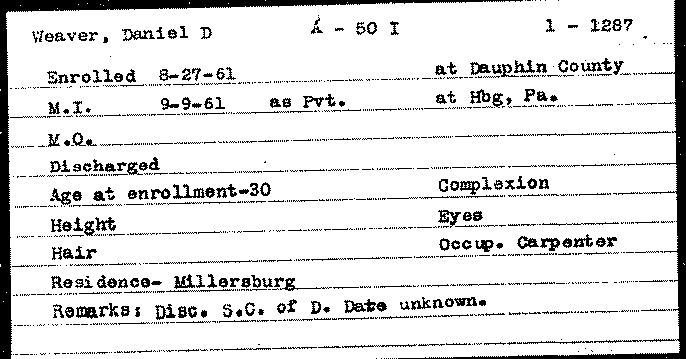 Daniel D. Weaver died on 30 September 1862 and is buried at David's Church Cemetery in Killinger (near Millersburg), Dauphin County.  His grave marker, which is pictured at the top of this blog post states that he served as a Private in the 50th Pennsylvania Infantry during the Civil War, and there is a G.A.R. star-flag holder at his grave.  The cause of his death may be on the lower line of text of the grave marker, but the wording is not clear enough to read from the photograph.  Note:  The death date on the stone suggests that he was wounded at Antietam and died days later, his remains being returned to his home for burial – but that could be coincidental without actual confirmation from source material.
No Pension Index Card has been located for him.  This probably means that he was not married and therefore no family member was able to claim benefit from his service.  Unfortunately, it also means that there are probably very few records in existence that would indicate where and how he died.
Daniel D. Weaver is also one of many Civil War veterans with a Millersburg connection who are not named on the Millersburg Soldier Monument, although there are two others named who have the surname Weaver:  Henry Weaver and Jacob Weaver.  At this time it is not know why Daniel's name would have been omitted from the monument.
Anyone with additional information on this soldier, including a transcription of the last several lines of his grave marker, is requested to post a comment to this post or send an e-mail with the information.