Posted By Norman Gasbarro on December 14, 2014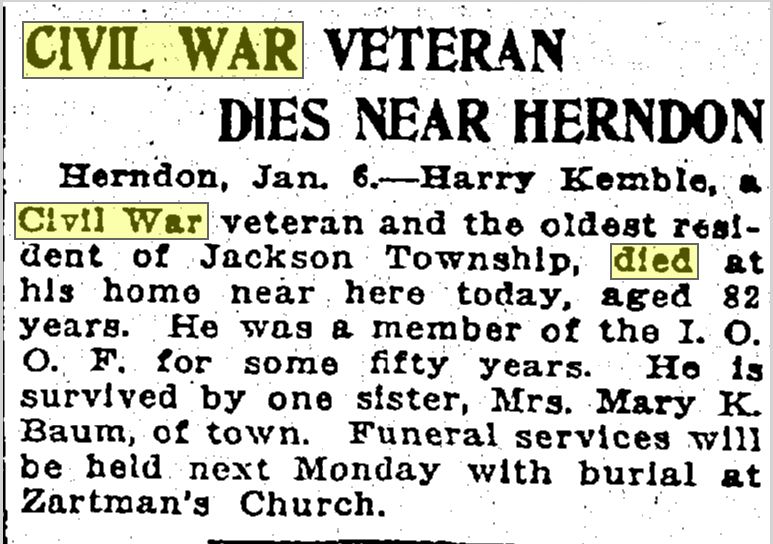 Henry "Harry" Kemble, the son of Adam Kembel and Lydia [Zartman] Kemble, was a farmer in Jackson Township, Northumberland County, Pennsylvania.  During the Civil War, he served two enlistments, the first of which was from 16 August 1862 in the 136th Pennsylvania Infantry, Company C, as a Private, until he received a discharge on a Surgeon's Certificate of Disability on 29 May 1863, and the second of which was from 17 March 1865 through 29 August 1865 where he served in the 74th Pennsylvania Infantry, 2nd Company C, also as a Private.  His surname is also found in the records as Kembel, Kimble, and Kimbel.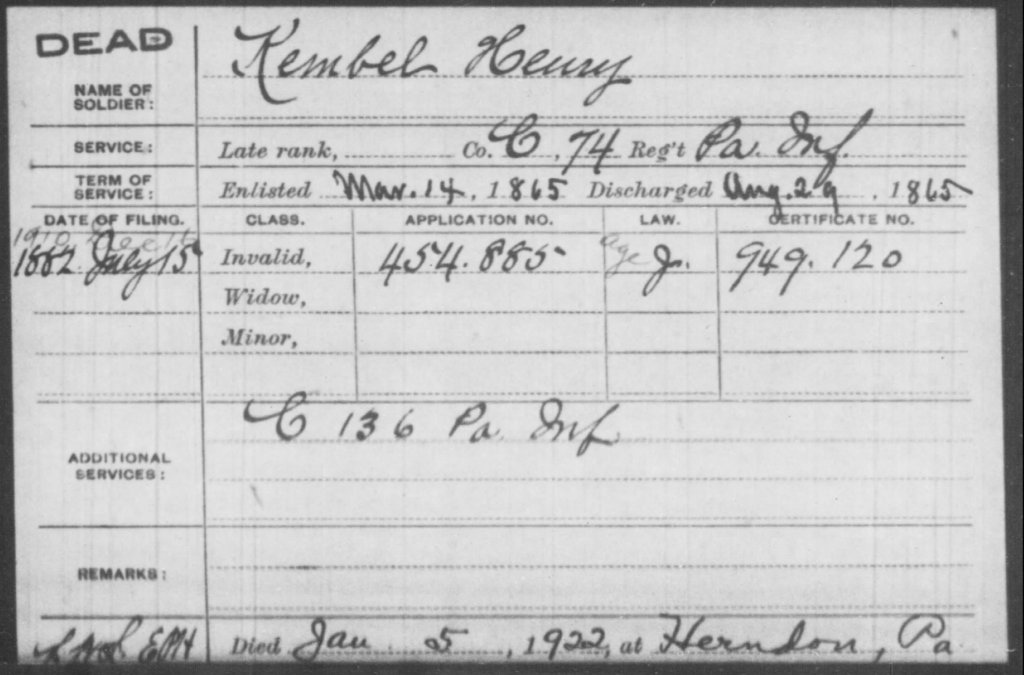 Henry Kembel applied for a pension on 15 July 1882 based on his service in the two aforementioned regiments.  He received the pension, which he collected until his death on 5 January 1922 at Herndon, Northumberland County.  No widow applied after his death and in researching him in other records, it appears that he may have never been married.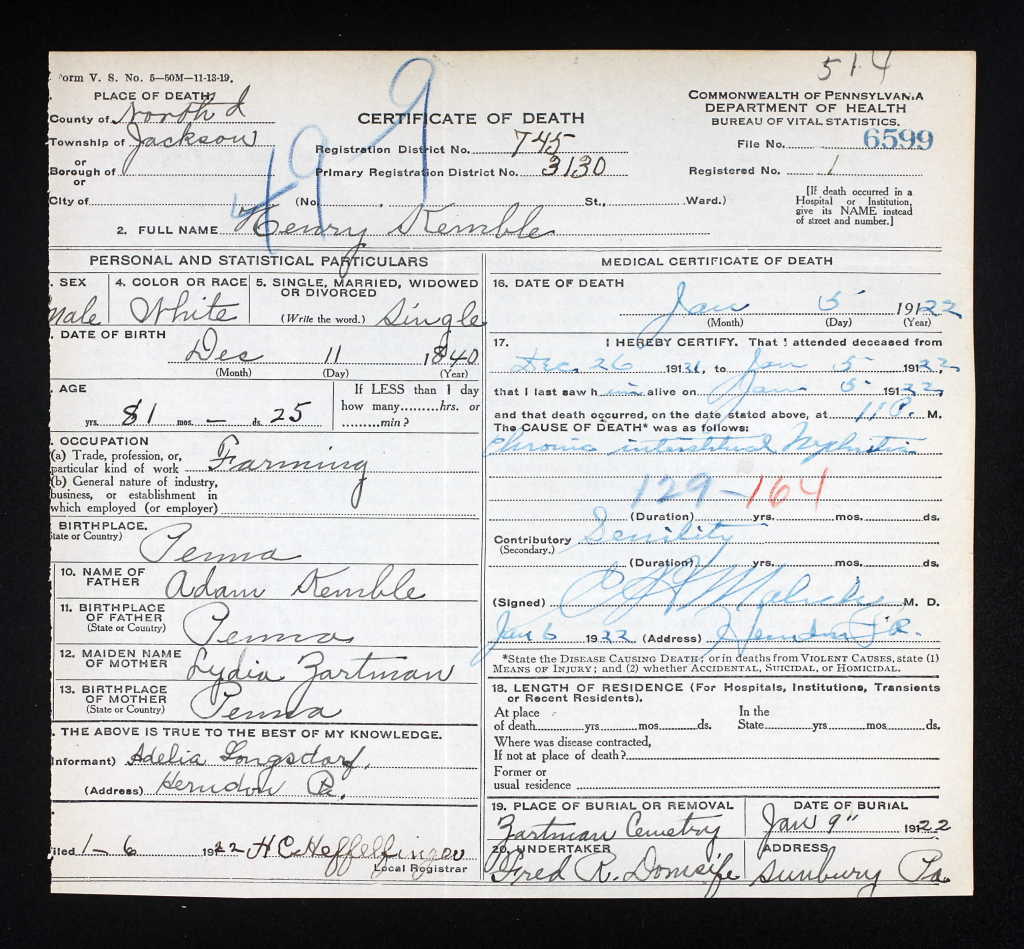 The death certificate (above, as found on Ancestry.com) confirms that he was never married and gives the names of his parents Adam Kemble and Lydia Kemble.  It also confirms his burial place as the Zartman Cemetery.
The text of Henry's obituary, which appeared in the Harrisburg Patriot, 7 January 1922, follows here:
CIVIL WAR VETERAN DIES NEAR HERNDON

Herndon, 6 January 1922 — Harry Kemble, a Civil War veteran and the oldest resident of Jackson Township, died at his home near here today, aged 82 years.  He was a member of the I.O.O.F. for some fifty years.  He is survived by one sister, Mrs. Mary K. Baum, of town.  Funeral services will be held next Monday with burial at Zartman's Church.
The obituary clipping, pictured at the top of this post, is from the on-line resources of the Free Library of Philadelphia.
The Pennsylvania Veterans' File Cards for Henry Kemble (from the Pennsylvania Archives) are pictured below: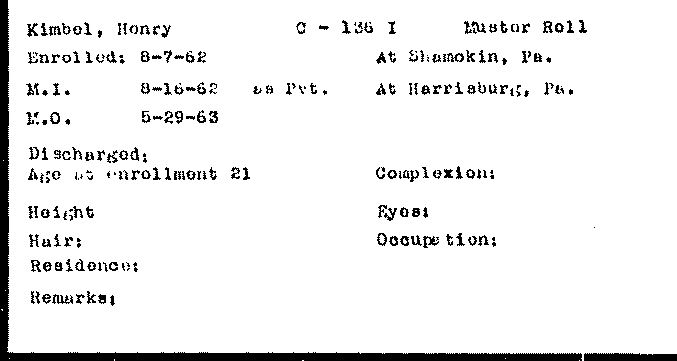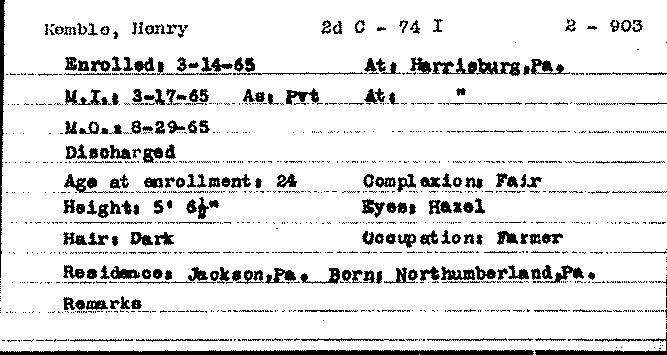 Information not previously stated that was found on the Veterans' Cards includes a physical description of Henry Kemble:  He was 5 foot, 6.5 inches in height, had dark hair, a fair complexion, and hazel eyes.  He was born in Northumberland County and was a farmer.  For his first enlistment, he enrolled at Shamokin, Northumberland County.  At the time of his second enlistment, he resided in Jackson Township, Northumberland County.  For both enrollments, he was mustered into service at Harrisburg.
From other sources it is known that Henry's brother was Isaac Kembel (1839-1909), who was also a Civil War veteran.  Several pictures of Isaac have been located, but no picture has been seen of Henry.  There are also some clues that the Kembel's were associated with the Langsdorf's, e.g., a Langsdorf was the informant for Henry's death certificate and several members of that family were living in Adam Kembel's household in 1880.
More information is needed on Henry Kemble, particularly of his war record, and any family stories about him.  Did he participate in any G.A.R. activities?  Can anyone add a picture of his grave marker… or a picture of him?  Comments can be added to this post or sent by e-mail.