Posted By Norman Gasbarro on December 8, 2014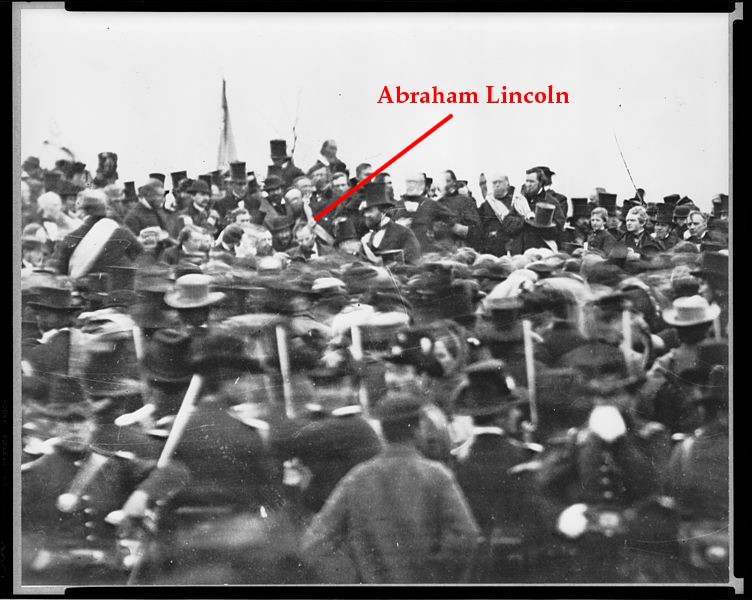 David Bachrach, who photographed Abraham Lincoln at Gettysburg, died in 1921.  The photograph above is of the crown scene taken by Bachrach and the hatless man seated to the left of center is most likely Abraham Lincoln.  It was most likely taken prior to the delivery of the Gettysburg Address.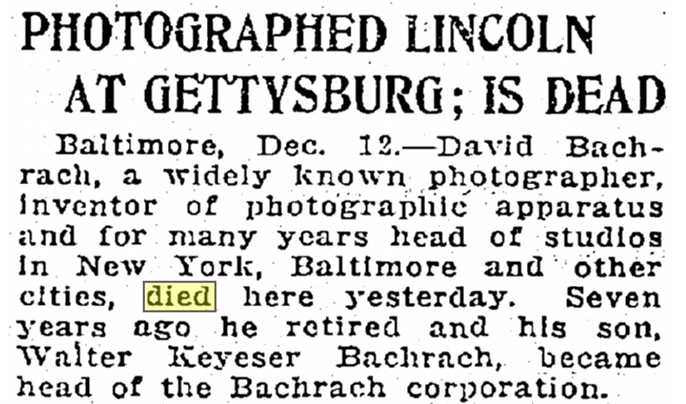 PHOTOGRAPHED LINCOLN AT GETTYSBURG; IS DEAD

Baltimore, 12 December 1921 — David Bachrach, a widely known photographed, inventor of photographic apparatus and for many years head of studios in New York, Baltimore, and other cities, died here yesterday.  Seven years ago he retired and his son, Walter Keyeser Bachrach, became head of the Bachrach corporation.

Mr. Bachrach, while working for Harper's Weekly in the Civil War period, photographed Abraham Lincoln while the president was delivering his Gettysburg Address in 1863.  At one time Mr. Bachrach was official photographer for the United States Naval Academy.  He was one of the first patentees of photoengraving.
While the obituary states that the photograph shows Lincoln delivering the Gettysburg Address, most analysts of the event agree that Lincoln was standing when the address was given and in the picture taken by Bachrach, Lincoln appears to be seated.  Because of the shortness of the address, Bachrach was only able to set his camera to take one picture.  Before he was able to take a second photograph, Lincoln had completed his remarks and was seated.
For many years it was assumed that this was the only photograph of Lincoln at Gettysburg.  However, Craig Heberton of Ridgefield, Connecticut, believes he found another photograph depicting Lincoln at the cemetery dedication.  His conclusions, and those of two other men who have analyzed Gardner's photos of the event, James Richter and Christopher Oakley, are summarized in an article that appeared in the Stamford Advocate.
—————————-
The news clipping is from the Harrisburg Patriot, 13 December 1921, and was obtained through the on-line resources of the Free Library of Philadelphia.  The photograph of the crowd at Gettysburg is from Wikipedia, and is in the public domain because its copyright has expired.