Posted By Norman Gasbarro on November 15, 2014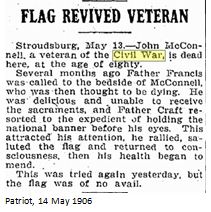 John McConnell served in the 9th Pennsylvania Cavalry, Company L, as a Private, from 23 May 1864 through his discharge, which occurred when he was at Camp Parole.  His death was reported in the Harrisburg Patriot, 14 May 1906:
FLAG REVIVED VETERAN

Stroudsburg, 13 May 1906 — John McConnell, a veteran of the Civil War, is dead here at the age of eighty.

Several months ago Father Francis was called to the bedside of McConnell who was then thought to be dying.  He was delirious and unable to receive the sacraments and Father Craft resorted to the expedient of holding the national banner before his eyes.  This attracted his attention, he rallied, saluted the flag and returned to consciousness, then his health began to mend.

This was tried again yesterday, but the flag was of no avail.
McConnell was a pensioner as shown by the Pension Index Card for him that was located on Fold3: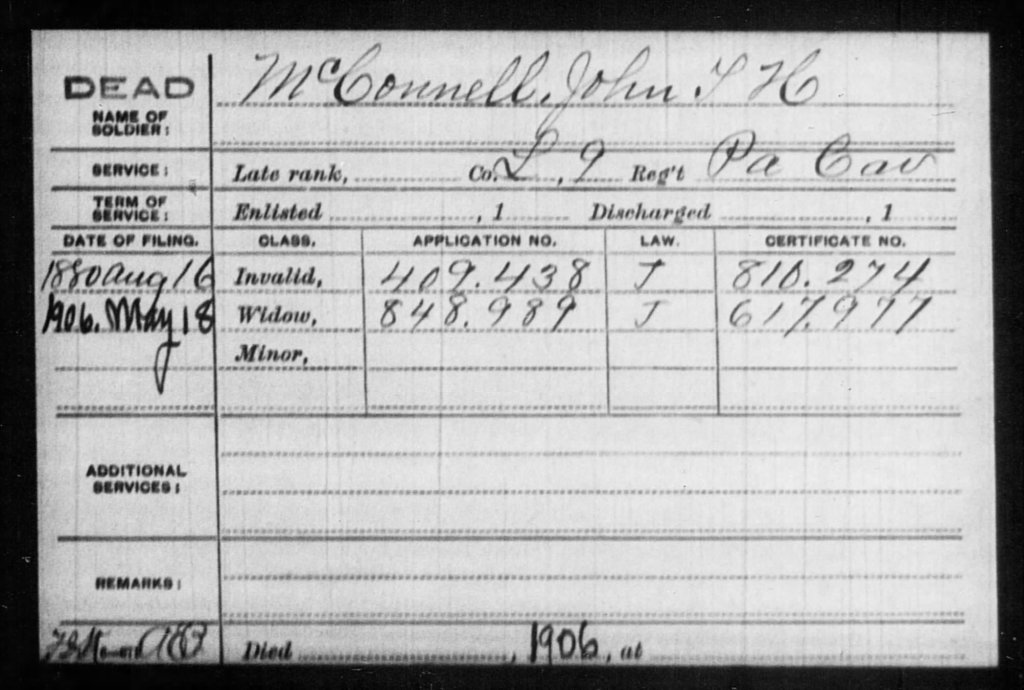 John McConnell and his wife Margaret are buried in St. Matthew's Cemetery, East Stroudsburg, Monroe County, Pennsylvania.  More information about him can be found at his Findagrave Memorial.
—————————–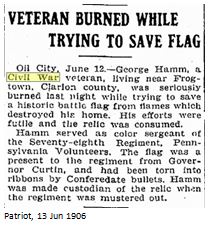 The following story was reported in the Harrisburg Patriot of 13 June 1906:
VETERAN BURNED WHILE TRYING TO SAVE FLAG

Oil City, 12 June 1906 — George Hamm, a Civil War veteran, living near Frogtown, Clarion County, was seriously burned last night while trying to save a historic battle flag from flames which destroyed his home.  His efforts were futile and the relic was consumed.

Hamm served as a color sergeant of the Seventy-eighth Regiment, Pennsylvania Volunteers [78th Pennsylvania Infantry].  The flag was a present to the regiment from Governor Curtin, and had been torn into ribbons by Confederate bullets.  Hamm was made custodian of the relic when the regiment was mustered out.
As shown by the Pension Index Card (below, from Fold3), George D. Hamm served in the regiment from 29 August 1861 through his discharge on 4 November 1864.  He applied for a Civil War pension on 12 July 1879.  He died at Clarion, Pennsylvania, 12 January 1915.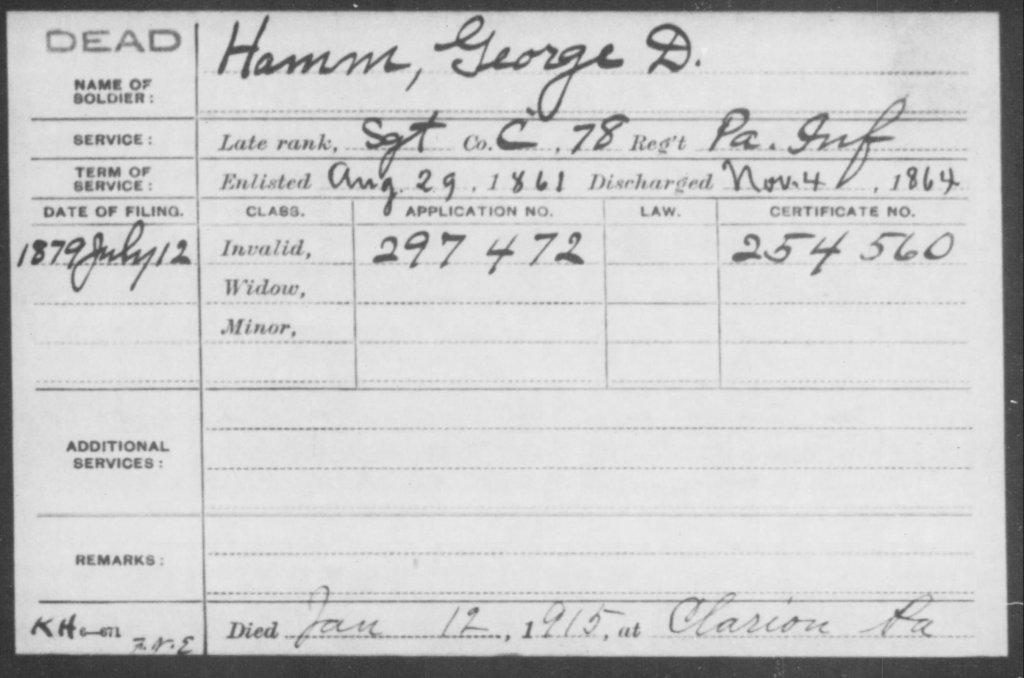 George Hamm is buried at the New Bethlehem Mennonite Cemetery, Leatherwood, Clarion County, Pennsylvania.  More information about him, including his obituary (Clarion Democrat, 1915), can be found at his Findagrave Memorial.  The obituary tells how Hamm saved the flag in battle and at a reunion of the regiment after the war, he was given the flag for safekeeping.
It was in the battle of Stone River that Mr. Hamm first attracted attention of his officers. Colonel Snively ordered a charge, the men hesitated; Sergeant Hamm plunged into the river and waving the colors, cried, "Come on boys."  They followed, but Hamm, being far in advance, had the colors shot from his hands. He picked up the colors which had fallen on the river bank.  Looking up, he saw a fine young southerner of 20 to 22 years, standing behind a tree 60 yards away. Sergeant Hamm rushed forward, sword in hand, and forced the Dixie soldier to surrender before he had time to reload his musket.
The injuries Hamm received while trying to save the flag are also recounted:
One night he was awakened by the cracking of burning wood. He barely escaped from the burning building. Reaching a place of safety his first thought was of the flag – his flag – the flag he carried all through the dark days of the rebellion. A thousand demons could not have held him then. He rushed into the building which had become a fiery furnace. He was rescued – almost lifeless – every hair burned from his head; face blistered, hands charred.

After months of suffering, months of tender care and patient nursing, he was saved to his friends but the flag he loved and for which he had offered his life on this country's altar, was no more.
—————————–
News clippings are from the on-line resources of the Free Library of Philadelphia.