Posted By Norman Gasbarro on November 8, 2014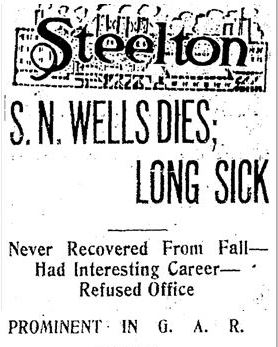 On 17 May 1913 in its section on "News of Steelton," the Harrisburg Patriot reported the death of Samuel N. Wells, a prominent G.A.R. official of that borough.  The obituary stated that Wells was born in Halifax, Dauphin County, Pennsylvania.  Previously, this was not known and Wells had not been included in the Civil War Research Project.
S. N. WELLS DIES; LONG SICK

Never Recovered From Fall – Had Interesting Career – Refused Office

Samuel N. Wells, one of the best known Civil War veterans and an old resident, died yesterday afternoon at 4:20 o'clock from complications.  He had been confined to his home, 170 North Front Street, since 12 June 1911, when he received a fracture of the left leg in a fall down the flight of steps at the entrance to the house.  He had not been able to leave his bed since that accident.

Mr. Wells was born 13 November 1832 at Halifax, Pennsylvania, and some time afterward moved to Harrisburg where he resided until some time in 1877 when he removed to the Borough [Steelton].  While a resident of Upper Harrisburg he was elected a member of common council from Allison's Hill against his wishes and refused to serve the office.

He served as a private in Company F, 127th Pennsylvania Volunteer Infantry [127th Pennsylvania Infantry] and as corporal in Company A of the 201st Regiment [201st Pennsylvania Infantry] from this State.  He received a gunshot wound at the Battle of Fredericksburg.

Mr. Wells was a prominent member of Sergeant Lascomb Post 351 of the Grand Army since its early days and served terms as commander, senior vice-commander and held other offices in the post.  His wife died 23 March 1910 and he is survived by the following children:  Mrs. E. Morrison; C. E. Wells; J. C. Wells; Mrs. L. E. Morningstar; Mrs. O. Westhafer; and S. Frank Wells.

Funeral services will be held from his late residence Monday afternoon at 2 o'clock the Rev. J. E. Grauley officiating.  Burial in charge of the Grand Army will be made in the Harrisburg Cemetery.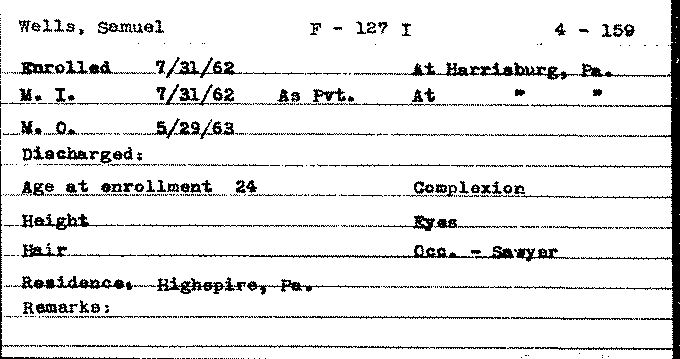 Samuel Wells enrolled in the 127th Pennsylvania Infantry, Company F, on 31 July 1862 at Harrisburg, and was mustered into service the same day and at the same place as a Private.  At the time of his enrollment, he claimed to be 24 years old, gave his occupation as saywer, and his residence as Highspire, Dauphin County. He was mustered out of service on 29 May 1863.  During this enlistment he was wounded in the abdomen, 13 December 1862, at Fredericksburg.  At this writing, records have not been seen describing the extent of this injury; however, he did report it as a war-incurred disability in 1890 when the veterans' census was taken.
On 18 August 1864, Wells enlisted for a second time at Harrisburg in Company A of the 201st Pennsylvania Infantry.  Within a few days of that enlistment, he was promoted to Corporal, and then served until 21 June 1865, when he was honorably discharged with his company.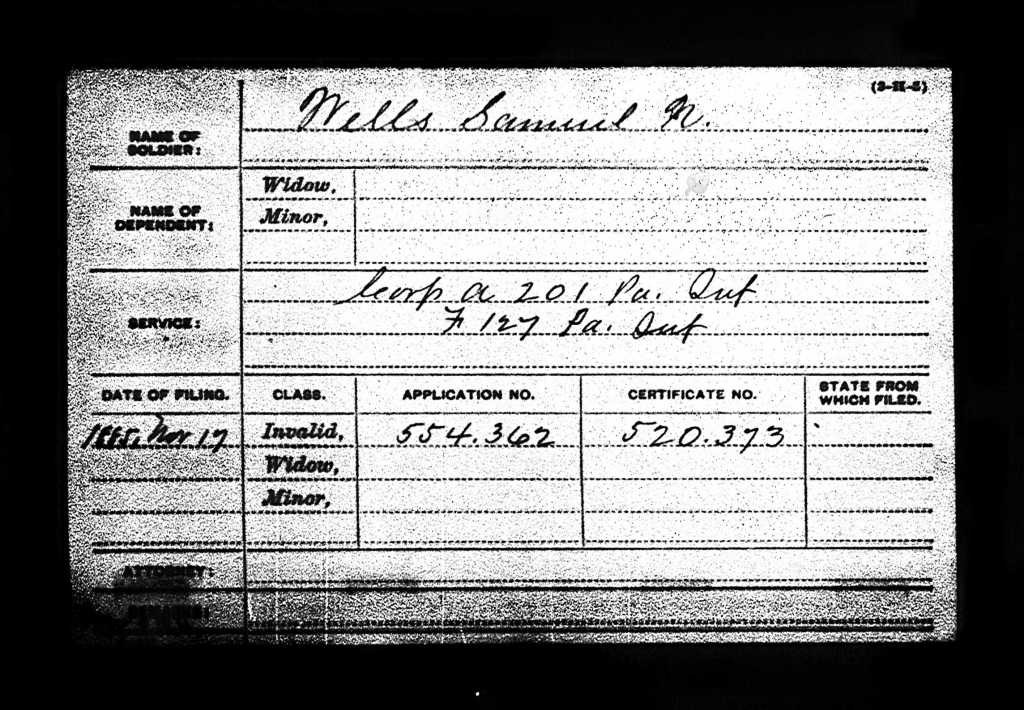 Samuel N. Wells applied for a Civil War pension on 17 November 1885, as shown by the above Pension Index Card from Ancestry.com.
Between 1889 and 1905, the Harrisburg Patriot reported frequent visits from his niece, Miss Annie E. Donahower of East Orange, New Jersey.  On 15 November 1900, the Patriot told of a surprise 68th birthday party for Samuel N. Wells.  The guests included Mr. and Mrs. Charles E. Wells, Harold Wells, Mr. and Mrs. L. E. Morningstar, Mr. and Mrs. Oscar Westhafer, Miss Anna Hope Morrison, Miss Ella May Morrison, Frank Morrison, Miles Morrison, Mr. and Mrs. S. Frank Wells, and James Wells.
in 1898, Samuel N. Wells represented Steelton at the State G.A.R. Encampment in Lebanon.  On 26 August 1900, Samuel N. Wells, along with other G.A.R. Post leaders from Pennsylvania, attended the National Encampment in Chicago, Illinois.  In 1902, he attended the 15th Annual reunion of the 127th Pennsylvania Infantry in Lebanon, Pennsylvania.  Others from the Steelton G.A.R. Post who attended the regimental meeting were:  L. F. Heicher, Charles H. Babb, George Boyer, David R. Hoffman, Luke Shuman, Peter Day, George Conklin, Abraham Baum and Jacob Good.  In 1903, he participated in a visit to the Lascomb Post Commander, Abram Atticks, who was enfeebled by illness and confined to his home.  Others from the Lascomb Post who also visited the commander were:  John Breckenridge, D. W. Neron, Adam Stahler, Robert Henry, Peter Dunkle, D. A. Page, and Jacob Prowell.  The Patriot reported that "Mr. Atticks thanked his guests for their remembrance of him in a short speech."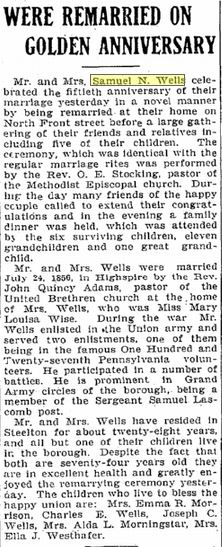 One article that appeared in the Harrisburg Patriot in 1906 described a happy event in the family life of Samuel N. Wells, and his wife of 50 years, Mary Louise Weiss:
WERE REMARRIED ON GOLDEN ANNIVERSARY

Mr. and Mrs. Samuel N. Wells celebrated the fiftieth anniversary of their marriage yesterday in a novel manner by being remarried at their home on North Front street before a large gathering of their friends and relatives including five of their children.  The ceremony, which was identical with the regular marriage rites was performed by the Rev. O. E. Stocking, pastor of the Methodist Episcopal Church.  During the day many friends of the happy couple called to extend their congratulations and in the evening a family dinner was held, which was attended by the six surviving children, eleven grandchildren and one great grandchild.

Mr. and Mrs. Wells were married 24 July 1856 in Highspire by the Rev. John Quincy Adams, pastor of the United Brethren Church at the home of Mrs. Wells, who was Mary Louisa Wise [sometimes found as Mary Louisa Weiss].  During the war Mr. Wells enlisted in the Union Army and served two enlistments, one of them being in the famous One Hundred and Twenty-seventh Pennsylvania Volunteers.  He participated in a number of battles.  He is prominent in Grand Army circles in the borough, being a member of the Sergeant Samuel Lascomb Post.

Mr. and Mrs. Wells have resided in Steelton for about twenty-eight years, and all but one of their children live in the borough.  Despite the fact that both are seventy-four years old, they are in excellent health and greatly enjoyed the remarrying ceremony yesterday,  The children who live to bless the happy union are:  Mrs. Emma R. Morrison; Charles E. Wells; Joseph C. Wells; Mrs. Alda L. Morningstar; Mrs. Ella J. Westhafer.
Despite the Patriot's report that Samuel Wells and Mary Wells were in excellent health, both had problems which were known to many in the community.  As early as 12 March 1896, the Patriot reported that Samuel was confined to his home by illness.  Again in 1904 and early 1905, he was again confined to his home.  This recurred in August of 1905, but he supposedly recovered.
Mrs. Wells died in March 1910.  Her funeral was held from the home and was conducted by Rev. H. W. Westwood of the First Methodist Episcopal Church.  In addition to her husband surviving her, six children were mentioned in the obituary:  Mrs. T. Morrison; Charles E. Wells; J. C. Wells; Mrs. L. E. Morningstar; Mrs. Oscar Westhafer; and S. Frank Wells, all of whom lived in Steelton.  Mrs. Wells was also survived by four sisters:  Mrs. George Conklin, of Steelton; Mrs. H. Cramer, of Baltimore, Maryland; Mrs. J. deHart, of Plainfield, New Jersey; and Mrs. Peter R. Day, of Steelton.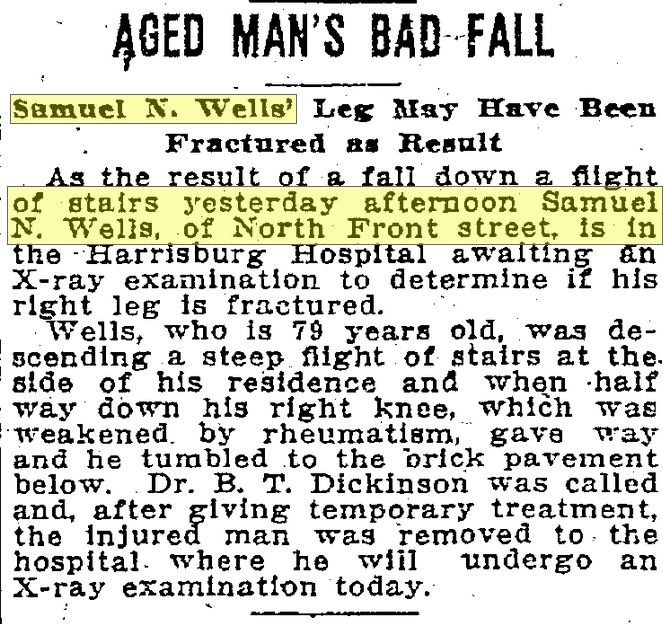 In June 1911, slightly more than one year after the death of his wife, Samuel fell down a flight of stairs at his Steelton residence.  The incident was reported in the Harrisburg Patriot of 13 June 1911:
AGED MAN'S BAD FALL

Samuel N. Wells' Leg May Have Been Fractured as Result

As the result of a fall down a flight of stairs yesterday afternoon, Samuel N. Wells, of North Front Street, is in the Harrisburg Hospital awaiting an X-ray examination to determine if his right leg is fractured.

Wells, who is 79 years old, was descending a steep flight of stairs at the side of his residence and when half way down his right knee, which was weakened by rheumatism, gave way and he tumbled to the brick pavement below.  Dr. B. T. Dickinson was called and, after giving temporary treatment, the injured man was removed to the hospital where he will undergo an X-ray examination today.
The death certificate of Samuel N. Wells (shown below from Ancestry.com) contains some additional information about him including the cause of death and the names of his parents – but does not confirm that he was born in Halifax.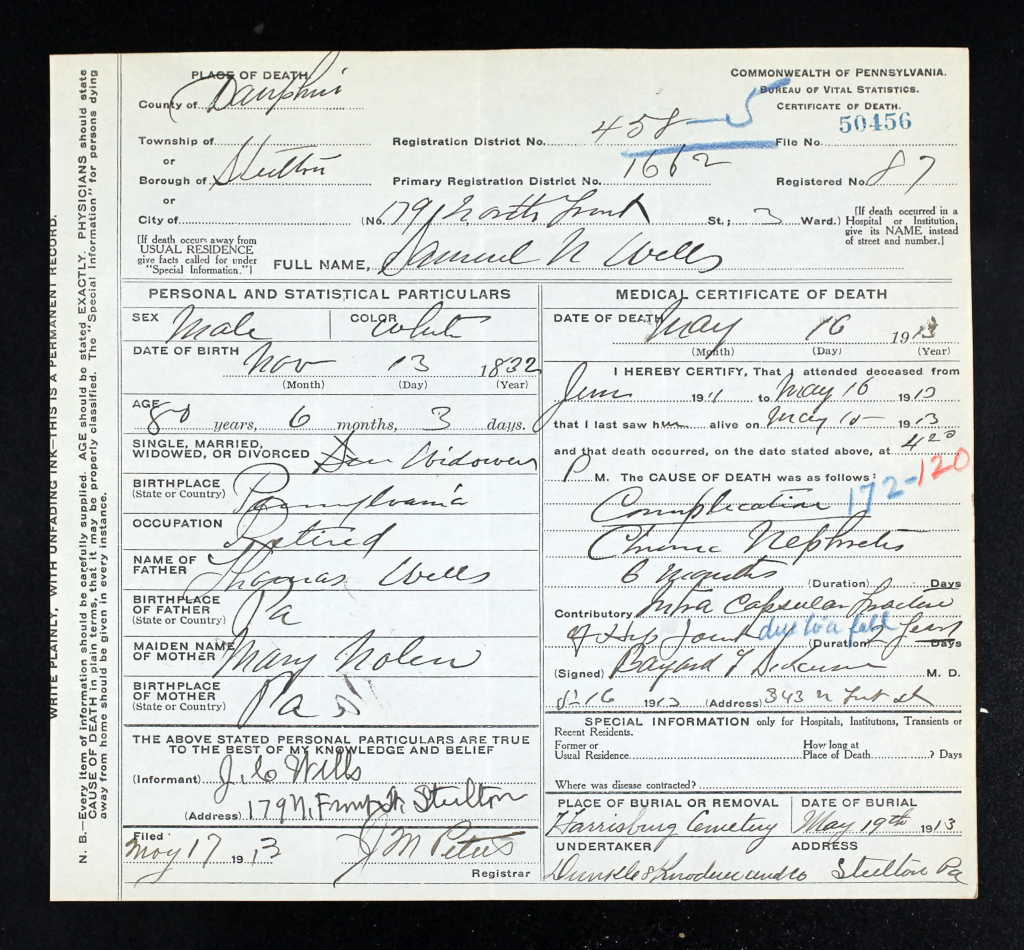 Samuel N. Wells, his wife, and four of his children are buried in the Harrisburg Cemetery.  For further information about him and his family, see his Findagrave Memorial.
Additional information is sought about Samuel N. Wells, including pictures and stories – and confirmation in some document that his birthplace was indeed, Halifax, Dauphin County!  Add comments to this post or send by e-mail.
——————————
News clippings are from the on-line resources of the Free Library of Philadelphia.