Posted By Norman Gasbarro on November 11, 2014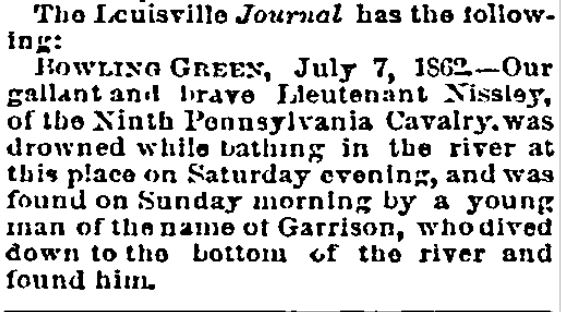 On 8 July 1862, the Louisville Journal* reported the following news item about the drowning of Lieutenant David H. Nissley, Company G, of the 9th Pennsylvania Cavalry:
BOWLING GREEN, Kentucky, 7 July 1862 — Our gallant and brave Lieutenant Nissley, of the Ninth Pennsylvania Cavalry, was drowned while bathing in the river at this place on Saturday evening, and was found on Sunday morning by a young man of the name of Garrison, who dived down to the bottom of the river and found him.  [*Note:  This news piece was re-printed in the Philadelphia Inquirer on 14 July 1893.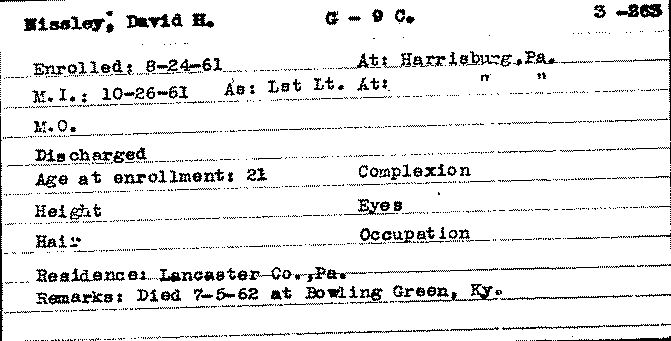 David H. Nissley enrolled in the 9th Pennsylvania Cavalry at Harrisburg on 24 August 1861.  He was mustered in as 1st Lieutenant on 26 October 1861 at the same place.  At the time he joined the cavalry he was 21 years old and lived in Lancaster County, Pennsylvania.  the Pennsylvania Veterans' Index Card (above) from the Pennsylvania Archives confirms his death at Bowling Green, Kentucky, but does not give the cause of death.
After his death, his remains were returned to his home and he was buried at the Henry Eberle Cemetery, Mount Joy, Lancaster County, Pennsylvania.
David H. Nissley was born 25 August 1838 in Lancaster County.  In 1850, he was living with his parents, David Nissley and Frances Nissley of East Donegal, Lancaster County.  The elder Nissley was a farmer and was born about1811.   In 1860, David H. Nissley was working as a carpenter.  No record has been seen to indicate he was ever married.  No Pension Index Card for him has been located.
On the Register of Deaths of Volunteers (above from Ancestry.com), it is noted that the cause of death is not stated.
David H. Nissley was not mentioned in Yankee Cavalrymen, the history of the 9th Pennsylvania Cavalry based on the Diary of William Thomas of Lykens.
At this time, no other information has been seen about this soldier who met an unfortunate and untimely death in the war.  Hopefully, some readers will be able to add to his story.