Posted By Norman Gasbarro on November 23, 2014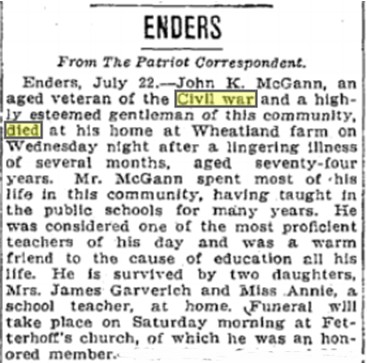 Enders, 22 July 1909 — John K. McGann, an aged veteran of the Civil War and a highly esteemed gentleman of this community, died at his home at Wheatland Farm on Wednesday night after a lingering illness of several months, aged seventy-four years.  Mr. McGann spent most of his life in this community, having taught in the public schools for many years.  He was considered one of the most proficient teachers of his day and was a warm friend to the cause of education all his life.  He is survived by two daughters, Mrs. James Garverich and Miss Annie McGann, a school teacher, at home.  Funeral will take place on Saturday morning at Fetterhoff's Church, of which he was a honored member.
The above obituary appeared in the Harrisburg Patriot on 23 July 1909 and was located through the on-line resources of the Free Library of Philadelphia.
For additional information about him, see the blog post entitled:  Capt. John K. McGann.