Posted By Norman Gasbarro on November 28, 2014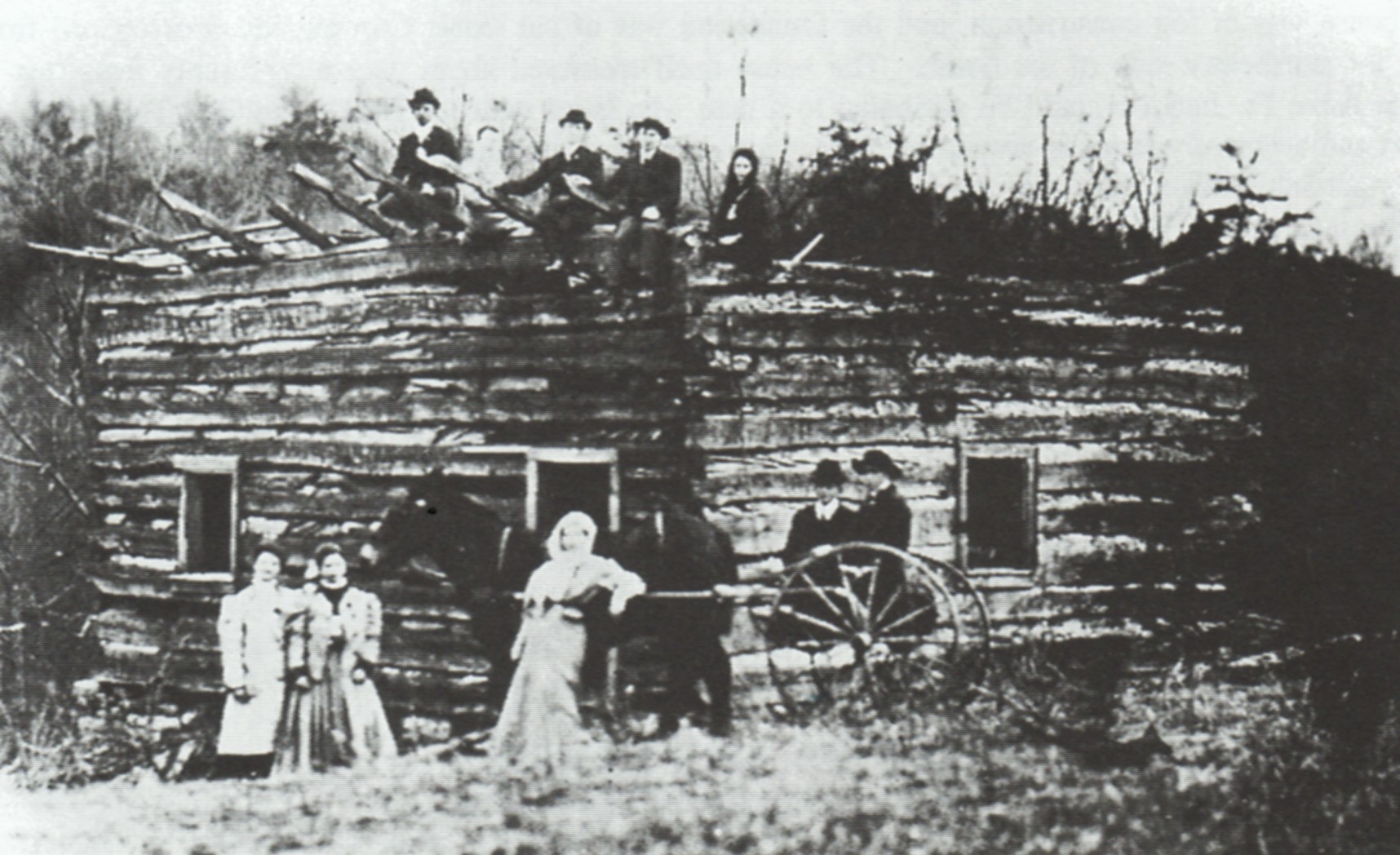 Fort Jackson was on land of forty-one acres, fifty-five perches, in Gratz Borough, Dauphin County, Pennsylvania, and was part of 350 acres of land owned by Solomon Laudenslager, who inherited it from his father Jacob Laudenslager who had received the original patent in 1807.  In 1862, a sheriff's sale transferred ownership from Solomon Laudenslager to Jonathan Holtzman and Dr. Isaiah Schminky.  Holtzman sold his undivided share to Dr. Schminky who owned it until his death.  This was a very early Laudenslager home, but later tenants lived in the old log house.  There has been some difficulty in identifying the tenants who lived here.  Most of the time, the Fort Jackson parcel was part of a vast acreage either owned by member(s) of the Laudenslager family or Dr. Isaiah Schminky.
One of the earliest possible tenants was Conrad Swenk, who may have lived at Fort Jackson in the late 1850s and early 1860s at a time when Solomon Laudenslager owned it.  In the 1860 Census, Swenk appears in a house on lands adjoining those of David Clark and Frederick Coleman, both of whom lived on properties that bordered on the Fort Jackson property.
Conrad Swenk (or Schwank or Shwenk), was born 12 April 1801, and died 27 March 1877.  He is buried in St. Matthew's (Coleman's) Cemetery in Lykens Township.  Conrad married Elizabeth [maiden name unknown], who was born 20 August 1807 and died 2 September 1870.  Their children included John Schwenk (19 September 1836 – 3 April 1895) who served in the Civil War in the 201st Pennsylvania Infantry, Company I, as a Private.  He was mustered into service on 23 August 1864 and was mustered out with his company on 21 June 1865.  Unfortunately, John received a severe head wound during the war which made him mentally impaired for the remainder of his life.  He never married and was taken care of by his brother Jacob Schwenk and sister Mary Schwenk.
An interesting document was found in the pension application file of John Schwenk.  A portion of this document is shown below.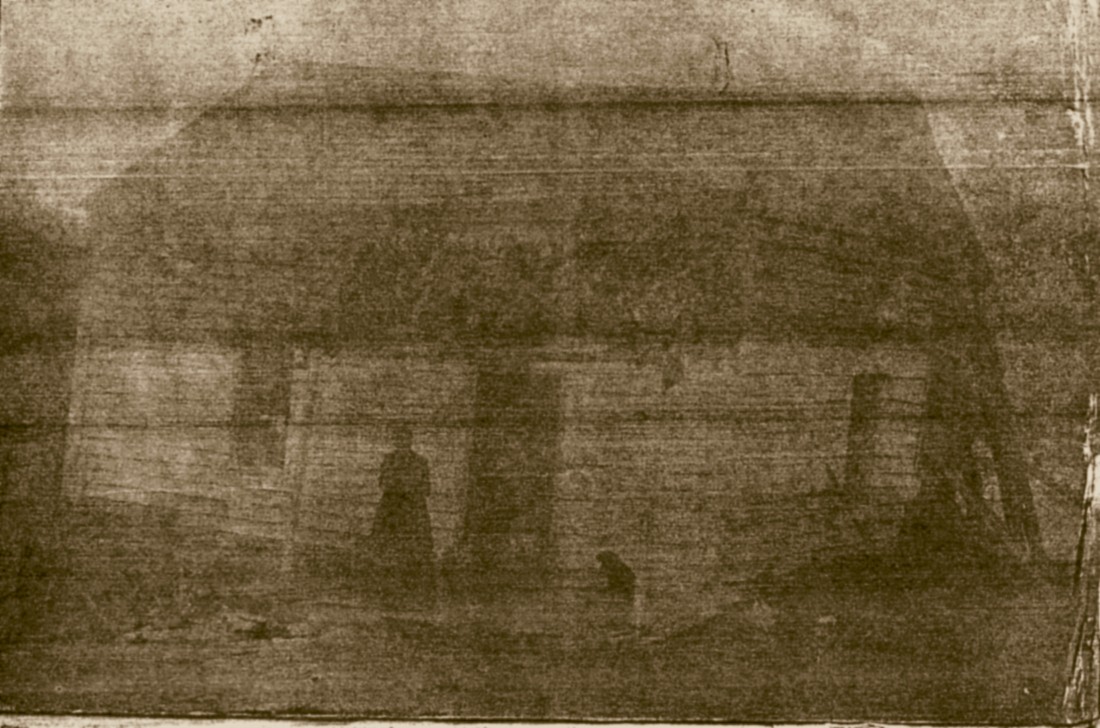 The document consisted of a poorly reproduced photographed taken by Joseph Eby, photographer at Gratz, and a certification of what the photograph represented.  The text stated:  "The photograph [from 1895] is a true likeness of the home of Jacob Schwenk, Mary Schwenk, and John Schwenk…."  The home in the photograph bears a remarkable resemblance to the only previously-known photograph of Fort Jackson (top of post) that was taken about 1910, at which point the roof had collapsed.
Ralph Witmer (1894-1985) was a Gratz resident who provided information on Fort Jackson.  He had seen the structure as a youth and said that it was a one room log house with a ladder leading to a loft.  Ralph claimed that Peter Kembel (1819-1891) and his family were living at Fort Jackson in its earliest period of existence before moving to a house he [Kembel] purchased on Market Street in 1872.  The second known resident, according to Ralph Witmer, was Benjamin Crabb (1824-aft 1900), the son of Peter Crabb, one of the earliest settlers of Gratz.  Benjamin Crabb was a blacksmith, an African American and the brother of John Peter Crabb, the Civil War veteran who later became a G.A.R. Post Commander in Harrisburg.  While the exact dates of Benjamin Crabb's residence at Fort Jackson are not known, he is mentioned as a "tenant" in Gratz in 1876 and he was known to be at Fort Jackson until around the mid-1880s.  Also known to have lived for a time at Fort Jackson was Jacob Hinkle who had a small sawmill across the Cold Stream that was in front of the property at a time when about four acres of wood were cleared around the house.  Hinkle was also known to have farmed the land on the north side of the house.
Harry Shiro (1905-1989) was another Gratz resident who recalled what old timers said about Fort Jackson.  Shiro's recollections included that the house was of log construction and the foundation was of cut stone.  An outside door opened from the cellar on the north-west side of the house.  The house itself measured about 12 by 20 feet.  Shiro speculated that the name "Fort Jackson" could have been attributed to a man who lived with the Hinkle family.  Eventually, the house became dilapidated and eventually caved in around the foundation.
Isaiah Schminky's heirs sold the forty-one plus acres to Newton Schminky in 1901 and the land remained in the Schminky family for over a hundred years.
The most intriguing and mysterious thing about this property is the reason it was called Fort Jackson.  Perhaps it is because it was the area where the Gratztown Militia gathered before the Civil War.
For prior posts on Fort Jackson, see:
African Americans in Pennsylvania
Death and Funeral of Dr. Isaiah S. Schminky
Gratz During the Civil War – Fort Jackson
——————————-
Some of the information for the above post was taken from A Comprehensive History of the Town of Gratz Pennsylvania.