Posted By Norman Gasbarro on November 21, 2014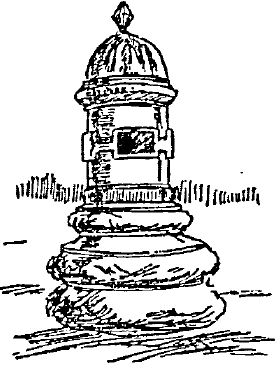 The 63rd Pennsylvania Infantry Monument at Gettysburg is located south of the town of Gettysburg on Emmitsburg Road.  It was dedicated on 11 September 1889, along with a large group of monuments paid for by the Commonwealth of Pennsylvania.  The drawing of the monument (above) is from the Philadelphia Inquirer article describing the regimental histories and ceremonies.  For a picture of the monument, see Steven Recker's Virtual Gettysburg Web Site which has more information about the monument and the 63rd Pennsylvania Infantry.
A full description of the monument, its GPS coordinates, a photograph, and some of the history of the 63rd Pennsylvania Infantry can be found on the Stone Sentinels Web Site.
—————————
On 11 September 1889, the Philadelphia Inquirer included the following information on the 63rd Pennsylvania Infantry in its article on the monument dedications*: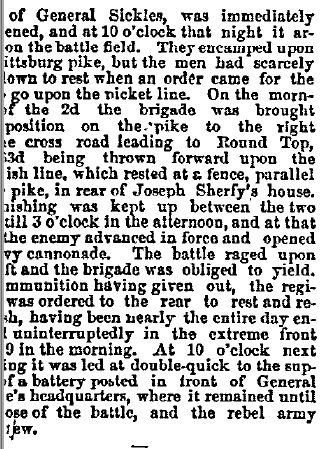 *Note:  Unfortunately, a portion of the left side of the article was cut off in the on-line scan.
—————————–
John A. Danks commanded the 63rd Pennsylvania Infantry at Gettysburg.  He was from Venango County, Pennsylvania.  For a more extensive biographical sketch of him, see the ranger95 Web Site.
—————————–
Around the base of the Pennsylvania Memorial at Gettysburg are a series of plaques which, by regiment and company, note the names of every soldier who was present at the Battle of Gettysburg.  The plaque for the 63rd Pennsylvania Infantry is pictured below.  By clicking on the plaque it should enlarge so the names can be more clearly read.  If a name does not appear, it could be that the soldier did serve in the 63rd Pennsylvania Infantry, but was not part of the regiment during its days in Gettysburg.  There could also be errors on the plaque.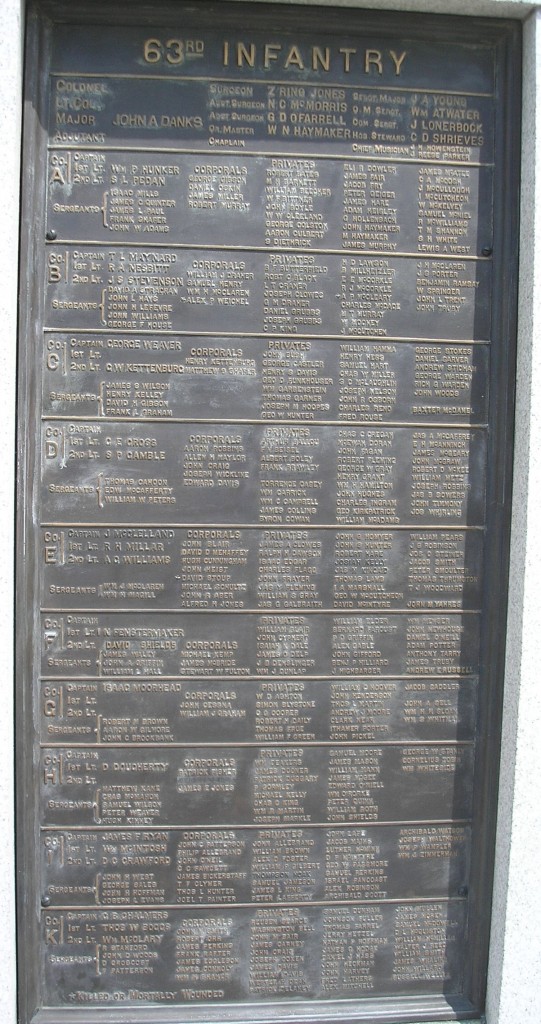 ——————————-
The news clippings are from the on-line resources of the Free Library of Philadelphia.