Posted By Norman Gasbarro on November 6, 2014
The 53rd Pennsylvania Infantry Monument at Gettysburg is located south of the town of Gettysburg on Brooke Avenue.  It was dedicated as part of the group of monuments paid for by the Commonwealth of Pennsylvania in 1889.  The view of the monument (above) is from Steven Recker's Virtual Gettysburg Web Site which has more information about the monument and the 53rd Pennsylvania Infantry.
A full description of the monument, its GPS coordinates, photographs, and some of the history of the 53rd Pennsylvania Infantry can be found on the Stone Sentinels Web Site.
—————————-
On 11 September 1889, the Philadelphia Inquirer included the following information on the 53rd Pennsylvania Infantry in its article on the monument dedications: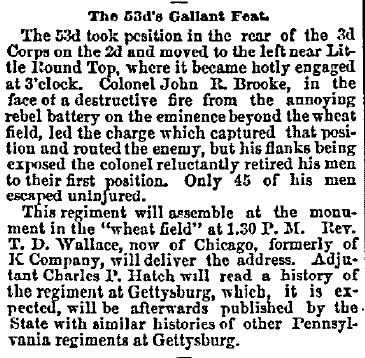 The 53rds Gallant Feat.

The 53rd took position in the rear of the 3rd Corps on the 2nd and mover to the left near Little Round Top, where it became hotly engaged at 3'clock.  Colonel John R. Brooke, in the face of a destructive fire from the annoying rebel battery on the eminence beyond the wheat field, led the charge which captured that position and routed the enemy, but his flanks being exposed the colonel reluctantly retired his men to their first position.  On 45 of his men escaped uninjured.

This regiment will assemble at the monument in the "wheat field" at 1:30 P.M.  Rev. T. D. Wallace, now of Chicago, formerly of K Company, will deliver the address.  Adjutant Charles P. Hatch will read a history of the regiment at Gettysburg, which, it is expected will be afterwards published by the State with similar histories of other Pennsylvania regiments at Gettysburg.
————————–
Richards McMichael, a carpenter from Reading, Berks County, Pennsylvania, was the commanding officer of the 53rd Pennsylvania Infantry at Gettysburg.  At enrollment, he was 45 years old and a veteran of the Mexican War.  He was commissioned as Lieutenant Colonel, the rank he held at the Battle of Gettysburg.  On 19 May 1864 he was discharged for disability.
Colonel McMichael died on 5 December 1894 and is buried at the Charles Evans Cemetery, Reading.  For more information about him, see his Findagrave Memorial.
—————————–
Around the base of the Pennsylvania Memorial at Gettysburg are a series of plaques which, by regiment and company, note the names of every soldier who was present at the Battle of Gettysburg.  The plaque for the 53rd Pennsylvania Infantry is pictured below.  By clicking on the plaque it should enlarge so the names can be more clearly read.  If a name does not appear, it could be that the soldier did serve in the 53rd Pennsylvania Infantry, but was not part of the regiment during its days in Gettysburg.  There could also be errors on the plaque.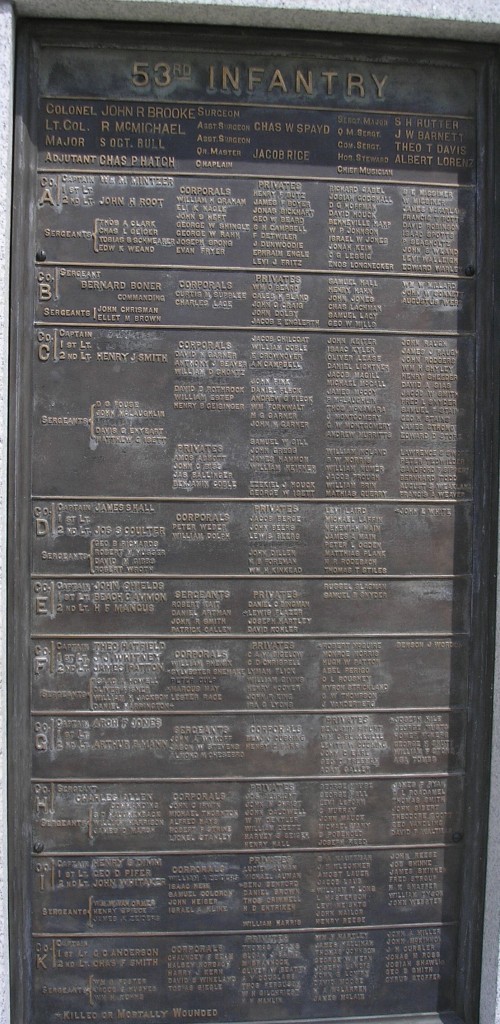 —————————-
The news clipping is from the on-line resources of the Free Library of Philadelphia.