Posted By Norman Gasbarro on November 19, 2014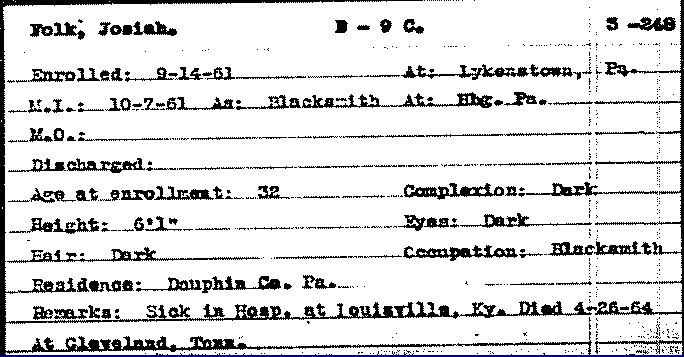 Josiah Folk (or Foulk or Fulk as he is sometimes found in the records) was born about 1829, probably in Dauphin County, Pennsylvania.  In the 1850 census of Wiconisco Township, Dauphin County, he is found as a blacksmith.  Living in his household were his wife Susanna [Riegle] Folk, working as a milliner, and infant daughter, Henrietta Folk.  In addition, his mother-in-law, Nancy Riegle, age 57 was with the family.  In 1860, Josiah was still a blacksmith and still living in Wiconisco Township.
Early in the Civil War, Josiah Folk enrolled in the 9th Pennsylvania Cavalry, Company B, at Lykenstown, Dauphin County, where he offered his services as a blacksmith for the company.  He was mustered into service in Harrisburg on 7 October 1861.  At the time of his enrollment he stood 6 foot 1 inches, had dark hair, a dark complexion, and dark eyes.  He gave his age as 32.
The Pennsylvania Veterans' File Card (above) from the Pennsylvania Archives gives his death date as 26 April 1864 and place of death as Cleveland, Tennessee.  Prior to his death he was "sick in hospital" at Louisville, Kentucky.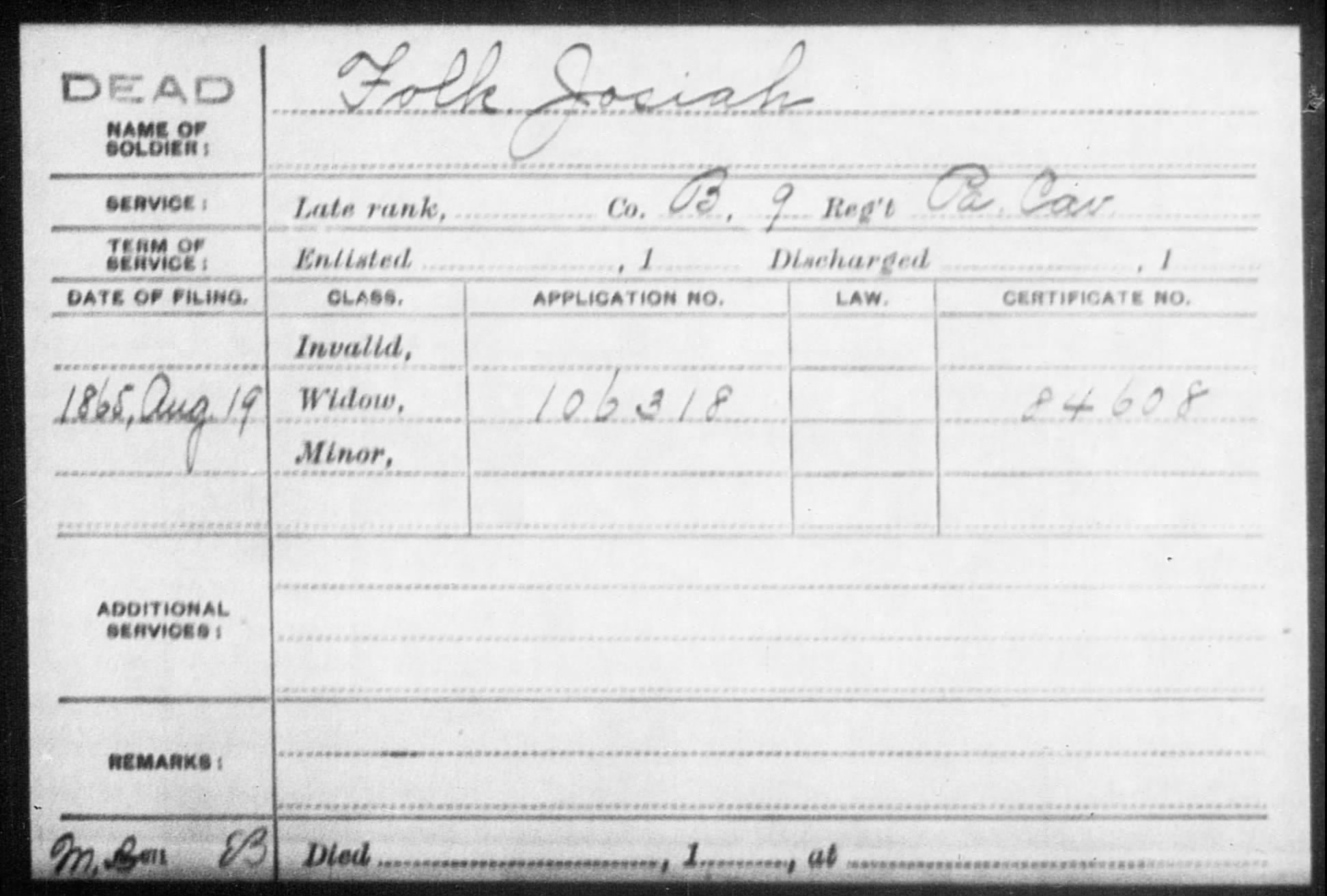 Per the Pension Index Card (shown above from Fold3), on 19 August 1865, the widow Susanna [Riegle] Folk applied for pension benefits for herself.  The pension application file is now available on Fold3 and consists of 34 pages of documents.  Several interesting documents from that file are summarized below.
Susanna had to frame her application with an oath that she was the rightful wife to Josiah Folk and that she was loyal to the United States:
Josiah Folk… who died of disease of the heart at Cleveland, Tennessee on 10 April 1864…. She was lawfully married to the said Josiah Folk at Lykenstown, Dauphin County, Pennsylvania, by Rev. C. F. Stoever, a Minister of the Gospel, on 12 May 1849…. That… she had no children now living under the age of sixteen years, her only child by the said Josiah Folk is now over 16 years of age and married, and that she has not in any manner been engaged in or aided or abetted the late rebellion in the United States… [her] post office address is Lykenstown, Dauphin County, Pennsylvania.
The letter sent to Henrietta Folk by the Brigade Surgeon was included in the file (page 1 of 2 shown below):
Cleveland, Tennessee, 20 April 1864

To Miss Henrietta Folk, Lykenstown, Pennsylvania.

It becomes my painful duty to inform you of the death of your father, Josiah Foulk. This I know will be a sad letter for you… but as there are none of his comrades here, the painful duty of informing you seems to fall to me….

Among his effects I have found and send your very kind letter to your father dated 30 March 1864. Also you mother's of the same date in which you both express the hope of meeting him soon. But that hope is gone and the only consolation I can offer you is to trust in Him [who] has said he was a Husband to the Widow and a Father to the Fatherless.

Your father died today at 7 P.M. of disease of the heart. He had been complaining for three or four days and this evening was taken worse very suddenly when I was sent for but when I arrived life was extinct. I have taken charge of his effects which is thirty dollars and fifty cents and have it subject to your order tomorrow I will see that his remains are decently interred in the cemetery at this place and the grave properly marked…

Please accept my sympathies in this your Sad bereavement and may a Kind Providence guide and protect you is the prayer of your Sincere Friend,

W. F. Green, Surgeon, Department of the Cumberland
The exact circumstances of the death of Josiah Folk may never be determined because the regiment was on veteran furlough at the time and there were no officers available to certify how he died.  In order to show that death occurred in the line of duty, the Captain of Company B, Edward G. Savage, submitted a statement in which he verified that two men of the company had knowledge of the death, and this was followed by a joint statement of Francis Feindt and Moses Botts:
Edward G. Savage… lately Lieutenant Colonel of the 9th Regiment Pennsylvania Cavalry… and prior to that time was Captain of Company B… was personally acquainted with Josiah Folk who was a Private in said company, that when said regiment re-enlisted, he (said Folk) was left behind on detached duty, that there was no officer of the company left there (to wit at Cleveland, Tennessee) in charge who had immediate control of the men there, that on the return of the regiment to duty the said Josiah Folk was dead, having died during the veteran furlough of the Regiment, that there was no officer of said Company there who from personal knowledge is able to certify as to the time and place and circumstances under which the disease of which the said Josiah Folk died…. [but, he] believes it was contracted strictly in the line of duty, that the said Josiah Folk was always… a faithful soldier, that he performed military duty for service years before his death and was never known to be afflicted with heart disease or any other complaint unfitting him for the duties of a soldier, that he has no doubt that the disease of which he died was contracted while in the service of the United States and in the line of duty and that he… believes that the statements made in the affidavits and depositions of Francis Feindt and Moses Botts, hereto annexed… are correct….

—————————-

Francis Feindt and Moses Botts …. While in the service of the aforesaid company and regiment that the said Josiah Folk died of disease on 16 March 1864 at Cleveland, in the State of Tennessee, that said disease was as they were informed and verily believe disease of the heart… and during all their acquaintance with him and all the time he was a soldier as aforesaid, he was a sound and able bodied man that they never knew or hears of him being afflicted with said disease wither before his enlistment or during the time he served… that they knew him intimately for several years before his enlistment, that the attack of heart disease of which he died was contracted under the following circumstances:

The regiment to which he belonged, having re-enlisted was at home on veteran furlough, that the said Josiah Folk, together with the said officiants and others were left in service in the field and were detailed for various duties, that the said Josiah Folk while engaged in the performance of detailed duty… was suddenly taken with the disease… that he lived but a short time after the attack, rapidly growing worse and died on 26 March 1864 as before stated that all this took place at Cleveland in the State of Tennessee….

At the time of the death of the said Josiah Folk the officers of his company and regiment were all absent in the State of Pennsylvania on veteran furlough, that there was therefore no officer or officers present who have personal knowledge of the facts and under what circumstances the disease of which said Josiah Folk, died, was contracted, that his sickness was sort and his death sudden…
Based on the documents presented, Susanna [Riegle] Folk received a widow's pension which she supposedly collected until her death, the date of which has not yet been ascertained for certain.
There is a noticeable conflict in the death date for Josiah Folk in that the Pennsylvania Veterans' File Card date is given as 26 April 1864, and the testimony given for the pension gives the date as 26 March 1864.
Henrietta Folk, who supposedly was married at the time of her mother's pension application, has not been located in subsequent censuses.  Her married name has not been found.
For his service in the Civil War, Josiah Folk is remembered on the Lykens G.A.R. Monument on North Second Street in Lykens Borough:

His name appears near the bottom of the second column.
According to his Findagrave Memorial, Josiah Folk is buried as "J. Folk" at the Chattanooga National Cemetery, Hamilton County, Chattanooga, Tennessee.  On that web site, there is a statement that he was originally buried at Cleveland, Tennessee, which is confirmed by several documents available on Ancestry.com.
—————————–
Anyone who can contribute additional information about this soldier and his family is welcome to do so by adding comments to this post or by sending the information via e-mail.