Posted By Norman Gasbarro on November 22, 2014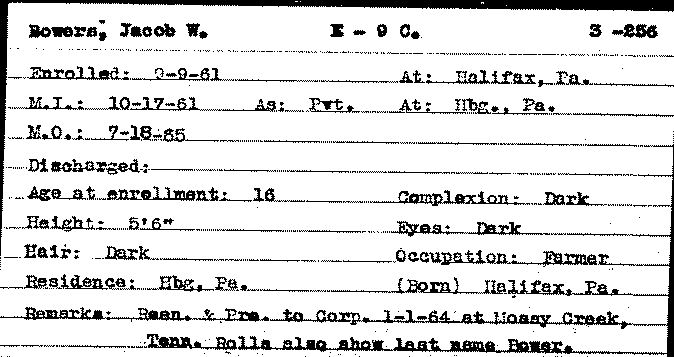 Jacob W. Bowers was born 18 January 1846 at Halifax, Dauphin County, Pennsylvania, the son of Adam Bower (1818-1885) and Mary Bower (1820-1856).  The family name is found both as Bower and Bowers as can be seen by the various records presented here in this blog post.
At the time of the Civil War, Jacob enrolled in the 9th Pennsylvania Cavalry, Company E, at Halifax and was mustered into service on 17 October 1861 at Harrisburg.  He was 16 years old at the time, stood 5 foot-6 inches in height, and had dark hair, dark eyes, and a dark complexion.  He gave his occupation as farmer and his residence as Harrisburg.  On 1 January 1864, he re-enlisted at Mossy Creek, Tennessee and was promoted to Corporal.  He was honorably discharged with his company on 18 July 1865 having served for the duration of the war.  In 1890, he reported to the census that his during the war his feet were frozen and he suffered during his lifetime as a consequence.  Jacob W. Bowers is not mentioned in Yankee Cavalryman, a history of the 9th Pennsylvania Cavalry based in part on the Diary of William Thomas of Lykens.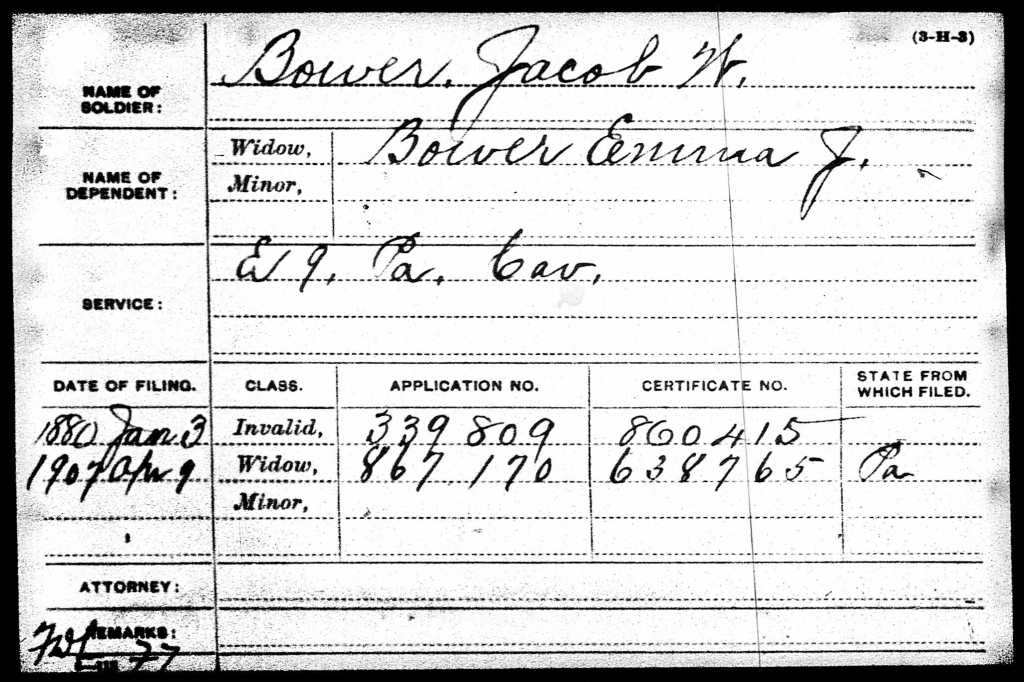 Jacob W. Bowers applied for an invalid pension on 3 January 1880, which he received and collected until his death, which occurred in 1907.  His widow, Emma J. Bowers (formerly Emma J. Sweigard) applied and she collected until her death on 3 July 1926.  Her death certificate indicates that she was the daughter of John S. Sweigard and Polly Massner.  It is possible that Emma's father was the John Sweigard who is named on the list of Halifax area Civil War veterans, but as of this writing, this has not been confirmed by any documents.
Jacob married Emma about 1866 ad the couple had several children, including: Mary Bower (born about 1867); Elizabeth Bower (born about 1869); William H. Bower (born about 1871); John C. Bower (born about 1873); Catharine A. Bower (born about 1875); and Irene Bower (born about 1880).

The Harrisburg Patriot reported his death on 11 March 1907 in a brief entry in their regular column, "News of Halifax:"
Jacob Bowers, a veteran of the Civil War, died yesterday morning at the home of his son-in-law, William A. Baker, and wife, near Fisherville.  Mr. Bowers was afflicted with typhoid fever for several weeks.
The death certificate of Jacob W. Bowers confirms the cause of death and the name of his father: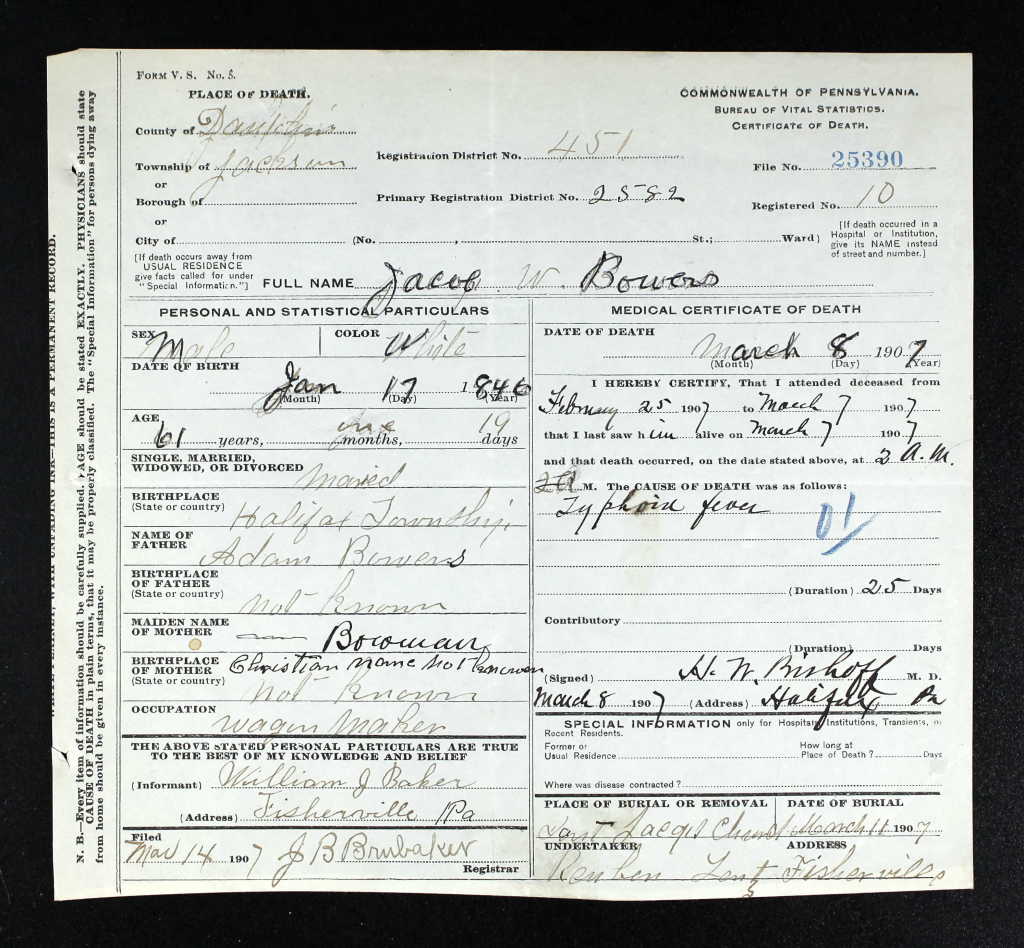 The informant, William J. Baker, was unable to give the Christian name of Jacob's mother.
A Findagrave Memorial has been created for him and includes a picture of his grave marker.  He is buried in Jacobs United Methodist Church Cemetery, Waynesville, Dauphin County.
Additional information is sought about Jacob W. Bowers, including family stories and more detail about his military record.  Pictures are especially welcome.  Comments can be added to this post or sent by e-mail.
——————————
The death certificate and Pension Index Card are from Ancestry.com.  The Pennsylvania Veterans' File Card is from the Pennsylvania Archives.  The news clipping is from the on-line resources of the Free Library of Philadelphia.