Posted By Norman Gasbarro on November 24, 2014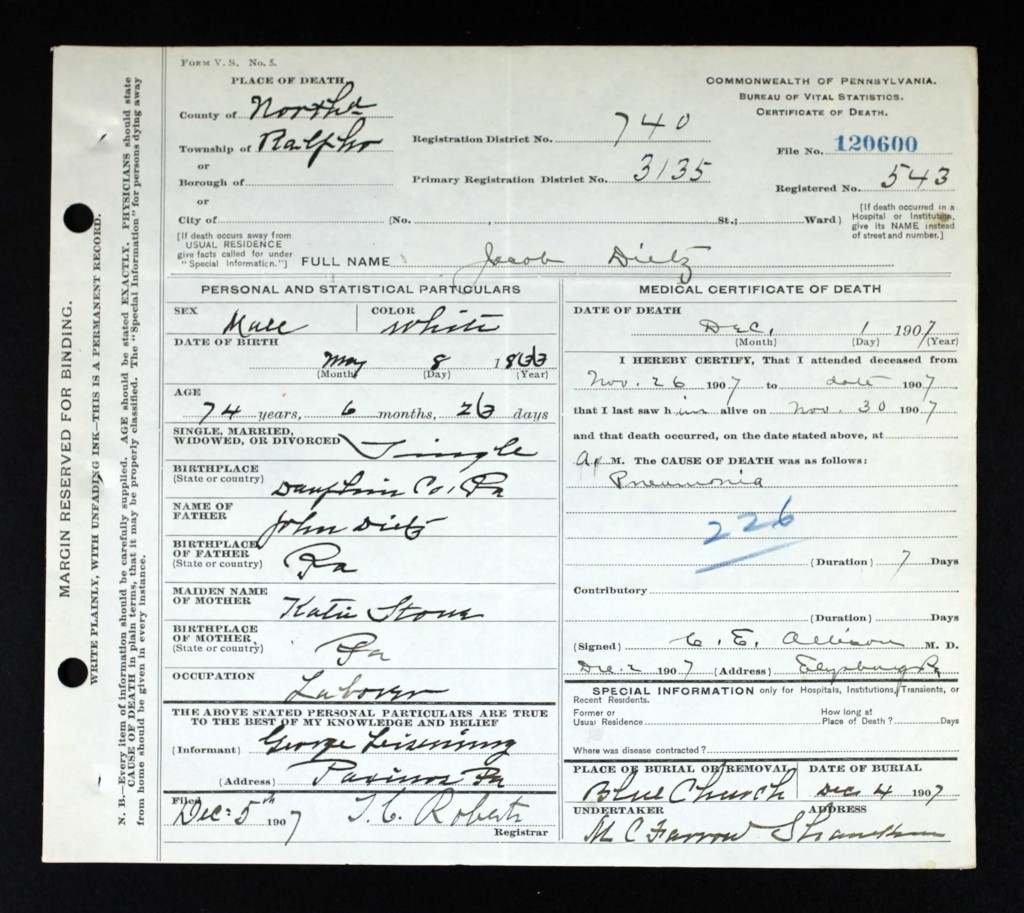 Jacob Dietz (or Jacob Deitz) was born 8 May 1833 in Lykens Township, Dauphin County, Pennsylvania, the son of Johannes "John" Deitz (1793-1859) and Catharine [Stein] Deitz (1799-1873).  He died on 1 December 1907 at Ralpho Township, Northumberland County, Pennsylvania, and is buried at St. Peter's Church Cemetery, Paxinos, Northumberland County.  He never married.  During the Civil War he was drafted and served as a Private in Company I, 177th Pennsylvania Infantry.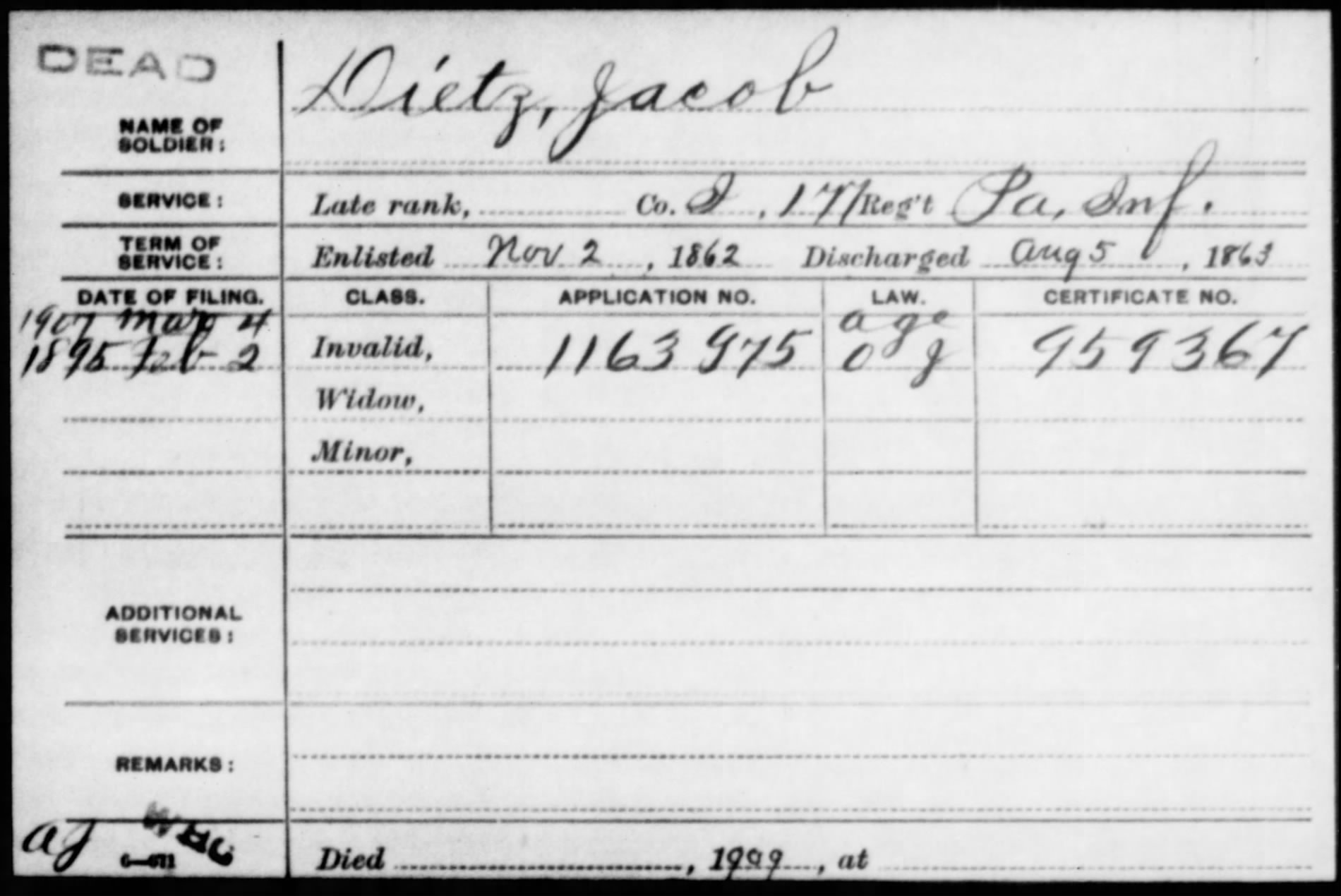 The Pension Index Card  (above from Fold3) for Jacob Dietz gives the initial date of the application for benefits as 2 February 1895.  The pension was received.  However, the date of death on the card does not match the date of death on the Pennsylvania Death Certificate (above) from Ancestry.com.
The pension application file contains some interesting information, which is summarized below:
1.  Jacob Dietz described himself thus: 5 foot, 11½ inches, sandy hair, blue eyes, and [?] complexion…
2. Jacob Dietz claimed that he contracted rheumatism after he was struck in the ear by a sapling while he was chopping wood:
That while a member of the organization aforesaid, in the service and in the line of duty at Suffolk in the State of Virginia, on or about the [?] day of April 1863, he contracted rheumatism that before he contracted rheumatism that whilst chopping in the woods near Suffolk he was struck by a sapling on the ear which caused him to become entirely deaf in the right ear and had never been able to hear in it since…. That he was [not] treated in hospitals….
3. Jacob Dietz gave his residences and the names of the doctors who treated him:
Before me the subscriber a Justice of the Peace in and for said County [Northumberland] personally appeared Jacob Dietz late of Company I 177 Regiment Pennsylvania Infantry who after first being duly sworn according to law did depose and say that for about one year after his discharge his Post Office was Locust Dale, Schuylkill County, Pennsylvania, Schuylkill County, Pennsylvania, that since about one year after his discharge his Post Office has been Bear Gap, Northumberland County, Pennsylvania. That he first suffered from rheumatism at West Suffolk, Virginia while in the service in the month of June 1863 and that from that time, his right ear became entirely deaf that Dr. Herington, Surgeon of the Regiment treated him while in the service. After he came home and lived at Locust Dale, Dr. Herrington treated him for about a year for rheumatism that Dr. Herrington died about 18 or 19 years ago. That since he moved to Bear Gap he was treated by Dr. L. D. Robins at different times until his death about 20 years ago that Dr. Y. F. Bigler next treated him for rheumatism that Y. F. Bigler lives in Shamokin, Pennsylvania, that Dr. Simon Hubler of Elysburg, Pennsylvania next treated him that at present he is unable to work at all that he has been for the last 8 or 9 years unable to follow his usual occupation by reason of the alleged disability and prior to 8 or 9 years ago he was troubled with rheumatism and unable to work at different times, sometimes for a month at a time.

Witness to Mark: Florence R. Vought, Clara Vought. Jacob..X (his mark)… Deitz

…11 August 1897…
4. Captain Benjamin J. Evitts made a statement on behalf of Jacob Dietz, who he claimed was the strongest man in the regiment:
Benjamin J. Evitts [testified]… that he was Captain of Company I, 177th Pennsylvania Drafted Militia in the late war and that sometime during the winter of 1863 there was a call of one man out of each Company of our Regiments to practice heavy artillery in Fort Halluck near Suffold, Virginia. My order was to end the strongest man I had, whereupon I selected and sent Jacob Dietz for said service and he served there until the expiration of our term of service and was legally discharged by me at Harrisburg, Pennsylvania…..   Benjamin J. Evitts (sig), 30 October 1897
5. The signature of Jacob Dietz was proof that he could not read or write:

One additional document has surfaced for Jacob Dietz – his application for membership in the Gratz I.O.O.F.: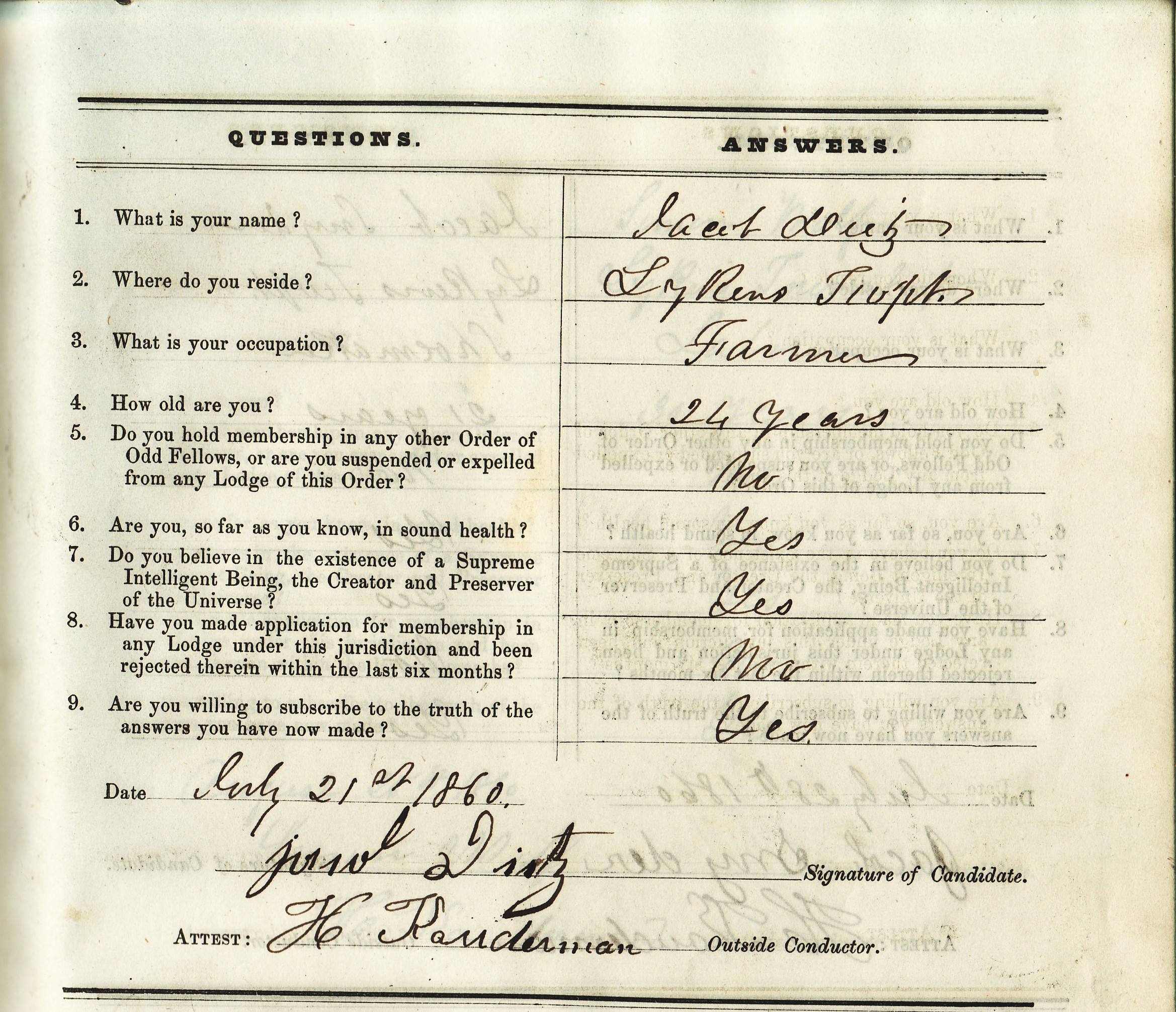 The I.O.O.F. document dated 21 July 1860, gives Jacob's residence as Lykens Township, his age as 24 years, his occupation as farmer, and the statement that he believed in the "existence of a Supreme Intelligent Being, the Creator and Preserver of the Universe."  Jacob managed a crude signature that attested to what he was saying was true.
Jacob Dietz has not yet been located in the 1870 through 1900 censuses.
Any reader with additional information that can be provided can attach a comment to this post or send by e-mail.