Posted By Norman Gasbarro on November 17, 2014
An entry in a 9th Pennsylvania Cavalryman's diary read as follows:
Saturday 30th [November 1861] – In the morning about 4 A.M. another excitement On board the Arago owing to a report that Isaac Messner was kicked over board by one of the Horses on board the Anglo Saxon… one of Co. B…. Both sides of the river bank is quite white Resulting from one of these cold Atumnul frosts…. all the boats Tied up at Louisville Ky in the evening…. the report of Mr. Messner proves True the[y] could not recover his body so he found a watery grave in the Ohio…. [William Thomas as reported in Yankee Cavalrymen, p. 31-32].
Isaac P. Messner was born about 1840 in Dauphin County, Pennsylvania, the son of John P. Messner (1817-1891) and Lydia [Buffington] Messner (1821-1892).  Through his mother's paternal line he could trace his ancestry back to Richard Buffington (1654-1748) the immigrant, who arrived on the west shore of the Delaware River about 1675, and from whom nearly all the Buffington's in America can claim descent.  Through his mother's maternal line, he could claim Johann Peter Hoffman (1709-1797) as his 2nd great grandfather, the immigrant and pioneer settler of the Lykens Valley.
Isaac grew up in Mifflin Township, Dauphin County along with his brothers and sisters, including younger brother Henry Messner, born in 1844.  The father John P. Messner was a carpenter in and around Berrysburg.  On 25 March 1858, Isaac married Ellen Nellie Enterline (1836-1865) and on 26 June 1860 in Powell's Valley, a daughter, Mary Catherine Enterline, was born to the couple.  In 1860, brother Henry Messner was still living with his parents, then in Washington Township, where John P. Messner was working as a millwright.  Then the Civil War came.
Isaac P. Messner enlisted in the 9th Pennsylvania Cavalry on 23 September 1861 and was mustered into Company B as a Saddler on 7 October 1861.  At the time, Isaac stood 5 foot 8 inches tall, had dark hair, blue eyes and a dark complexion.  He was 22 years old, and was by occupation a saddler, a natural fit for his position in the cavalry.  Brother Henry also enlisted in the 9th Pennsylvania Cavalry, Company B, at the same time.  He said his age was 20 but he was probably only 18.  He matched his brother in height and physical description.  Although his occupation was given as saddler, Henry was assigned as Private in Company B, where he remained until nearly the end of the war when he was promoted to Regimental Saddler on 1 January 1865.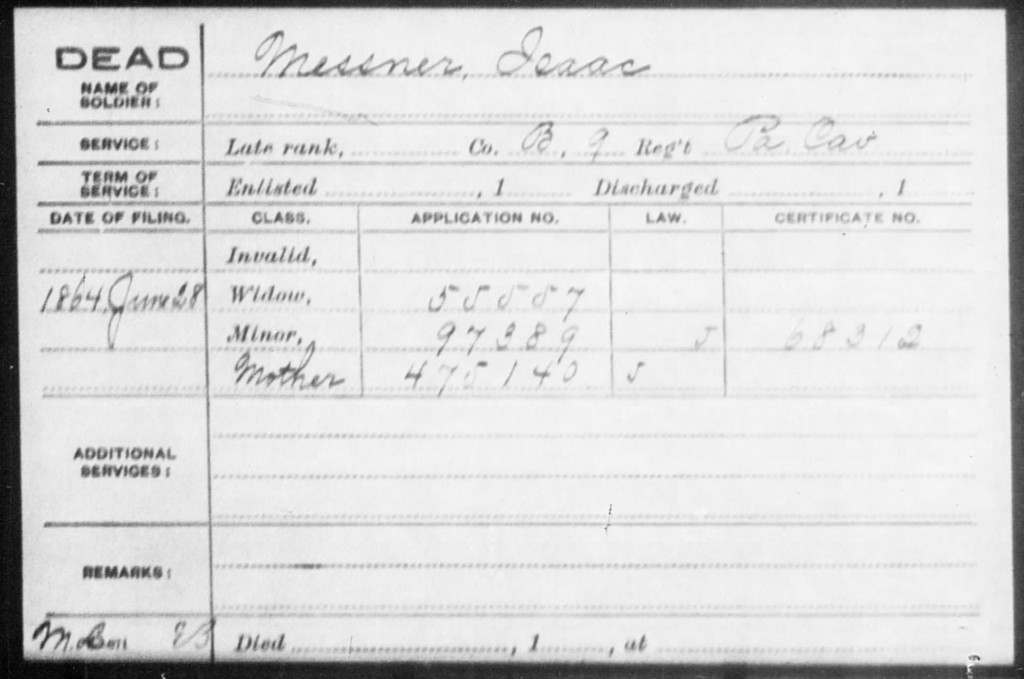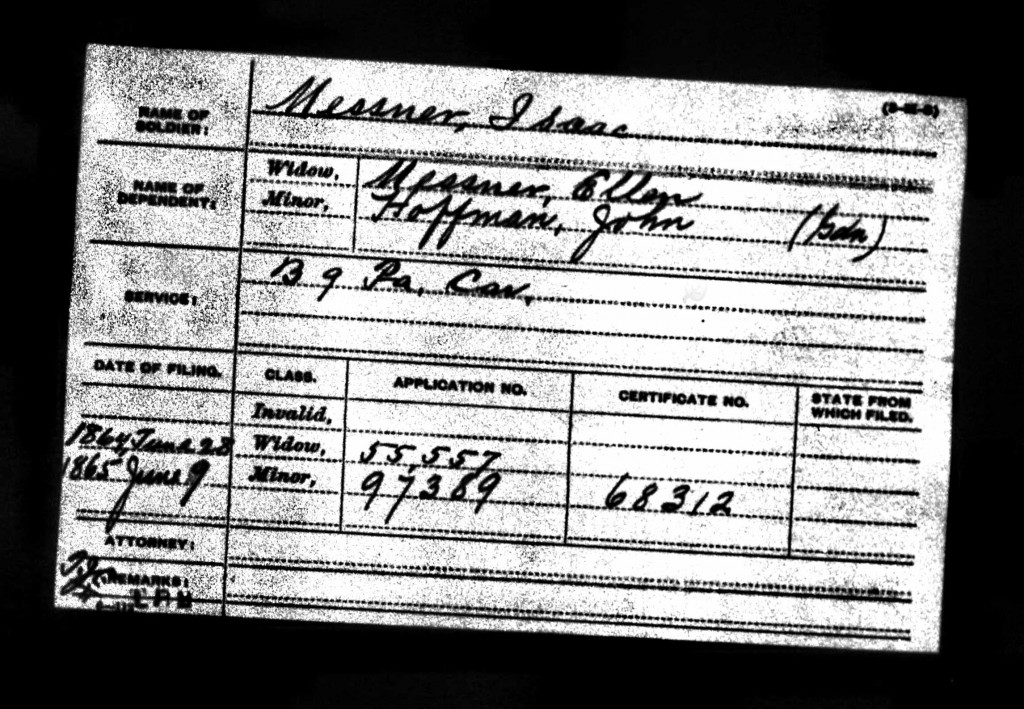 The two Pension Index Cards [above, top, from Fold3; bottom from Ancestry.com) begin to tell the rest of the story.  In that Isaac Messner died in the line of duty, and application was first made by the widow, Ellen [Enterline] Messner, on 28 June 1864.  At that time, the daughter of Isaac and Ellen was about 4 years old.  Any dollar amounts that Ellen would receive would include additional support for the daughter, Mary Catherine Messner, so there was no need at that time to apply for a separate pension for the minor child.  But, as stated earlier, Ellen [Enterline] Messner died in 1865, about nine months after she applied for a widow's pension, and before the Pension Bureau made a decision on her application.  She is buried in St. Paul's Lutheran Church Cemetery, Enterline, Dauphin County.  John Hoffman, who was Ellen's sister-in-law (married to Ellen's older sister, Polly Enterline), was appointed guardian of the almost-five-year-old-orphaned Mary Catherine Messner.   John Hoffman, who was a descendant of Johann Peter Hoffman, was also distant cousin of Isaac Messner (see above on Isaac's mother's lines of descent).  The application on behalf of the minor child was made on 9 June 1865.  That pension was received.
Unfortunately, Mary Catherine Messner died on 22 November 1873.  She is buried next to her mother at St. Paul's Cemetery in Enterline.  A photograph believed to be an image of Mary Catherine is attached to an Ancestry.com family tree.
As part of the supporting documents to confirm the death of Isaac Messner, the following item was presented to the Pension Bureau:
It was dated 15 December 1864 and was from the U.S Treasury Department.  It stated that Isaac Messner was "reported drowned in the Ohio River 29 November 1861, kicked into the River by a horse on boat Anglo Saxon."
To understand why there were horses on board a boat in the Ohio River, it is necessary to study the movement of the 9th Pennsylvania Cavalry in the late days of 1861.  William Thomas wrote the following in his diary (excerpts from Yankee Cavalrymen slightly modified):
Wednesday 27th [November 1861] – great trouble to get the Soldiers aboard… commenced sailing down the river to Louisville… the Poe run aground and detained us about 2 hours…. It took 7 boats to convey our regiment and horses down the river….

Thursday 28th [November 1861] – The Anglo Saxon run aground… we run all night…. The Westmoreland run aground during the night…. It rained from 8 P.M. until daylight….

Friday 29th [November 1861] – Boats tied up this morning at Pomroy… to take in coal for the balance of the trip…. Passed the town Guyandotte all destroyed…  Passed Portsmouth, a town on the Ohio bank… at 9 P.M.  Passed Cincinnati in the morning about 3 A.M….
The next day, Isaac Messner was kicked overboard by one of the horses on the Anglo Saxon.
A significant amount of information is available in the pension application file (47 pages) now available on line through Fold3.  The above document from the Treasury Department is page 19 from that file.