Posted By Norman Gasbarro on November 16, 2014
Manuel Walker was one of many ex-slaves who chose to relocate in Dauphin County, Pennsylvania, in the years immediately after the Civil War.  He died on 18 September 1907 and his obituary appeared in the Harrisburg Patriot the next day.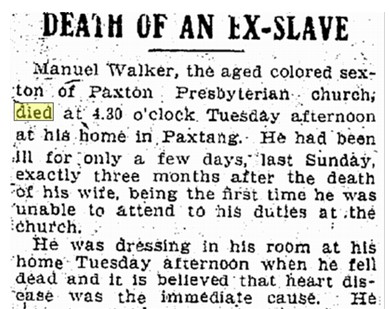 DEATH OF AN EX-SLAVE

Manuel Walker, the aged colored sexton of Paxton Presbyterian Church, died at 4:30 o'clock Tuesday afternoon at his home in Paxtang.  He had been ill for only a few days, last Sunday exactly three months after the death of his wife, being the first time he was unable to attend to his duties at the church.

He was dressing in his room at his home Tuesday afternoon when he fell dead and it is believed that heart disease was the immediate cause.  He was an ex-slave, coming here from Maryland with his wife soon after the Civil War.  He had been sexton of Paxton Church for a quarter of a century and was very well known east-of the city.  Like many of his race whose birth occurred during the ante-bellum period he was uncertain as to his exact age, but he was more than eighty, beyond a doubt.

Of seven children only one survives – Mrs. Dora Wright. The funeral services will be held from her home, 4 Haehnlen Avenue, at 2 o'clock tomorrow afternoon and Rev. E. M. Mulock, pastor of Paxton Church will officiate. He will be buried at Penbrook along side the grave of his wife.
Although there was a large community of ex-slaves living in the Harrisburg area, few specific records have been located that give more information on most of them.  In the case of Manuel Walker, for example, as of this writing he has not been located in the 1900 census (or censuses before) and a death certificate for him has not been found.
The cemetery at Penbrook is most likely Lincoln Cemetery, an historic African American cemetery, established as early as 1816 although the date on the cemetery gate is 1827.