Posted By Norman Gasbarro on October 30, 2014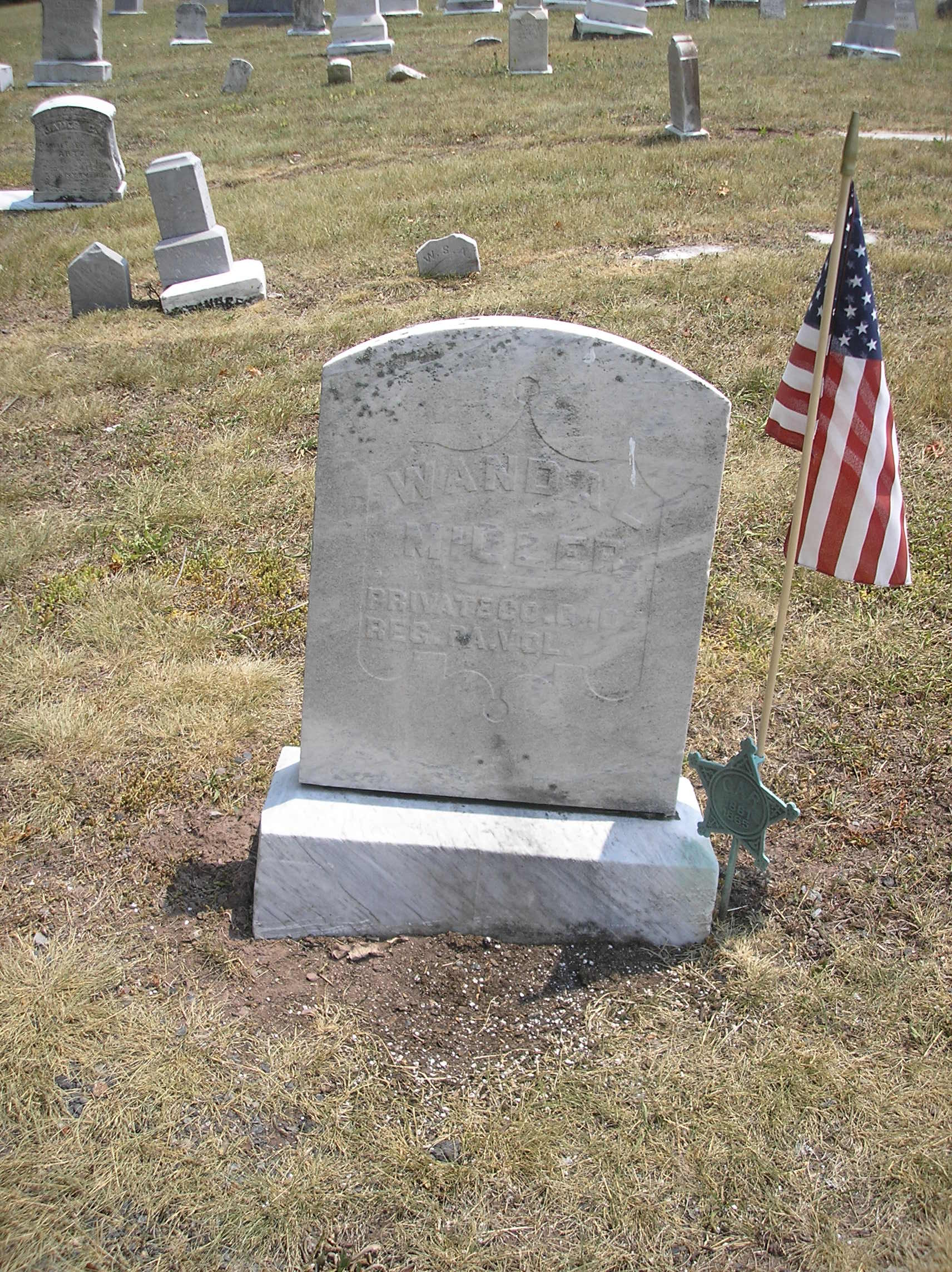 A Civil War grave marker found in the St. Paul's (Artz) Church Cemetery, Sacramento, Schuylkill County, Pennsylvania, for Wandal Miller, who served in the 107th Pennsylvania Infantry, Company G, presented somewhat of a challenge to research due to his common surname.  Wandal, who was more commonly found as Wendall Miller (or as he was located in the war records as Vintal Miller), in 1850 was a 14 year-old in the household of widower John Miller, a 45-year old farmer of Porter Township, Schuylkill County, along with the following siblings:  Sarah Jane Miller (born about 1832); Hannah Miller (born about 1834); Peter Miller (born about 1835); Elizabeth Miller (born about 1839); Joseph Miller (born about 1841); and John Miller (born about 1843.
In the 1860 Census, Wendall Miller is found as a laborer living in the household of the Frederick Schwalm (1796-1872), a farmer in Hubley Township, Schuylkill County.  Also living in this household was a Henrietta Dieter (or Dietrich), s servant, age 21, who within a year married Frederick and with him produced three children who were born during the Civil War.  Frederick Schwalm had at least two sons of military age, who when the Civil War began, joined the army:  Samuel Schwalm (1827-1903) and Frederick Stein Schwalm (1831-1902).
Likewise, the young Wendall Miller began service in the army on 8 February 1862.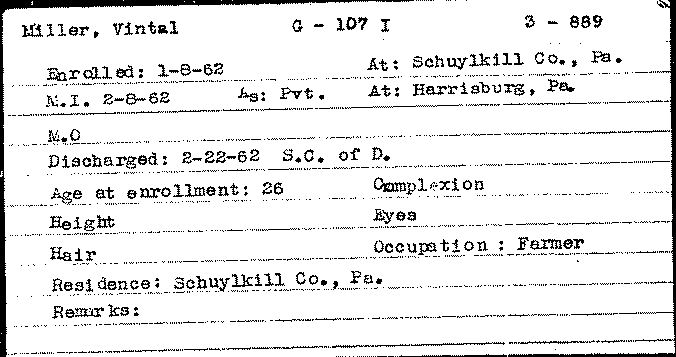 According to an index card found at the Pennsylvania Archives, a Vintal Miller enrolled in the 107th Pennsylvania Infantry, Company G, at Schuylkill County, on 8 January 1862, and one month later was mustered into service in Harrisburg as a Private.  His occupation was given as farmer and his age was given as 26, although he was more likely 24.  What is confusing on the index card is the date of discharge, 22 February 1862, which appears to be in error from other readily available sources.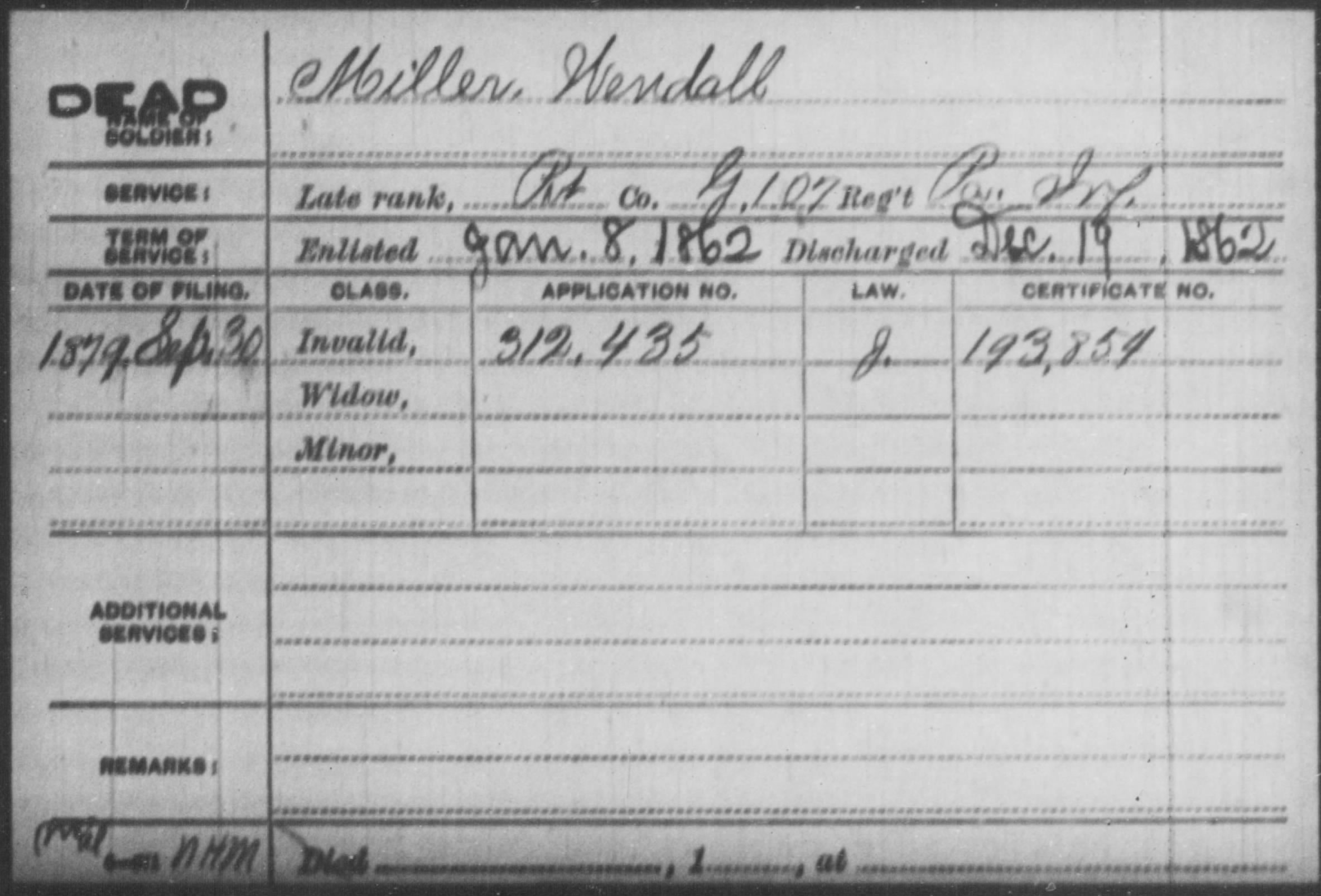 According the Pension Index Card available through Fold3 (shown above), Wendall Miller applied for a pension on 30 September 1879 claiming dates of service as 8 January 1862 through 19 December 1862 (about 11 months), a pension which he received and collected through his death.  There is no record that a widow applied.  The 1879 date suggests, but does not prove, that there were war injuries that prompted this earlier-than-1890 application.  The "S.C.D." notation on the index card from the Pennsylvania Archives, is an indication that a "Surgeon's Certificate of Disability" was involved.
Turning to a third available source, the Veterans' Census of 1890, it is seen that Wendall claimed at that time that his time of service was 11 months, but he reported the year incorrectly as 1861.
Looking at the bottom section of this same source, Wendall Miller gave his Civil War-related disability as "S— wounds-left shoulder" [this could be "Sabre cut"?].  His post office address in 1890 was given in the first column, "Artz, Schuylkill County."
The final available record was found at Steve Maczuga's web site, Pennsylvanians in the Civil War.    Steve states that Vintal Miller was mustered in on 8 February 1862, and was discharged on 22 December 1862 for wounds received at Catlett's Stataion, Virginia, on 24 August 1862.
After Wendall Miller returned from his Civil War service, he married a woman named Elizabeth, perhaps Elizabeth Williams (1837-?), and settled in Hubley Township, Schuylkill County.  He and Elizabeth had at least six children:  Charles Miller (born about 1866); Marie E. Williams (born about 1868 and died about 1869); William D. Miller (born about 1870 and died about 1873); Catherine "Kate" Miller (born about 1872); John Ellsworth Miller (born about 1875 and died about 1946); and Lydia Miller (born about 1877).  Some of this information can be confirmed through the census returns for the family from 1870 through 1900, some can be confirmed through cemetery records, and some is suggested through family trees found on Ancestry.com.  In all the regular census returns where an occupation is given, Wendall is a laborer.
By 1900, the widower Wendall Miller had moved in with his daughter Kate who had married Charles Lubold and was living in Upper Mahantongo Township, Schuylkill County.  Charles Lubold, at that time gave his occupation as farm servant.
It is believed from the cemetery records that Wendall Miller died on 5 December 1903, but this has not been confirmed elsewhere.  The grave marker, which does not have birth and death dates, appears to be a "government issue" but no application form has been located in the "Headstones" database available through Ancestry.com.  A church record might be available for his death and funeral, but was not seen at the time of the writing of this blog post. And, no obituary has be seen. Likewise, the date of birth for Wendall of 18 March 1836 also needs confirmation, as does his suspected place of birth of Reinerton, Schuylkill County.
One of the major difficulties in researching Lykens Valler area Civil War veterans with the Miller surname has been that thus far, more than 70 such persons have been identified, with very little confirmed connectivity between and among them.  Several dozen of those identified have the given name of John – and when a confirmed Civil War veteran, such as Wendall Miller is researched, invariably, a John Miller is found among his siblings.  There are at least a dozen major, separate families in the Lykens Valley area with the Miller surname, among them the founder of Millersburg.  Some with the Miller name were immigrants from Germany just before they enlisted for the Civil War.  Some were descendants of pioneer families of the Lykens Valley area.  Some have variations in the spelling of Miller (such as Mueller or Muller) and some have variations in the given name (such as Wendall and Vintal).
Another difficulty is the number of errors found in the records – such as the discharge date for Wendall Miller noted above.
This will all take time to sort out, but with each veteran researched, more knowledge is obtained and a fairly accurate picture begins to emerge of the Miller family in the Civil War.
As with all research done through this blog, reader comments are invited.  Either add to this post or send by e-mail.