Posted By Norman Gasbarro on October 29, 2014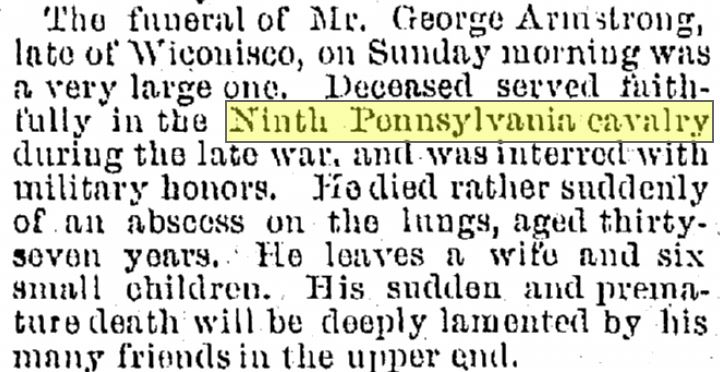 On 30 October 1880, the Harrisburg Patriot ran the following story:
The funeral of Mr. George Armstrong, late of Wiconisco, on Sunday morning was a very large one.  Deceased served faithfully in the Ninth Pennsylvania Cavalry during the late war, and was interred with military honors.  He died rather suddenly of an abscess on the lungs, aged thirty-seven years.  He leaves a wife and six small children.  His sudden and premature death will be deeply lamented by his many friends in the upper end.
As stated in the funeral story, George Armstrong served in the 9th Pennsylvania Cavalry.  From his Pennsylvania Veterans' File Card (below) available from the Pennsylvania Archives, the following was discovered about him and his service: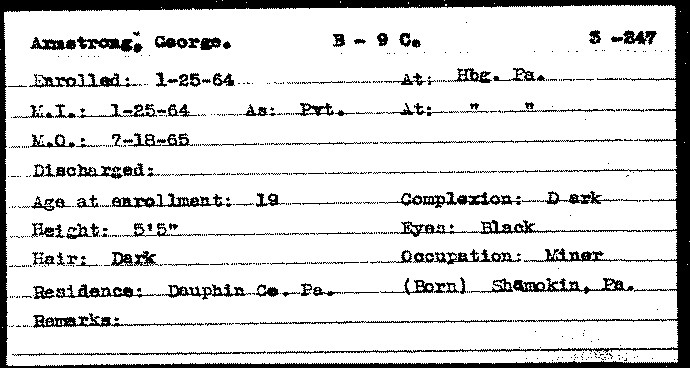 George Armstrong enrolled in Company B of the 9th Pennsylvania Cavalry at Harrisburg on 25 January 1864 and was mustered into service as a Private on the same day.  At the time, he was 19 years old, was a miner by occupation,  had been born in Shamokin, Northumberland County, and was a resident of Dauphin County.  His physical description included a height of 5 foot 5 inches, dark hair, dark complexion, and black eyes.  His 1864 date of enrollment indicated that he was a replacement soldier for those who chose not to re-enlist in the cavalry after their initial term of service ended.  It can be assumed that Armstrong was with the regiment in its final campaigns, including Sherman's march to the sea.  He received an honorable discharge on 18 July 1865.
There is no mention of George Armstrong in Yankee Cavalrymen, the history of the regiment that was written by John W. Rowell, based on the Diary of William Thomas of Lykens.
George Armstrong's parent's names have not yet been ascertained.
Following the Civil War, George Armstrong probably married around 1867 to Amanda S.(maiden name unknown), and by 1870 was living in Tremont, Schuylkill County, where he was working as a miner. He had one two year old child, Lillie Armstrong, living in his household.
In 1880, he and his family were living in Wiconisco, and was still working as a coal miner.  There were six children in the household:  Lilly Armstrong, born about 1868; George Armstrong Jr., born about 1872; Jennie Armstrong, born about 1873; Abbie Armstrong, born about 1874; John Armstrong, born about 1876; and Annie Armstrong, born about 1879.  As stated in the funeral notice (above), the wife and six small children all survived him when he died in October 1880.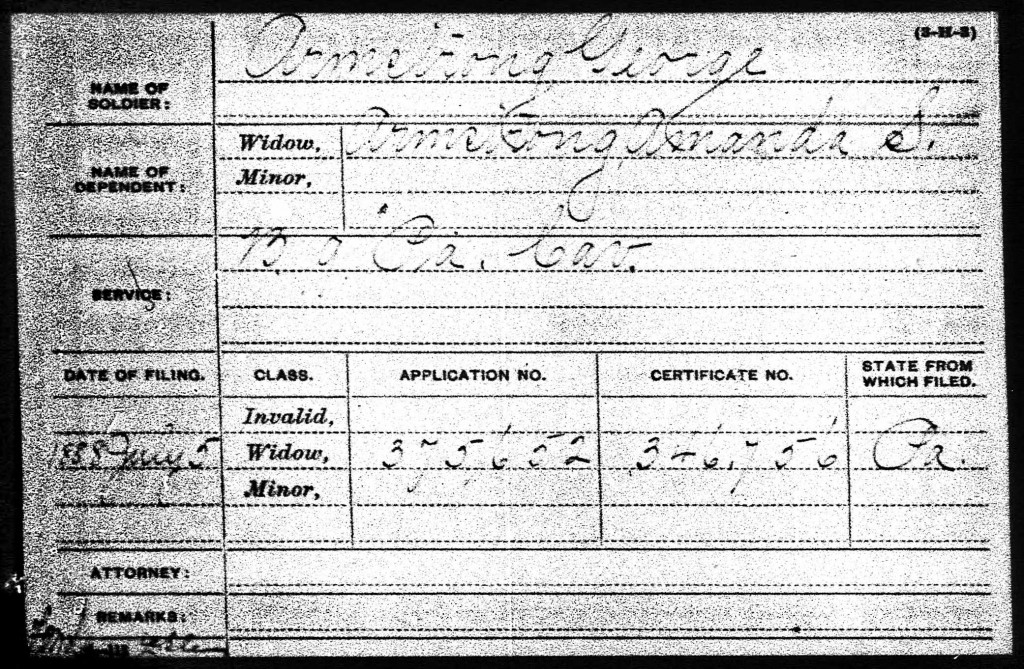 As is shown by the above Pension Index Card, available from Ancestry.com, George Armstrong never applied for a pension, probably because he was fortunate enough not to have been seriously injured in the war.  The widow, Amanda A. Armstrong, waited until 5 July 1888 to apply, and did receive benefits, presumably for her minor children as well.  The pension application file at the National Archives in Washington, D.C., should contain a wealth of information about this family, including the maiden name of Amanda, where and when the marriage took place, and the exact birth dates of the children.  This file, nor information from it, was not consulted for this blog post.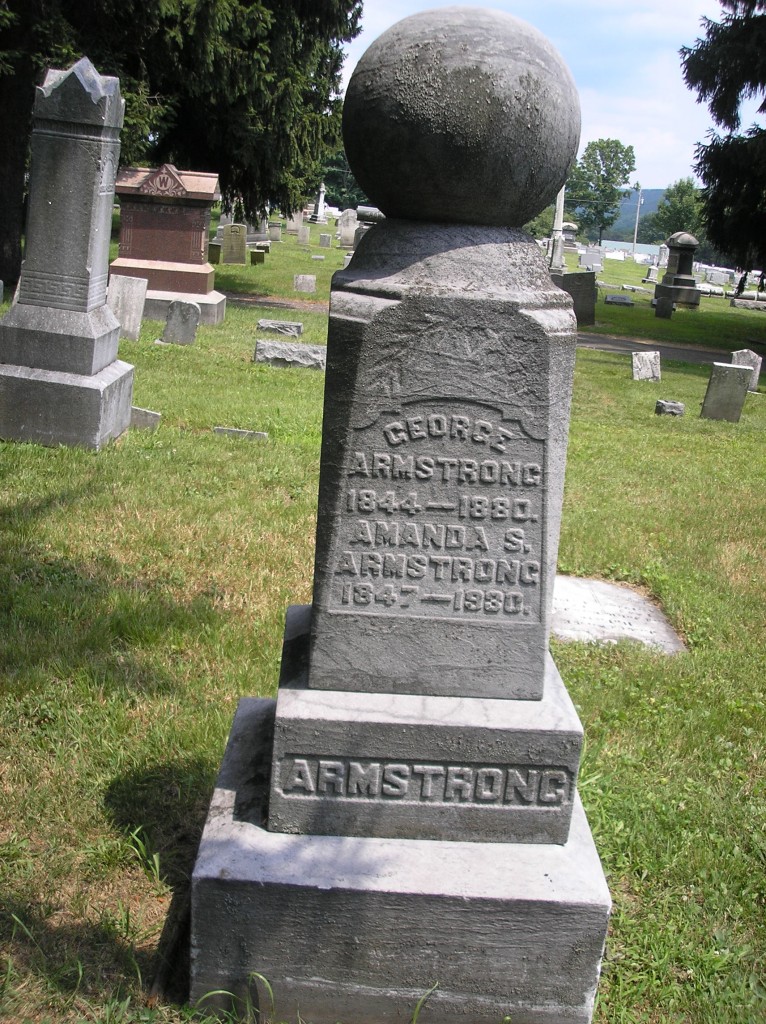 George Armstrong (1844-1880) and Amanda S. Armstrong (1847-1930) are buried in Calvary Cemetery, Wiconisco, Dauphin County.

For his service in the Civil War, George Armstrong is recognized on the Lykens G.A.R. Monument as a veteran who was not a member of the Heilner Post.
—————————–
The news clipping is from the on-line resources of the Free Library of Philadelphia.