Posted By Norman Gasbarro on October 20, 2014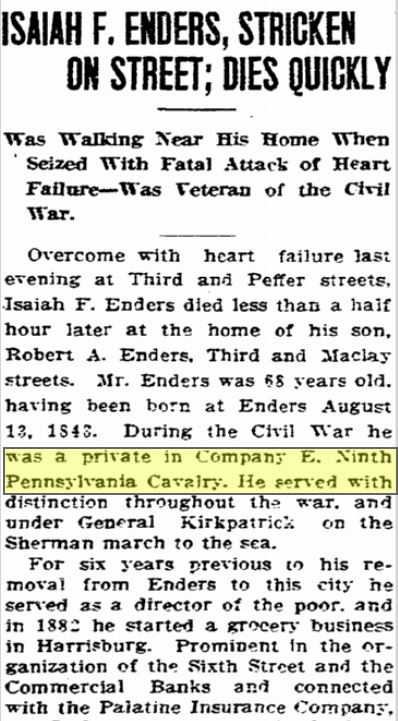 The obituary of Civil War veteran Isaiah T. Enders appeared in the Harrisburg Patriot on 22 March 1912:
ISAIAH F. ENDERS, STRICKEN ON STREET; DIES QUICKLY

Was Walking Near His Home When Seized with Fatal Attack of Heart Failure — Was Veteran of the Civil War

Overcome with heart failure last evening at Third and Peffer Streets, Isaiah F. Enders died less than a half hour later at the home of his son, Robert A. Enders, Third and Maclay Streets.  Mr. Enders was 68 years old, having been born at Enders 13 August 1843.  During the Civil War he was a Private in Company E, Ninth Pennsylvania Cavalry [9th Pennsylvania Cavalry].  He served with distinction throughout the war, and under General Kirkpatrick on Sherman march to the sea.

For six years previous to his removal from Enders to this city he served as a director of the poor, and in 1882 he started a grocery business in Harrisburg.  Prominent in the organization of the Sixth Street and Commercial Banks and connected with the Palatine Insurance Company, Mr. Enders was a progressive business man of the West End and for many years was an active member of the Sixth Street United Brethren Church.  He was also a member of the Junior O. U. A. M. and the I. O. O. F.  The arrangements for the funeral have not been completed.
Note:  Isaiah Enders was most often found in the records as "Isaiah T. Enders," not "Isaiah F. Enders" as is stated in the obituary.  On his death certificate, a portion of which is shown below, his middle initial appears to be an issue – originally listed as "F" and then crossed out and replaced with a "T."  The full death certificate is available through Ancestry.com.