Posted By Norman Gasbarro on October 9, 2014
The 40th Pennsylvania Infantry (11th Pennsylvania Reserves) Monument at Gettysburg is located south of Gettysburg on Ayres Avenue.  It was dedicated some time after the group of monuments that were unveiled for the 25th Anniversary in 1889 and therefore was not reported in the Philadelphia Inquirer's Pennsylvania Day.  The picture of the monument (above) is from Steven Recker's Virtual Gettysbirg Web Site which also has information about the 40th Pennsylvania Infantry.
A full description of this monument, its GPS coordinates, a picture, and some history of the 40th Pennsylvania Infantry can be found on the Stone Sentinels Web Site.
—————————–
The Philadelphia Inquirer of 11 September 1889 provided only this information about the 40th Pennsylvania Infantry: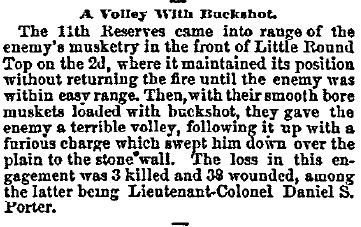 A Volley With Buckshot.

The 11th Reserves came into range of the enemy's musketry in the front of Little Round Top on the 2nd, where it maintained its position without returning the fire until the enemy was within easy range.  Then, with their smooth bore muskets loaded with buckshot, they gave the enemy a terrible volley, following it up with a furious charge which swept him down over the plain to the stone wall.  The loss in this engagement was 3 killed and 39 wounded, among the latter being Lieutenant Colonel Daniel S. Porter.
—————————-
Samuel McCartney Jackson commanded the 40th Pennsylvania Infantry at Gettysburg.  He joined the 40th Pennsylvania Infantry as a Captain and in June 1861 he was promoted to Major, the position he held at the time of the battle.
Samuel M. Jackson was born in Apollo, Armstrong County, Pennsylvania, on 24 September 1833.  His Pennsylvania Veterans' File Card from the Pennsylvania Archives does not give his occupation nor any personal information about him other than his age of 24.  He enrolled in the regiment at Camp Wright and was mustered in with the regiment in Washington, D.C..
Samuel M. Jackson died on 8 May 1906 and his remains are in a mausoleum at the Riverview Cemetery, Apollo, Pennsylvania.
Additional information about him can be found at his Findagrave Memorial and on a plaque located in his home town.
—————————-
Around the base of the Pennsylvania Memorial at Gettysburg are series of plaques which, by regiment and company, note the names of every soldier who was present at the Battle of Gettysburg.  The plaque for the 40th Pennsylvania Infantry is pictured below.  By clicking on the plaque it should enlarge so the names can be more clearly read.  If a name does not appear, it could be that the soldier did serve in the 40th Pennsylvania Infantry but was not part of the regiment during its days at Gettysburg.  There also could be errors on the plaque.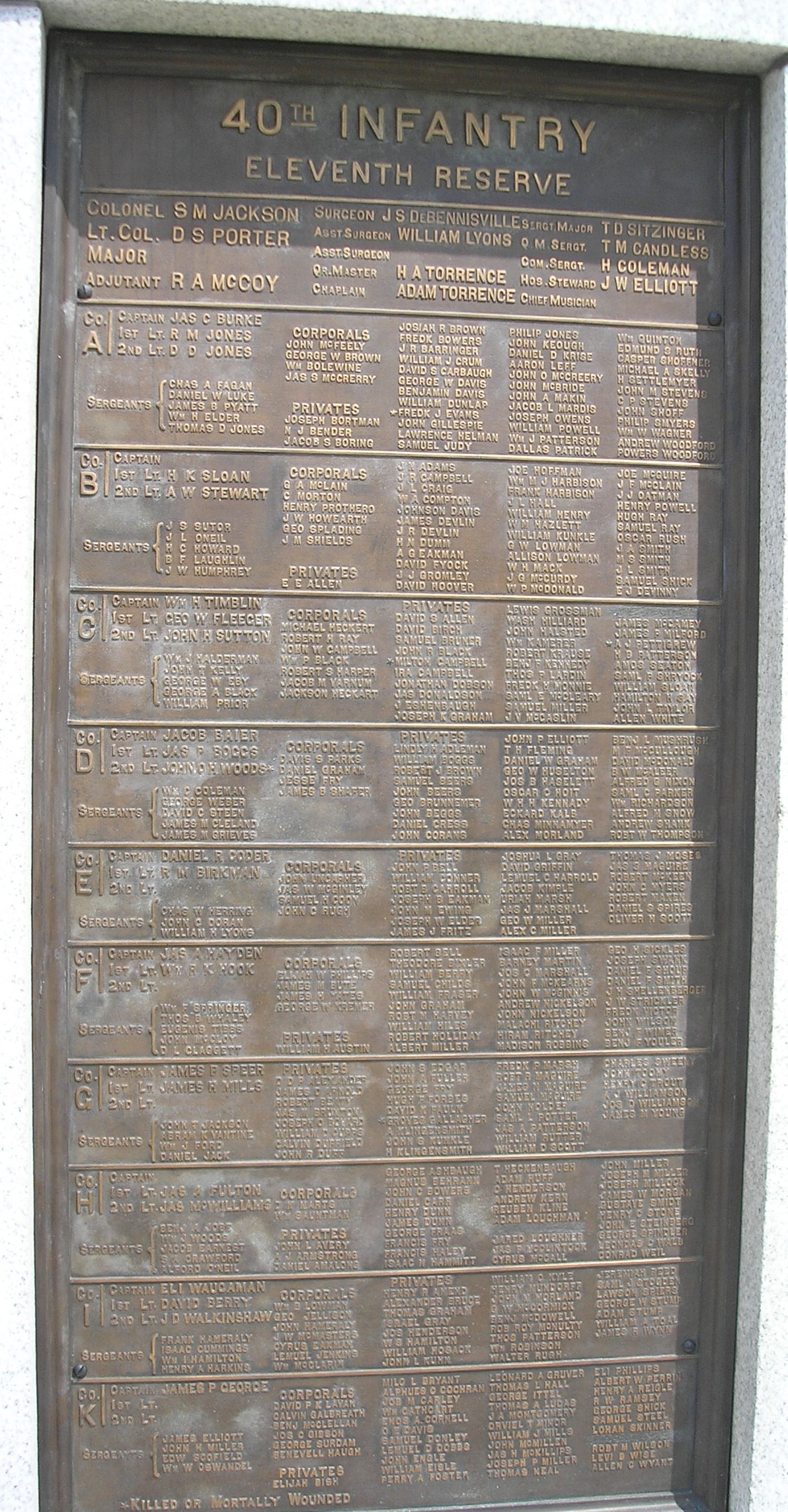 ——————————-
The news clippings are from the on-line resources of the Free Library of Philadelphia.