Posted By Norman Gasbarro on September 26, 2014
The death notice of Henry B. Ferree (1844-1903) appeared in the Harrisburg Patriot on 18 April 1903:
Henry Feree, a highly respected citizen of Lykens Township, died on Tuesday afternoon.  The deceased was a sufferer from miners' asthma. His age was some sixty years.  Interment was made in the Lutheran and Reformed Cemetery at Gratz, Thursday, at 10 a.m., Rev. Mr. Zimmerman officiating.
Although the above notice states that Henry was buried in Gratz, there is no stone marking his grave site.  In the most recent edition of the Gratz Union Cemetery list, published in 2009, it was noted that Henry B. Ferree purchased a burial lot in Section 1-North, Row 18.  After Henry's death no one ever purchased a stone for him, but there is supposedly a G.A.R. star-flag holder at the first position in that row.  However, when the cemetery was photographed for the Civil War Research Project in 2010, there was no G.A.R. star-flag holder where Henry's grave is supposedly located.
The location of Henry Ferree's grave in the Gratz Union Cemetery was noted on a old, hand-drawn map (above) used by Gratz veterans to place flags on the graves.  The grave site of Henry Ferree is noted in the middle of the second column (known as Section 1-North), behind the church, position 14.  "No Head Stone" is marked on the map.  See: Gratz During the Civil War – Cemeteries (Part 2). The following statement was made in that post:
Henry Ferree (1844-1903) – No Head Stone.  Purchased a lot in Row 18.  Should be a G.A.R. star where his grave is located.
Henry B. Ferree was born in July 1844 in Pennsylvania, the son of George Washington Ferree (1810-1873) and Leah [Umholtz] Ferree (1815-1888).  In the 1850 Census of Lykens Township, Dauphin County, the family name was given as "Free" and the father, George, was working as a laborer.
From the Commemorative Biographical Encyclopedia of Dauphin County, page 888, more is learned about the father, George:
George Washington Ferree was born in Lykens Valley, Washington Township, Dauphin County, Pa., 21 November 1810.  He attended the subscription schools of the township, grew up on his father's farm, and was for twenty-five years employed in the coal mines of Wiconisco.  Later he bought a farm of 33 acres in Lykens Township, and during the remainder of his life was engaged in agriculture.  Mr. Ferree was married, in Lykens Township, in 1834, to Leah Umholtz, born in Lykens Valley, Lykens Township, February 7, 1815, daughter of Henry Umholtz, a farmer of that township.  They had 10 children:  Cyrus Ferree, deceased; Uriah Ferree, deceased; Mary A. Ferree, deceased, wife of Isaac Burd; Elizabeth Ferree; Henry Ferree, miner; Leah Ferree, died in infancy; Sarah Ferree, deceased, wife of N. Bressler; George W. Ferree, deceased; Frank P Ferree; and Ethel E. Ferree, deceased, wife of John Rush.  Mr. George W. Ferree died on the homestead, 5 November 1873.  He was a Democrat and was very active as a local leader in his party.  His wife died in 1885.
At the time of the Civil War, Henry Ferree did not immediately answer the call.  His service did not begin until he enrolled in Company G of the 103rd Pennsylvania Infantry, as a Private, on 13 March 1865 at Harrisburg and was mustered into service the next day at the same place..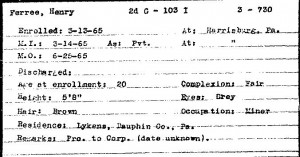 The physical description of Henry includes his age of 20 and his height of 5 foot 8 inches.  He had brown hair, gray eyes and a fair complexion.  He lived in Lykens Township and was working as a coal miner. [Note:  Veterans' Index Card is from Pennsylvania Archives].
At some point during his service in the 103rd Pennsylvania Infantry, Henry Ferree was promoted to Corporal.  He received an honorable discharge at New Bern, North Carolina, 25 June 1865.
In the censuses of 1870 and 1880, it was stated that Henry was living in Lykens Township and working as a coal miner or laborer.  In the 1890 census, for some reason he was named on the sheet for Shamokin, Northumberland County, but his post office address was given as Williamstown.  He claimed to be a re-enlisted veteran.  However, a prior or post regiment has not been located for him.
Henry married Louisa Bellon at some point just after the Civil War.  Together they had at least eight children.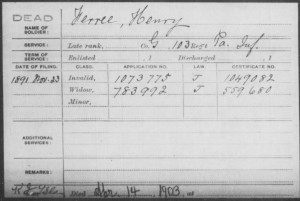 Henry Ferree applied for a Civil War pension on 23 November 1891.  The above Pension Index Card from Fold3 gives his death date as 14 April 1903 and notes that a widow applied for a pension after his death.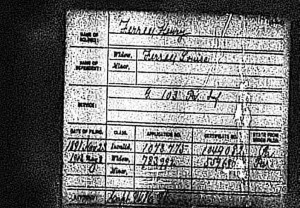 The Pension Index Card from Ancestry.com gives the widow's name as Louisa and her widow's pension application date as 8 May 1903.

On 8 October 1902, the Harrisburg Patriot gave the pension news.  A pension was awarded to Henry Ferree of $6 (per month).  Unfortunately, he lived less than one year following the announcement of the pension amount.
Clearly, there are many more things that can be discovered about Henry Ferree.  Hopefully those with clues as to where this information can be located will come forward.  Has anyone obtained his pension file or military records from the National Archives?
—————————–
News clippings are from the on-line resources of the Free Library of Philadelphia.