Posted By Norman Gasbarro on September 24, 2014
From the Diary of William Thomas, the following was reported in his entry for 1 June 1862:
Fred Metzer of our company was shot Through the Head by a pistol while Lieut Gratz was cleaning it.  He expired in few moments After he was shot.
William Thomas was a member of Company B of the 9th Pennsylvania Cavalry.  He was an immigrant coal miner living in Wiconisco, Dauphin County, when the Civil War began.  His diary, which was kept throughout the war, was the basis of the book, Yankee Cavalrymen: Through the Civil War with the Ninth Pennsylvania Cavalry, by John W. Rowell, published in 1970 by the University of Tennessee Press.  Unfortunately, the original diary appears to be lost as does the typescript upon which Rowell based the history.
Very little is known about the incident reported by Thomas.  And, very little is known about the man, Frederick Metzger, who was accidentally killed.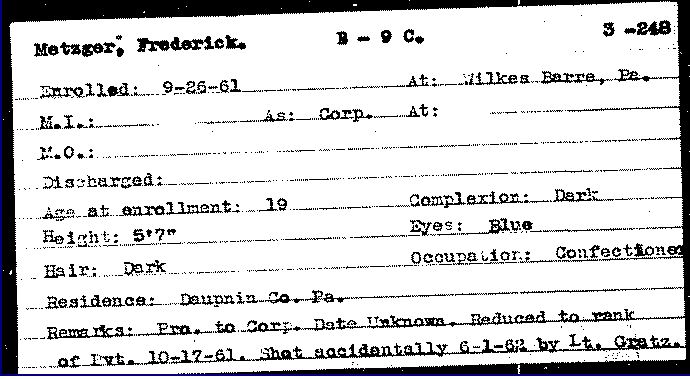 According to his Pennsylvania Veterans' Index Card (above), available from the Pennsylvania Archives, Frederick Mezger enrolled in the 9th Pennsylvania Cavalry, Company B, as a Corporal, on 26 September 1861, at Wilkes-Barre, Luzerne County, Pennsylvania.  He gave his occupation as confectioner and his age as 19, indicating he was born about 1842.  His physical description included a height of five foot seven inches, dark hair, dark complexion and blue eyes.  While he gave his residence as Dauphin County, that information might be incorrect in that he enrolled several counties away in Wilkes-Barre (Luzerne County).
Two interesting notes in the remarks section state that his promotion to Corporal was on a date unknown (yet the card states that he was enrolled as a Corporal), and that he was "reduced to rank of Private on 17 October 1861.  The last comment on the card confirms how he died, that he was "shot accidentally, 1 June 1862, by Lt. Gratz."
Turning back to Yankee Cavalrymen, Rowell states on page 22 that "Company B was largely recruited in Dauphin County, outside of Harrisburg, by Captain Edward G. Savage.  However, a part of this company was recruited in Scranton by Lieutenant Lewis A. Gratz…."
Since Scranton and Wilkes-Barre are adjacent cities, both far from Harrisburg, it has to be assumed that Frederick Metzger was recruited by Gratz and not Savage.
Louis A. Gratz (the name is almost always found as "Louis"), was a German-Jewish immigrant, who has not been identified in any way with the merchant family of Philadelphia of the same name . Louis Gratz's name was found on the passenger list of the ship Gibralter which arrived in New York City on 5 December 1860, when he declared that he was a 19 year-old merchant by occupation.  He then proceeded to make a living as a jewelry peddler in Pennsylvania towns in and around Scranton in late 1860 and early 1861.  When the Civil War began, he immediately enlisted in the 15th Pennsylvania Infantry, Company B, as a Corporal and served a three-month term.  Apparently convincing others that he had enough military experience to qualify as a Lieutenant, he was an early joiner of the 9th Pennsylvania Cavalry at that rank and participated in the recruitment of volunteers – going to the Scranton area where he was familiar with the terrain and the people.
It is not known how many of those who Gratz recruited actually knew him before the war.  One of those recruited by Gratz may have been George Samuels (a German-Jewish immigrant) who also served in Company B of the 9th Pennsylvania Cavalry.  It is highly possible that Louis  A. Gratz also recruited Frederick Metzger and he may have known him before the war.
Unfortunately, very little is known about Frederick Metzger other that the meager description found on the Index Card.  No one applied for a pension based on his service and death.  He has not been located in any pre-war census – which could mean that he too was an immigrant, and possibly also Jewish.
There are some burial records that are available through Ancestry.com.  These indicate that Frederick Metzger was laid to rest at the Nashville National Cemetery, Nashville, Tennessee, although the accidental death occurred near Bowling Green, Kentucky.
The story of Louis A. Gratz differs greatly from that of the less fortunate Metzger and will be told in greater detail at a later date.  For now, suffice it to say that he soon-after was discharged from the 9th Pennsylvania Cavalry, not because of the incident involving the death of Metzger, but because he was offered a commission as Major of the 6th Kentucky Cavalry!
Attached comments and e-mails are always appreciated!