Posted By Norman Gasbarro on August 22, 2014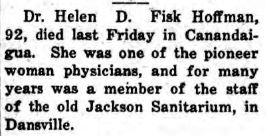 Dr. Helen Delucia [Fisk] Hoffman died on 16 May 1941 at Canandaigua, Ontario County, New York, at the age of 92.  According to her death notice (above) which appeared in the Naples, New York Record, she was "one of the pioneer woman physicians, and for many years was a member of the staff of the old Jackson Sanitarium [sic] in Dansville."  There is no mention of survivors in the notice.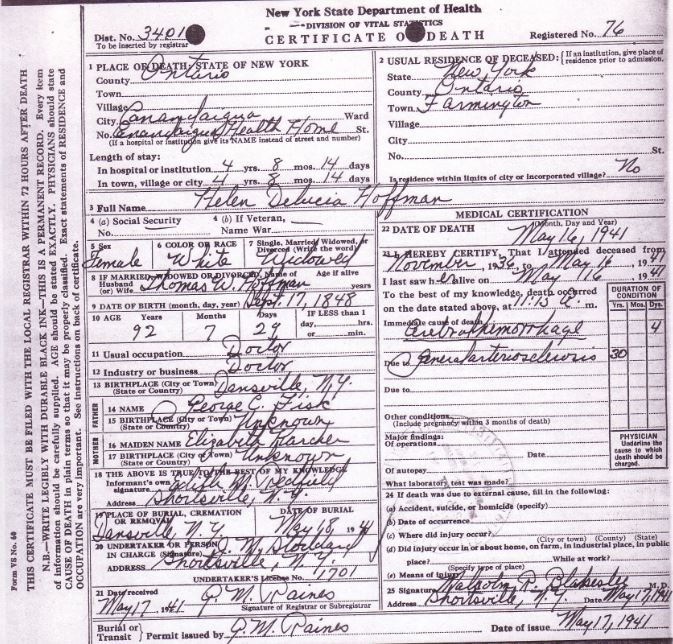 Her death certificate indicated that she was the widow of Thomas W. Hoffman and that she was a doctor by occupation.  Her death was due to hemorrhage caused by general arterial sclerosis.  Helen was born in Dansville, New York, 17 September 1848, the daughter of George C. Fisk, a mechanical engineer who operated a planing mill in Dansville, and Elizabeth [Karcher] Fisk.  The 1850 census notes that she was a twin, but nothing more is known at this time about her brother Henry D. Fisk.
Thomas W. Hoffman was Helen's first husband.  Their marriage took place in Dansville, New York, on 5 April 1892.  It was Hoffman's second marriage, his first wife having died in 1890. Thomas W. Hoffman had three known children by the first marriage:  Susan Hoffman, born about 1866; Mary "Mamie" Hoffman, born about 1868; and Elizabeth Hoffman, born about 1876.  Thomas W. Hoffman was born in Berrysburg, Dauphin County, Pennsylvania and for his meritorious actions in front of Petersburg, he received the Medal of Honor.
In 1900 Thomas, age 60, and Helen, age 51, were living in a boarding house on Adams Avenue in Scranton, Lackawanna County, Pennsylvania, that was operated by two women:  Margaret Kries, age 44, a widow, and her partner, Marion Cantner, age 46, who was single.  An interesting group of people lived in the boarding house, including a shoe salesman from Virginia, a servant from Ireland, a locomotive engineer from England, and a commercial traveling salesman of canned beans from Iowa.  Helen was listed as a physician and Thomas was a clerk, probably for a department store near the boarding house.
No record has yet been seen to indicate that Helen was a practicing physician in Scranton.  Primarily, she appears to be associated with the Jackson Sanatorium in Dansville, New York.  After Thomas W. Hoffman's death in 1905,  she moved to New York and lived with her niece.  No record has yet been seen to indicate that Helen had any "standard" education as a physician (such as at a medical college).  There is some indication though that she received her training at the Jackson Sanatorium.

In 1880, Helen was living with her parents in North Dansville, New York, and she gave no occupation to the census taker.  It is therefore possible that she received her training after 1880.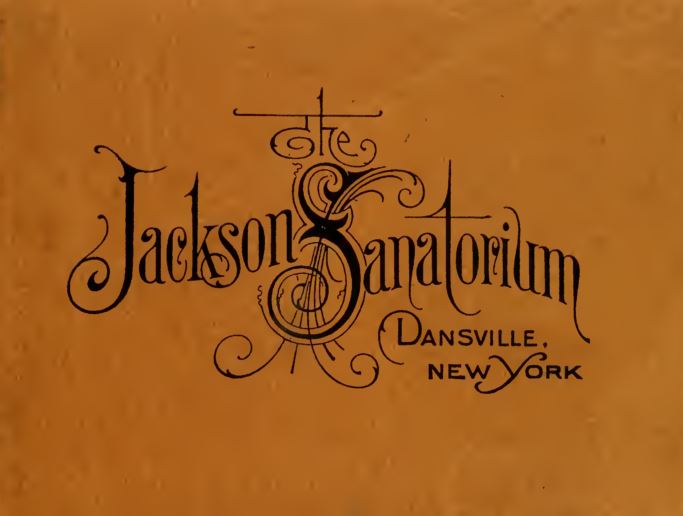 The "official" guide to the Jackson Sanatorium can be found as a free download from the Internet Archive.  It was established in 1858 for "the scientific treatment of invalids and for recuperation and rest in cases of overwork and nervous exhaustion."
The Jackson Sanatorium is conducted as a distinctively Health Institution and not as a fashionable resort.  Regularity of life and freedom from noise and social excitement prevail thus securing long periods of rest while at the same time rational recreation and amusements are amply provided for.  Although the comfort and welfare of the sick are the first considerations, every opportunity is provided for those who desire to spend a pleasant and profitable vacation season….
The sanatorium was located on a hill about a half mile above the town of Dansville.  Today, the building is abandoned and is partially in rubble.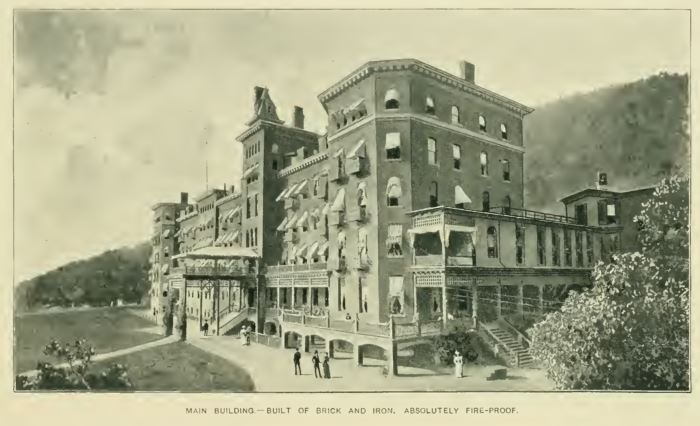 While Dr. Helen D. Fisk is not listed as one of the main medical staff, there is a line in the official guide that states that "the permanent staff [is] assisted by four assistant physicians."
Part of Dr. Fisk's training may have been a trip she took in 1889, as reported in the Rochester, New York, Democrat and Chronicle, 10 June 1889:
Dr. Elizabeth Fear and Dr. Helen D. Fisk, of the Dansville Sanitarium [sic] will spend the coming year in Europe together, visiting the principal health institutions and sanitariums [sic] of Germany and the hospitals of Paris, Berlin and Vienna.
The Scranton Republican reported on 23 November 1897, that Dr. Helen Fisk Hoffman was a "medical electrician."  Turning again to the booklet produced by the Jackson Sanatorium, the following electrical treatments are noted:
During the past few years great advances have been made in the scientific application of electricity to the removal or relief of disease, and as a consequence this remedial agency has come rapidly into favor with the best medical practitioners, particularly in the treatment of diseases of women.  In recognition of this fact, and knowing by observation and experience the curative value of electricity, especially when employed in conjunction with hydro-therapeutic measured for the restoration of invalids, the management of the Jackson Sanatorium has given special attention to this department, making it complete in every detail, and furnishing it with all the latest and most approved apparatus for giving treatment in its varied forms.  Electro-Thermal Baths, with stationary batteries, also portable Galvanic and Faradic batteries, are employed.  A superior Holtz machine is used for the administration of Statical Electricity.
Overall though at the Jackson Sanatorium, electrical treatments appear to be secondary to the primary focus on a "careful regulation of daily life, including diet, exercise, rest and relaxation, with cheerful and helpful social and religious influences…. Massage, an important measure of treatment here, is given by experienced masseurs.  Drugs are not relied upon for curative purposes, but are used conservatively, as it is believed that better and safer means are available."
When and why Dr. Fisk left employment at the Jackson Sanatorium is not known at this time.
In her widow's pension application, which was made in March 1913, about eight years after the death of her husband, Dr. Fisk had to prove that she was married to Thomas W. Hoffman and not married to anyone else, before or since.  She also had to prove that he was not married to anyone else.  For this latter proof, she solicited the help of two of Hoffman's daughters by his first marriage.  They provided a deposition that confirmed the marriage to Helen and verification that after the death of their mother, their father married no one else.  Helen received the pension, which it appears was her only income until her death in 1941.
After her death, the niece who had taken care of Helen in her last years, asked the Pension Bureau for additional funds to pay for the end-of-life care that Helen received in a "Health Home."  It is not known if the government reimbursed the niece for the money she put out – but the niece was sure to point out in the claim that her aunt's husband was a Medal of Honor recipient!
More information is sought about Helen Delucia Fisk, her time as a physician, and her time as the husband of Medal of Honor recipient Thomas W. Hoffman.
—————————
Census information is from Ancestry.com.